The beautifully laid out 9-hole championship golf course, conceptualised by world renowned Nicklaus Design, and spread over 70 acres, is part of the first phase of the 300-acre gated golfing township. The golf course is planned to be expanded to 18-hole under the second phase of the project. This is only the fourth signature Jack Nicklaus golf course in the country after Gurgaon, Ahmedabad and Bangalore. Jack William Nicklaus, a retired American professional golfer, is widely regarding as the greatest golfer of all times.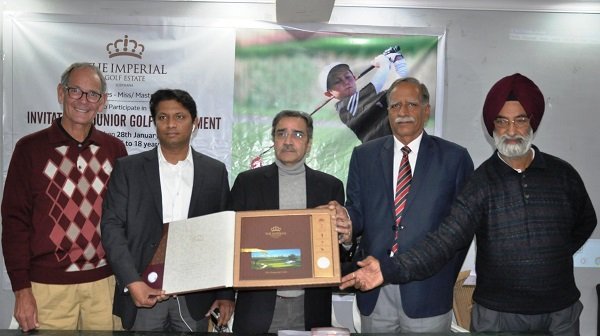 Photos By: Life in Chandigarh
"The 9-hole golf course in all its pristine glory is fully functional, as is the club house spread over 10 acres complete with golf carts and modern clubbing amenities. We have already sold 70 percent of the stock of 600 residential units in the first phase of the project – 1000 sq yard and 2000 sq yards plots for constructing villas and 1600 sq ft built-up suites. Out of the 200 units offered for possession, 100 buyers have already taken charge of their units," claimed Ravi Khanna, Director, The Imperial Golf Estate, Ludhiana, while interacting with media persons in Chandigarh, on Thursday.
"We are here to invite the famed golfing community of the tri-city to get a feel of our 9-hole golf course. We are organizing a one-day tournament on January 28 essentially for junior golfers from the region as per IGU guidelines in association with The British School Golf Academy and Indo Canadian Golf Association. Mr Manjit Singh Kochar, Golf Instructor, Chandigarh Golf Club, is helping us conduct this tournament. There is no participation fee and the top three finishers in each category will be awarded trophies. All participants will be presented certificates," Khanna added.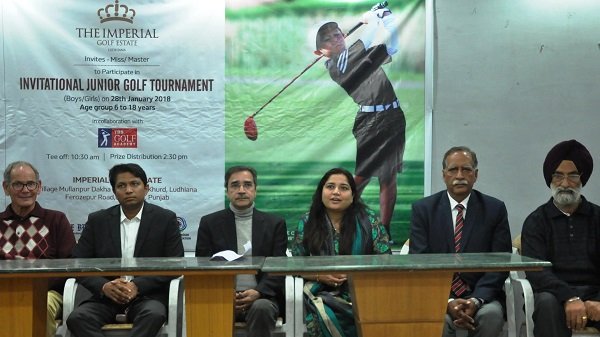 Giving details of the tournament, Kochar said juniors will participate in five different age categories – below 8 years, 8-9 years, 10-12 years, 13-15 years and 15-18 years. There will also be one category for senior golfers.
John Volz, a golf professional from USA and Head, Golfing Operations, at The Imperial Golf Estate, expressed confidence that the tri-city golfers, as also from other parts of Punjab and the region will participate in large numbers in the tournament. "We promise that you will carry home wonderful memories of an unmatched golf course in the region."
(For participation, Manjit Kochar can be reached on 98155-54788).
Col (retd) CJ Pal, Project Head, described The Imperial Golf Estate, Ludhiana as a wonderful lifestyle statement with ultra modern amenities. "An extraordinary spend of Rs 66 lakhs per acre on development alone," which he claimed was four times more than what a well known developer would normally spend, "has ensured a world class golf course and real estate. We are planting 8 lakh trees and bushes in the property out of which 50 percent have already taken roots."
Giving commercial details, Sumit Kumar, Marketing Head, said plots in the The Imperial Golf Estate, Ludhiana, were being sold @ 90,000 per square yard and the 1600 sq ft suites had a price tag of Rs 80 lakh each.
Mona Sethi, Chairperson, The British School Golf Academy, Chandigarh, was also present at the press meet.
For more details : http://www.imperialgolfestate.com/index.html