To make the browsing and shopping experience comfortable and carefree, Hotel Lalit, IT Park, which is partnering the duo, is laying out a lounge with a bar and a children's play area to afford the visitors patience, time and energy to soak in the refreshing creations being brought to the venue by 50-plus labels, some A-listed and other promising and already popular. So, mark you diary on September 30 and October 1. The exhibition will be on from 11 am to 8 pm on both days.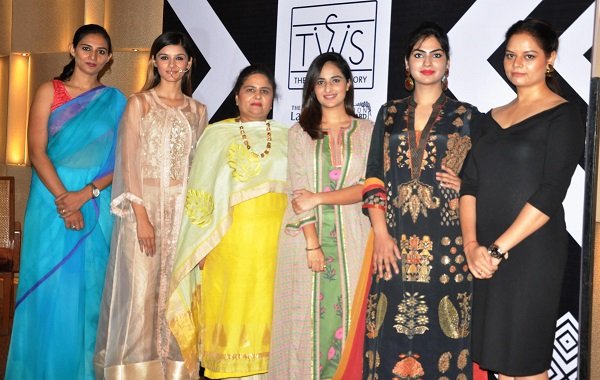 PHOTOS BY: LIFE IN CHANDIGARH
Anshika Gulati, founder and curator of TWS, and Amitoj Sandhu, founder of Fashion Boulevard, while interacting with media persons, said there would also be live band performances along with food and drinks.
Promising that there would be something for everyone, trendy, peppy, quirky, and at the same time comfortably wearable, they said the price range would be anything between Rs 1500 to Rs 2 lakh, all value for money. Expanding on the range on offer, the organising duo said, from designer wear to everyday wear, from crepes to cottons, from formal to semi-formal, from Indo-western to ethnic, from wedding wear to kids wear and home decor it would be both expansive and exhaustive.
Among the 50-plus labels would be Ritu Kumar, who are participating in any exhibition for the first time, Guneeta Ghai, Talash by Indra, Shilpi Gohri, Shilpa Goyal, Preeti Sidhu, Mithi Brar, Sanam Tamana, Neet, Savita Gupta jewellery designer, Vintage Touch footwears, Roxso, Jugni by Jyotika, Dressing Loft by Isha and The Peach Pit.
Sharing her idea behind TWS, Anshika Gulati said, "As Karwachauth, Diwali and the wedding season are approaching, we thought we will showcase before the fashionistas and the would-be-brides a never seen before festive collection of neo designers as well as established players."
Amitoj Sandhu added, "The market is flooded with lots of new talent and now it's time that we offer something new to fashion enthusiasts. Our designer list is quite fresh as we have brought young talent which has not exhibited at big platforms. We aim to give them exposure, and buyers an opportunity to look out for something new, quirky and full of creativity. Off course we will have few
A-listed designers as well who could be a source of inspiration for the nouveaus."
Bhupinder Kala, the Chandigarh representative of Ritu Kumar, Babli Bedi, one of the participating promising fashion designers, and Imit Arora, General Manager of The Lalit, also interacted with the media.
On the occasion, Mrs India 2017 (1st Runner Up) Cheena Arora showcased a new designer dress from the stable of Ritu Kumar and a couple of other models showcased designer wear of Babli Bedi.