The participants, who included, besides experts from science and modern medicine, healers from various ancient and alternative therapies, appeared to firmly believe in the purpose of the conference, the urgent need to amalgamate the strengthens of modern science and medicine with those of traditional wisdom and alternative practices for the overall physical, mental and spiritual well being of society, which will further lead to peace and harmony in the world.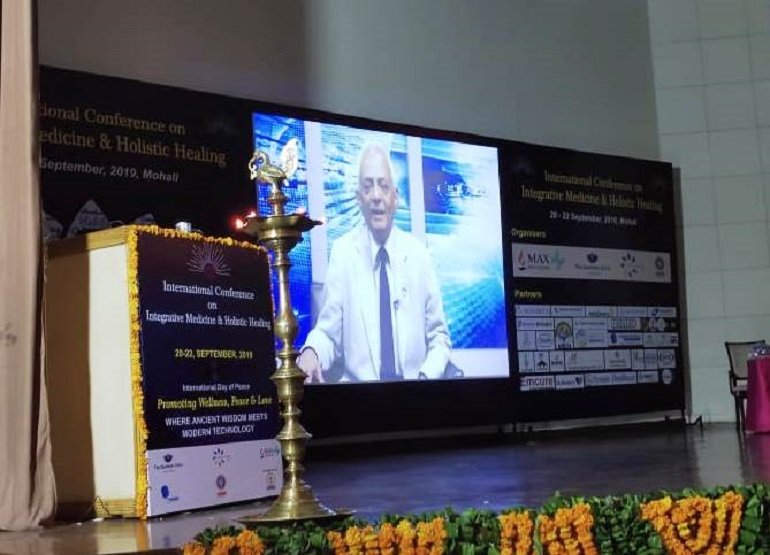 Photos By : Life In Chandigarh
Practitioners from varied fields, including biofield sciences, hypnotherapy, ozone therapy, acupuncture, music therapy, sound therapy, ayurveda, homoeopathy, yoga and naturopathy are participating.
In a specially recorded video message for the conference, distinguished scientist Dr William Selvamurthy, who is currently President of the Amity Science, Technology and Innovation Foundation, recalled the extensive studies conducted on armed forces personnel during his tenure as Chief Controller, R&D (Life Sciences & International Cooperation) at Defence Research and Development Organisation (DRDO), which showed the tremendous positive impacts of yogic practices on their overall physical, mental and spiritual well being.
These practices made them better prepared for surviving in extreme inhospitable conditions, he said, while emphasised the need for adopting a mind and body approach to healthcare and spreading this message globally. He was expected to be present but could not make it because of sudden unforeseen developments.
Dr Thornton Streeter, Founder, Centre for Biofield Sciences, now based out of Panaji, Goa and which is doing pioneering research in the anatomy and physiology of human biofield, expressed the view that the concept of 'chakra' healing as enshrined in Ayurvedic and yogic traditions is very accurate and precise and Indian universities should take up serious research on its concepts.
Dr Thornton, who encourages research worldwide, aimed at scientific validation and technical evaluation of ancient medicinal systems, so that modern medicine can be integrated with traditional understanding from Ayurvedic, Chinese and other systems of medicine, has collaborated with John Catchpole to develop a subtle live imaging system, the Biofield Viewer, that visualises the interference patterns of light at, and near, the body's surface. (Details can be viewed on biofieldviewer.com, also see biofieldsciences.com).
Miktlan Ehekateoti Kwauhtlinxan, practitioner and master teacher of Mexican ancient and sacred Tetzkatlipoka (black smoky mirror) tradition, the purpose of which is to develop consciousness, explained that the foundation of this system is Nawi Ollin Teotl (movement of the four great energies in the universe). According to beliefs in this tradition, human being are made up of four fundamental aspects – the physical body (nakatl), the mind (matik), the emotional (pampa) and the energy field (tonalli) – and balance of these in a body will allow the soul (newatl) to manifest and flow in an optimal way.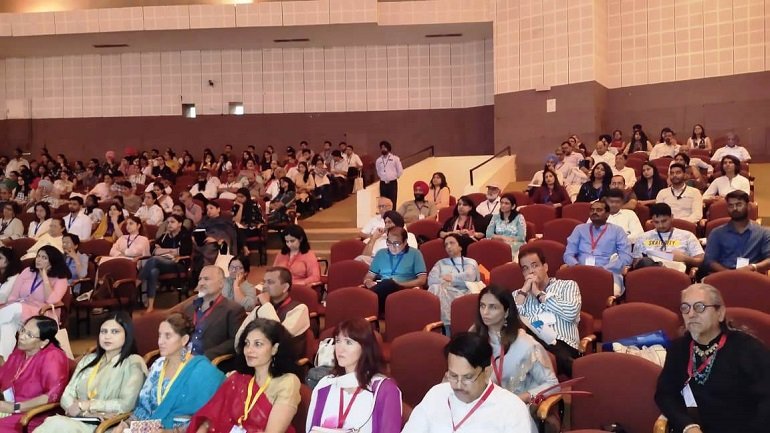 The medicine system of the tradition is called Wewepathli (meaning, the great medicine). Food, art, laughter, colour and sound, all form part of the medicine. It also utilises herbs, energy therapy, therapeutic massage, talk therapy and exercise.
Also originally from Mexico, Michelle Button Tukiama 'Vrinda Devi', a vibrational healer, well being and spirituality advisor, music therapist and more, all rolled in one, enlightened the audience about the immense healing powers of sound and music. She also gave a live demonstration of her prowess in the "art of singing bowls and sacred sounds", developed with her own research, linking humanistic music therapy, sound therapy and the teachings of ancient civilisations.
LifeInChandigarh.com by APR Media House is an enjoyable digital reading startup, which keeps you abreast of the latest meaningful happenings of interest to large sections of folks in Chandigarh tricity, and expats from the region. It has been promoted by a public spirited senior journalist and media consultant with a view to encourage good quality and healthy journalism, a dire need of the times.
To keep in touch, drop an email or call :
kochhar.apr@gmail.com
9815617676