If you've always wanted to document your family's many tales or write a memoir of that special relative, this one is for you. The Chandigarh Storytelling Meetup is organizing an author interaction called 'Conversations On Writing Family Stories' with Lalita Iyer and Nirupama Dutt.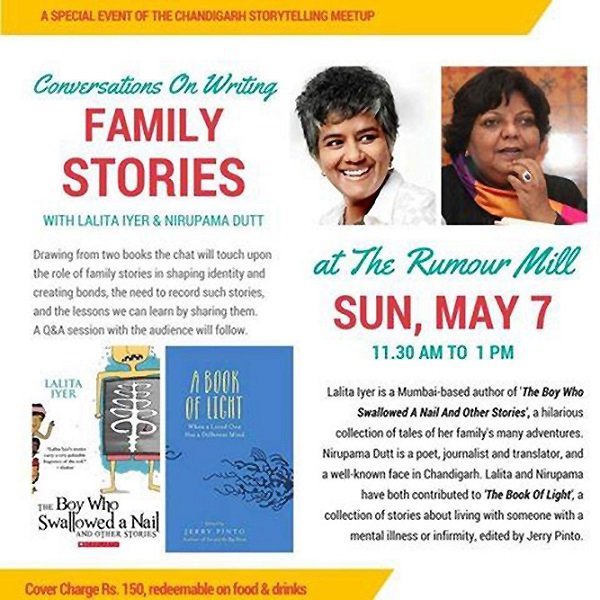 Lalita Iyer is a Mumbai-based journalist, blogger and author of 'The Boy Who Swallowed A Nail And Other Stories', a hilarious collection of tales of her family's many adventures. Nirupama Dutt is a poet, journalist and translator, and a well-known face in Chandigarh. Lalita and Nirupama have both contributed to 'The Book Of Light', a collection of stories about living with someone with a mental illness or infirmity, edited by Jerry Pinto.
Anchored by Deeptha Vivekanand, storyteller and convener of the Chandigarh Storytelling Meetup, the chat will focus on the role of family stories in shaping identity and creating bonds, the need to record such stories, and the lessons one can learn from sharing them. A Question and Answer session with the audience will follow.
What: 'Conversations On Writing Family Stories' hosted by The Chandigarh Storytelling Meetup
When: May 7 (Sunday)
Where: The Rumour Mill cafe & kitchen, SCO 187, Inner Market, Sector 7, Chandigarh
Time: 11.30 am to 1 pm
Entry: A cover charge of Rs 150, redeemable on food and drinks