The gigantic exercise involves 1 crore personnel, 10 lakh polling booths and 95 crore voters, shared Dr Anup Chandra Pandey, Election Commissioner of India, while delivering the 7th annual Prof. JC Anand Memorial lecture on the subject "70 Years Journey of Elections in India: Experiences, Issues and Challenges', organised by the Department of Political Science, Panjab University, recently.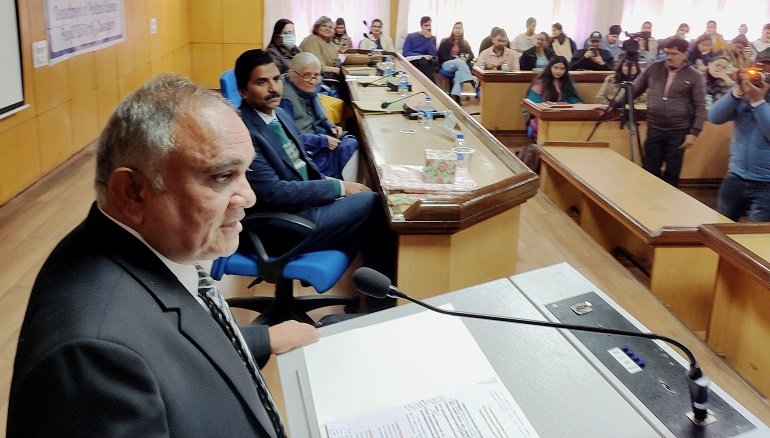 Dr AC Pandey delivering the memorial lecture
Photos By: Life In Chandigarh & Panjab University
A highly respected and popular professor of political science in Panjab University and an authority on Punjab politics, Prof JC Anand later in life provided coaching to IAS aspirants. His three daughters - Meenakshi Anand Chaudhary, Urvashi Gulati and Keshni Anand Arora - went on to hold the post of Chief Secretary of Haryana, a singular achievement. Meenakshi was the first woman to hold the post of Chief Secretary of Haryana.
In his address, Dr Pandey recalled the immense contribution of the first Chief Election Commissioner Sukumar Sen in overseeing the successful conduct of first two general elections in 1951 and 1956, despite great difficulties of there being no election laws or rules of conduct and a very high illiteracy rate among the electors. What the elections achieved was to establish faith in a skeptical nation and the world regarding the very survival of the fledgling Indian democracy after attaining independence.
Even as Dr Pandey mentioned the name of Sukumar Sen in his lecture, another name immediately sprung to my mind for cleaning up the by then highly corrupted Indian electoral system in the 1990s, that of TN Seshan. The 'Iron Man' that he was, he was able to assert his authority like none other before him to reclaim the supremacy of the commission in the conduct of the electoral process.
Fearlessly, he not only rooted out many of the corrupt and unfair practices followed by political parties and powerful individual candidates during the elections despite strong resistance, but also strictly enforced the model code of conduct. Introduction of photo identity cards for voters was one of his notable contributions which went a long way in reducing the menace of bogus voting.
For his resolute actions in bringing order, fairness and integrity to the elections in the world's largest democracy, he was awarded the Ramon Magsaysay award in 1996.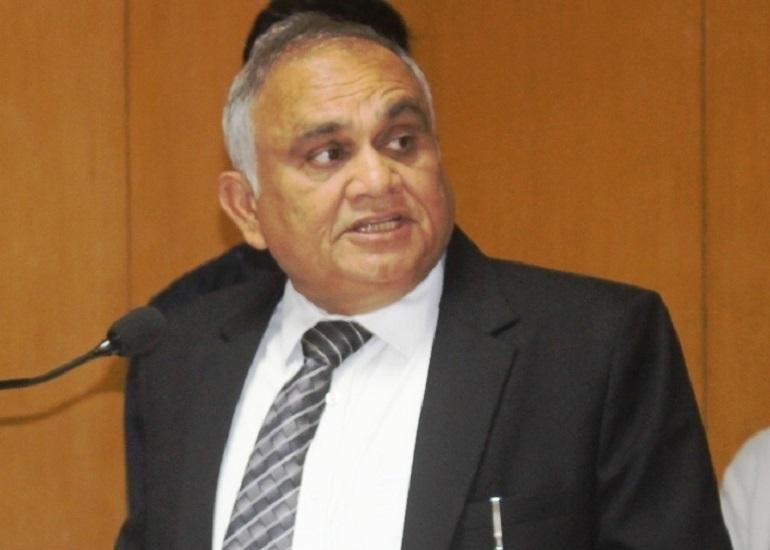 Addressing the gathering, Dr Pandey shared that Indian democracy and its electoral system has matured a long way since the first elections in 1951 when only 45% voters exercised their right to franchise, with women participation being abysmally low. In the last general elections in 2019, after seven decades and 17 general elections, the overall voting percentage was 67.4% with voting percentage of women for the first time outshining that of men.
There were many a shocked/amused face in the audience when he informed that in the first two general elections in 1951 and 1956, the ballot was blank and each voter dropped the ballot in the box earmarked for the candidate of his/her choice. The marking of names of candidates and poll symbols on the ballots was introduced first time in the 1961 general elections, he added.
EVM were first introduced in an election in Kerala in 1982 but it took 20 long years to create a political consensus on their use in the electoral process nationally and then to pass a legislation.
Dr Pandey said that following persistent controversies over the tampering and manipulation of EVMs, VVPATs, or paper trail of the EVMs, were introduced and the SC ordered matching of VVPAT slips with vote counts in five randomly selected EVMs per assembly constituency.
The Election Commissioner conceded that controversies over the tampering or manipulation of EVMs continue but pleas challenging their use have been set aside by the SC from time to time. The reality is that no significant mismatch has been detected between EVM counts and their paper trails despite 350 crore votes having been polled in EVMs across the country so far, he asserted.
The commission has also launched a suite of 20 user friendly mobile apps (https://eci.gov.in/divisions-of-eci/ict-apps/) with a view to making the entire electoral system, from registration to results, accessible, transparent, accountable and fair.
To further cut down on malpractices during elections, the process of deployment of polling staff and EVMs at polling stations has been randomised. So no one knows till very late which polling staff and which EVMs are being assigned to which polling station.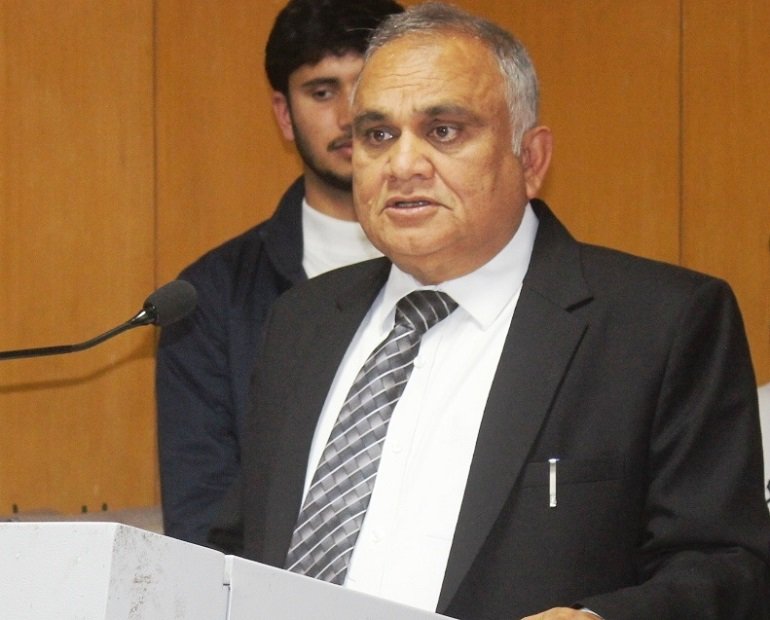 Dr Pandey revealed that contrary to the general belief, it is the educated urban class which is shy of voting in elections as the voting percentage of rural voters is much more than in metros. Low turnout of young votes is also a challenge, he said, adding that this is likely because of disenchantment of these categories of voters, who might feel that their vote does not count towards deciding who wins. For such voters pressing the NOTA (none of the above) button on the EVMs is an option to express their sentiments, he averred.
To further facilitate registration of newly eligible voters, the Election Commissioner informed that instead of a single qualifying date (January 1 each year) for those who turn 18, now youth who attain the age of 18 as on 1st of January, April, July and October in any year can apply online on the 'Voter Portal' to register as voters.
He said efforts are being made to explore the technical feasibility and generating a political consensus on making arrangements for integrating an estimated 10 crore migrant labourers and 1.5 crore NRIs in the electoral process.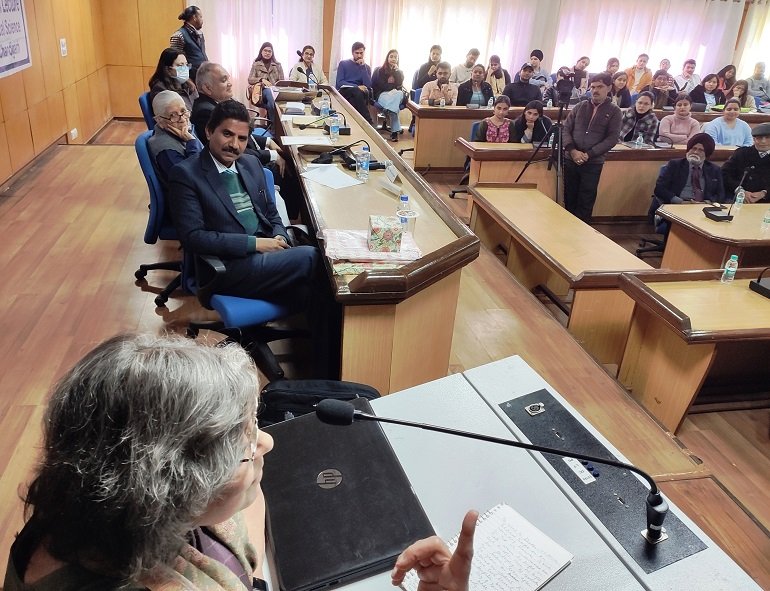 Urvashi Gulati addressing the audience
Guest of honour, Prof (Emeritus) Pam Rajput, whose area of research/expertise has been women issues, Indian political system and international law, in her address gave full credit to the Election Commission of India for setting an example before the world of the humongous task of holding free and fair elections to world's largest democracy.
At the same time while conceding that the system is by no means perfect, she said that there are issues which have been addressed by various committees and groups from time to time. Some of their recommendations have been incorporated, some have not, she observed.
Noting with satisfaction that in percentage terms women voters were outshining men in many states, she wanted more women to contest elections too. While batting for gender equality, she opposed gender stereotyping in the process, giving the example of exclusive women-only pink polling booths.
LifeInChandigarh.com by APR Media House is an enjoyable digital reading startup, which keeps you abreast of the latest meaningful happenings of interest to large sections of folks in Chandigarh tricity, and expats from the region. It has been promoted by a public spirited senior journalist and media consultant with a view to encourage good quality and healthy journalism, a dire need of the times.
To keep in touch, drop an email or call :
kochhar.apr@gmail.com
9815617676