Neeraj Kansal, Managing Director of Royale Estate Group, announced at a media conference in Chandigarh on Thursday a tie-up with Hotel Episode, Leamington Spa town, in Shakespeare's country, Warwickshire - England, to operate and manage, with the help of a team of British professionals, a 64-room medium-sized hotel being developed on Oxford Street Zirakpur property. Hotel Episode is one of the boutique luxury hotels located on Oxford Street, London, known for providing extraordinary experiences to its customers.
Emma Davidson, General Manager of Hotel Episode, in which Royale Estate Group is already invested, also interacted with the media.
Overall the Oxford Street Zirakpur property, featuring water bodies, pedestrian boulevards and stone-cobbled colonnade walkways, British inspired lighting and landscaping, and central sculpture step sit-out, will be maintained and managed by JLL India, part of the leading global real estate services company.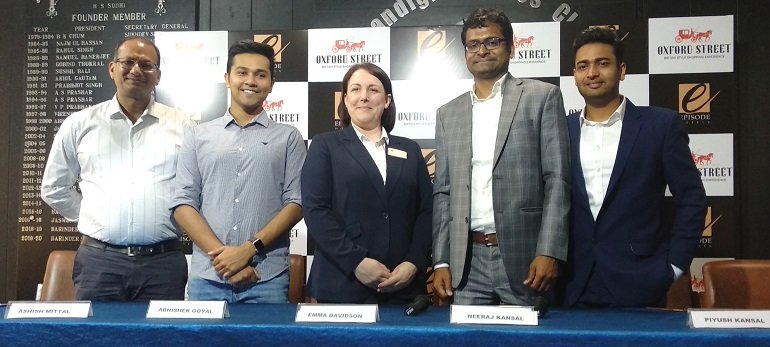 Photo By : Life In Chandigarh
Besides high-end retail, the property will offer private and co-working spaces, buzzing food networks, wellness and entertainment facilities, hotel and sky lounge, courtyard and social arena. "The naturally ventilated open plaza or courtyard, which will consume 2.5 acres of the total space, surrounded by retail showrooms and food counters, will allow visitors to shop and eat under the open sky. The green spaces and water bodies will keep the temperature cool during peak summers," Kansal shared.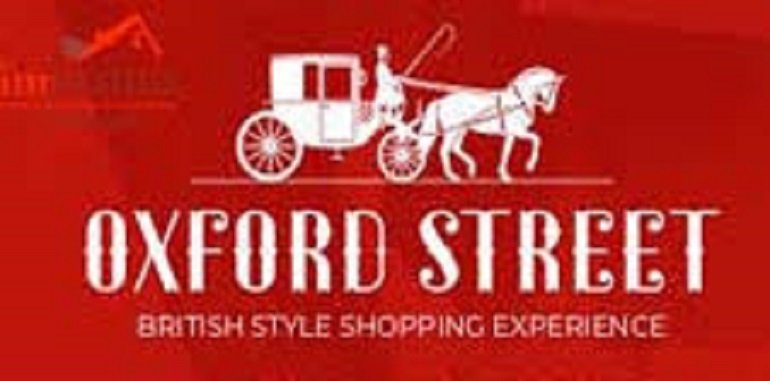 He said the property will house 250-300 top brands in six blocks. More than 50 letters of intent (LoIs) or agreements had already been signed with the brands. The company is investing Rs 200-250 crore in the Oxford Street Zirakpur project. Construction of the project began in October last year, and is slated for delivery by June 2021, he added.
Concept pictures
Explaining the investment opportunities in Hotel Episode Zirakpur, Kansal said by investing Rs 32 lakh in buying a room, the investor gets Rs 21,000 permanent monthly income with a lease of 9+9+9 years. Those booking before March, 2020 also get seven nights stay per year for 10 years in Hotel Episode either in London or Zirakpur. The medium to high class hotel has different categories of rooms with 400-plus sq ft area and are the rental per night is expected to start from around Rs 3,000, he informed.
Other investment options in Oxford Street Zirakpur range in price from Rs 25 lakh, going up to Rs 1.75 crore. In these too, the company promises to facilitate lease deeds with top brands on permanent monthly income or revenue sharing basis.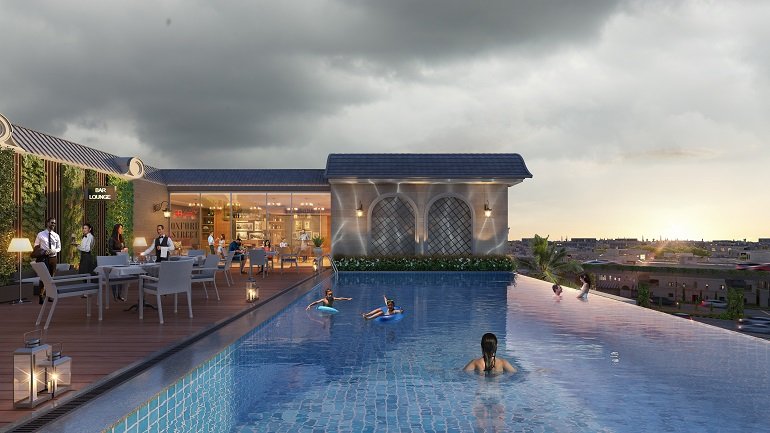 Royale Estate Group, which began its journey in real estate business in 2010, claims to have delivered 4,000-plus possessions in about a dozen projects in Zirakpur and other parts of Punjab, all within promised time schedules.
Among these projects are Royale Estate, Aggarwal Shopping Complex, Wind Cross, Royale Estate 2 and Royale Ambience in Zirakpur, and Aero Arcade on Airport Road in Mohali. The group has also executed projects in Rampura Phul, Tapa Mandi, Barnala and Banur, besides owning three projects in Peterborough and Bedford, United Kingdom.
"We have invested between Rs 2,500-3,000 crore in projects executed so far, and the beauty is that we don't have a single rupee as loans on us from banks or other financial institutions. We would rather sell assets at a lower price to overcome financial constraints from time to time, than be pushed into a debt trap," the group MD emphasised.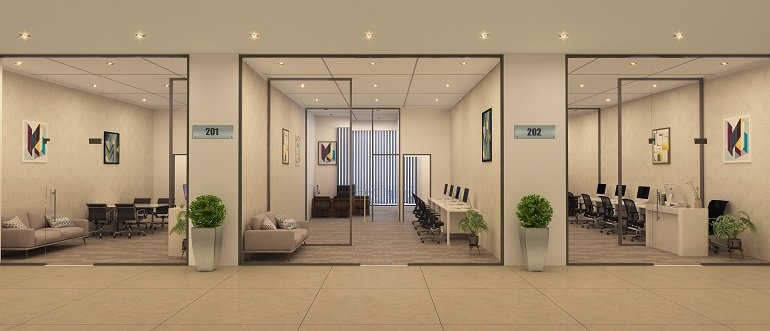 He shared that right now the company is focussing on affordable housing with 1-3 bedroom residential units priced in the region of Rs 13 lakh, Rs 17 lakh and Rs 25 lakh, respectively. He expressed his conviction that even a person with a family income of Rs 20,000 per month can afford to buy a residential unit. He or she gets Rs 2.7 lakh government subsidy on loan interest in a staggered time frame, which effectively reduces the loanee's interest rate to 4-4.5% , he maintained.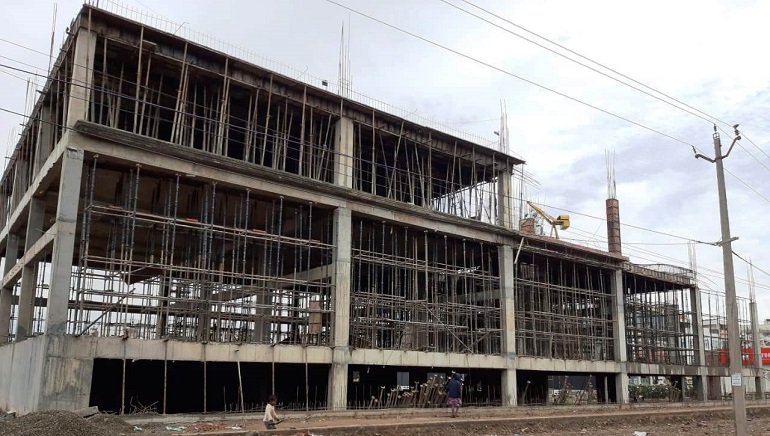 Construction in progress at site
Speaking about ways the Royale Estate Group is plying back to society, Kansal said "We have a scheme wherein if a property is bought, and registered, in the name of a woman, the company presents the woman a fixed deposit of Rs 2.5 lakh. So far 100-plus such FDs have been presented."
The company has in the past also absorbed the entire amount of external development charge (EDC) imposed by the authorities on projects and also paid the registration charges for the sold properties, giving substantial relief to buyers, he said, adding that despite not promising concrete roads, the company has provided these on arterial roads in its projects at no extra cost, despite such roads costing more than double of bitumen-gravel roads.
He signed off saying that the company's commitment towards its customers reflects in the faith the buyers have reposed in it. "More than 25% of the investors in our new projects are repeat investors," he asserted.
LifeInChandigarh.com by APR Media House is an enjoyable digital reading startup, which keeps you abreast of the latest meaningful happenings of interest to large sections of folks in Chandigarh tricity, and expats from the region. It has been promoted by a public spirited senior journalist and media consultant with a view to encourage good quality and healthy journalism, a dire need of the times.
To keep in touch, drop an email or call :
kochhar.apr@gmail.com
9815617676