Now when he has retired from active professional life, Dr Sandeep Goyal's insatiable passion for writing, travel and food has only grown in intensity. In city, where his parents still reside in Sector 21, to launch his fifth book 'Honest To God', Dr. Goyal shared with LifeInChandigarh.com that the book is a compilation of 78 odd essays on advertising and branding, on corporate and marketing strategy, and on select celebrities - analysed as 'human brands'.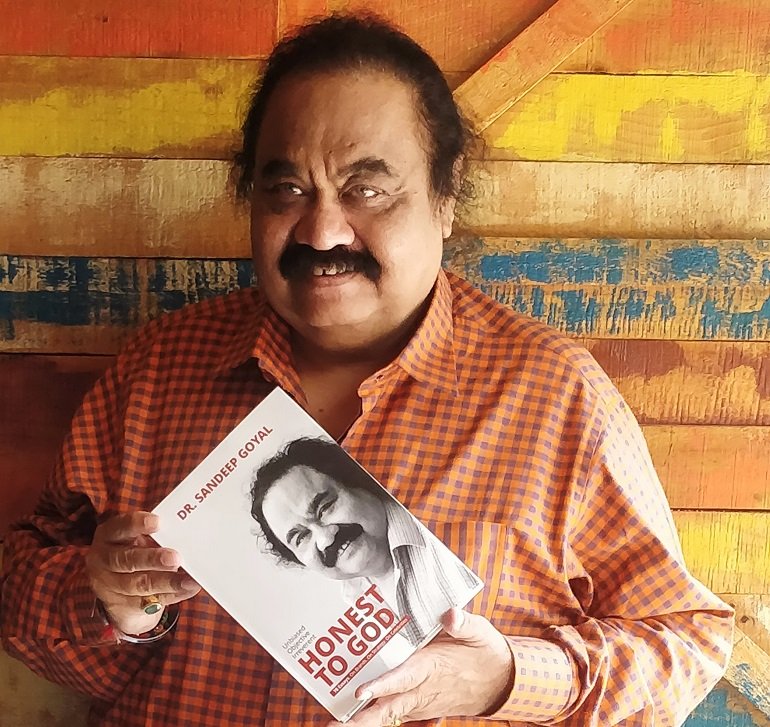 Photo By : Life In Chandigarh
The essays are edited versions of a series of frank, forthright and candid opinion pieces he wrote as part of a popular fortnightly column, also titled Honest To God, he began writing for Business India magazine four years ago.
Commenting on his approach to writing on a wide variety of subjects, Dr Goyal said "I spend hours, sometimes days researching a subject. I try to form an independent view. I write with zero bias. But when I write, I write with purpose. I write with passion. Marketing or communication may seem to be drab commercial subjects, but believe me there is a lot of emotion that drives brands and brand-owners. I try to capture those emotions in most of what I write. Honest To God over the past few years has consistently been an honest and unrelenting mirror to all that happens in Corporate India."
Dr Goyal is very passionate about learning and writing. He completed his PhD in Business Administration at the ripe age of 55 years. "The topic of my research was Celebrities as Human Brands," he informs. Advance copies of his sixth book 'Japan Made Easy' are already out. "Japan is a fabulous country. In the book I have written on 101 different topics - various facets of life in Japan, including business, industry, art and culture, tourism, etc. Having visited Japan more than 100 times for varying periods over the last quarter of a century, I feel I have a fair idea of the country and what it stands for."
Dr Goyal's earlier books Dum Dum Bullet (2004), You're Hired (2012), Konjo – The Fighting Spirit (2014) and Blogbuster (2019) have all been well received.
LifeInChandigarh.com by APR Media House is an enjoyable digital reading startup, which keeps you abreast of the latest meaningful happenings of interest to large sections of folks in Chandigarh tricity, and expats from the region. It has been promoted by a public spirited senior journalist and media consultant with a view to encourage good quality and healthy journalism, a dire need of the times.
To keep in touch, drop an email or call :
kochhar.apr@gmail.com
9815617676