For many years, celebrated theatre director from Chandigarh, Neelam Man Singh Chowdhry has, as she admits so herself, worked with scripts and stories that were complete - where there was the usual format of a beginning, middle and end. "It's only in the last five-six years that I have been working on productions that didn't have a set text or format. I have been approaching text as an open narrative, capable of being improvised, re-worked and re-imagined," mentioned Chowdhry at the formal announcement of her new production that will be staged at the Rock Garden over the next five days. The venue comes as little surprise as the noted thespian has always found the amphitheatre here as most conducive to her style of work.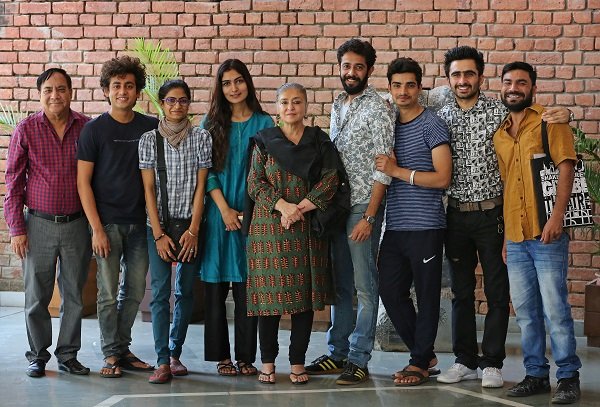 Photo By: Vikram Joy
The latest production is titled 'Dark Borders', presented by Department of Cultural Affairs, Chandigarh Administration and The Tagore Theatre Society. And as Chowdhry tells us, it is a "devised play" with stories of Saadat Hasan Manto. "For some years now I have been deeply engrossed in his works and find that it is to so relevant even today. I feel Manto was not just the greatest writer of the last century, but even this century. He looks at the realities, the hard truths of life and puts them out in the open. But even in his dark situations, humanity prevails. In this production, we have tried to explore the devastation brought upon women and families during the time of migration, loss and devastation," informs Chowdhry.
With actors on board from the Tagore Repertory Company, work on the production started a few months ago. With no ready to script to work with, improvisation was key. "A few stories and improvisations was the starting point. It is not an easy approach as there is uncertainty. But within that uncertainty, you hope that possibilities can exist that can take you into unexpected terrains and that was a risk I was willing to take," said Chowdhry.
Photo By: Vikram Joy
The play, as the director points out, brings in various stories of Manto, sometimes without any ostensible connection and at times the plot might seem fragmented. "This has been done deliberately to create 'relief moments' in the bleak landscape of people brutalized and marginalized by circumstances and extreme poverty," Chowdhry explains.
The production will see 11 actors on stage and seven in the music box. With a duration of one hour and 15 minutes, the play will be staged for five evenings, starting May 5 (Friday). Children below the age of 14 years are not allowed.
What: 'Dark Borders' play
When: May 5 to 9
Where: Phase 1 amphitheatre, Rock Garden
Time: 7.30 pm
Entry: Free; seats available on first come, first serve basis