A three-day conference of minimally invasive spine surgeons from across the country, and some renowned names from across the world, beginning in Zirakpur on Friday, will dwell in depth into these latest advancements and what the future holds in store.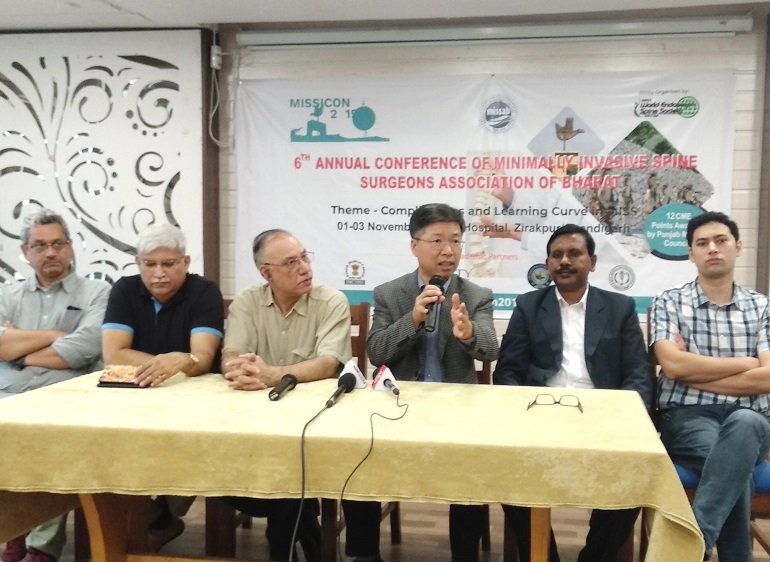 Photo By : Life In Chandigarh
Sharing this information with media persons in Chandigarh on Thursday organising secretary of the conference and chairman of Trinity Hospital Zirakpur Dr Mohinder Kaushal said MISSICON 2019 is a combined 6th Annual Conference of Minimally Invasive Spine Surgeons Association of Bharat (MISSAB) and meeting of the World Endoscopic Spine Society (WESS). Around 150 doctors are expected to participate.
Dr Kaushal, a well known orthopaedics, endoscopic spine & arthroscopic surgeon of the region, told LifeInChandigarh.com during an interaction that just as in the case of the knees, most of the common spinal problems like lower back and sciatica pain, etc can be linked to degeneration of the spine, which starts as early as 20-25 years of age. This natural process combined with sedentary lifestyle and nutritional deficiencies can lead to all these complications, he said.
Timely consultation with a doctor, suitable changes in posture and lifestyle, judicious medication and nutritional supplements can help stabilise the condition gradually, he said, adding however that many patients approach a doctor as a last resort, by when damage to the nerves in the affected area leaves very little scope for providing any substantial relief.
One of the international faculty at the conference, and renowned surgeon in the field of minimally invasive endoscopic spine surgery, Dr Sang Kyu Son from Busan in South Korea, shared that with the latest technological advancements it has become possible to treat a majority of the spine disorders with the use of keyhole surgical techniques. He particularly mentioned the technique by which the endoscope and instruments are inserted into the body in the targetted area through two separate keyholes which has given surgeons more operative flexibility.
Dr PC Dey from Bhubaneswar in Orissa, who is also secretary, WESS, and Dr. Srinivas Rohidas from Kohlapur in Maharashtra, informed that endoscopic spine surgery had revolutionised the treatment of spine disorders. Open spine surgery has traditionally been associated with poor results due to big cuts, lot of pain, long recovery times, longer hospital stay, more medication and greater chances of infection due to extensive dissection and healthy bone removal. With advent of endoscopic spine surgery, the outcomes and results of spine surgery have changed dramatically. Now a patient can walk out of hospital within hours of surgery, they added.
Apart from Dr. Sang Kyu Son from South Korea, the other international faculty at the conference includes Dr. Abdul Halim Yusof from Malaysia and Dr Luthfi Gatam from Indonesia.
LifeInChandigarh.com by APR Media House is an enjoyable digital reading startup, which keeps you abreast of the latest meaningful happenings of interest to large sections of folks in Chandigarh tricity, and expats from the region. It has been promoted by a public spirited senior journalist and media consultant with a view to encourage good quality and healthy journalism, a dire need of the times.
To keep in touch, drop an email or call :
kochhar.apr@gmail.com
9815617676