There is no dearth of artistic marvels in India. Be it Khajuraho in Madhya Pradesh, Ajanta and Ellora caves in Aurangabad district of Maharashtra, Masroor Temple in Kangra district of Himachal Pradesh, or our very own Rock Garden. These tourist attractions fascinate not just the locals but art lovers from overseas as well.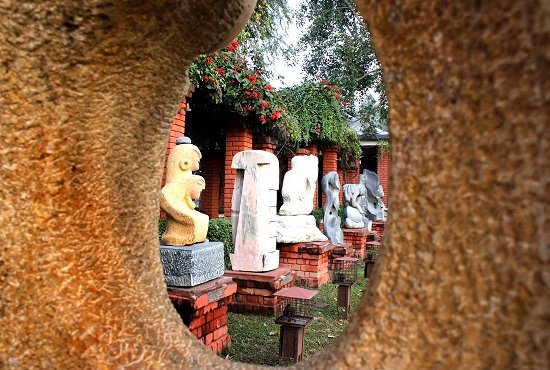 Photo By: Sumit Kumar
But did you know Chandigarh is also home to a unique sculpture park? And you don't have to travel all that far. Housed in Kalagram (Manimajra), the Open Sculpture Park houses 220 stone and 60 wooden sculptures crafted by both renowned and lesser known sculptors of national and international repute including Padma Shri awardee Biman Bihari Das, late Shiv Singh, D Rajasekharan Nair, Latika Katt and M. Dhirmani, to list a few.
Brainchild of Yashwinder Sharma, Programme Officer, North Zone Cultural Centre (NZCC), Kalagram, this is the biggest sculpture park in the country. Even though the artistic facility sees a lot of programmes and events, many of us miss appreciating the works that dot the gardens here. It is a perfect place to spend a sunny day with the family and acquaint them with such works of art.
Photo By: Sumit Kumar
While elaborating about the conceptualization of the park, Sharma, more popularly known as 'Jassi', informs, "There were several reasons behind conceptualization this park - first was to accommodate big sculptures that cannot be placed inside the art gallery on the premises. Second, was to offer a treat to art enthusiasts and enhance public's interest towards sculptures."
Photo By: Sumit Kumar
It is notable that most of the sculptures here have been carved by award-winning sculptors besides few others that have been made by arts' students. "The park has different categories of sculptures including the temple sculptures, tribal sculptures, contemporary sculptures, abstract sculptures, realistic sculptures and many more," informs Sharma.
As Rome wasn't built in a day, the park too, that we see today, is the result of more than a decade of hard work, passion and commitment. "It is the outcome of a variety of camps held here under the aegis of NZCC from time to time wherein craftsmen were invited from across the length and breadth of the country to create these statuettes/sculptures," said Sharma.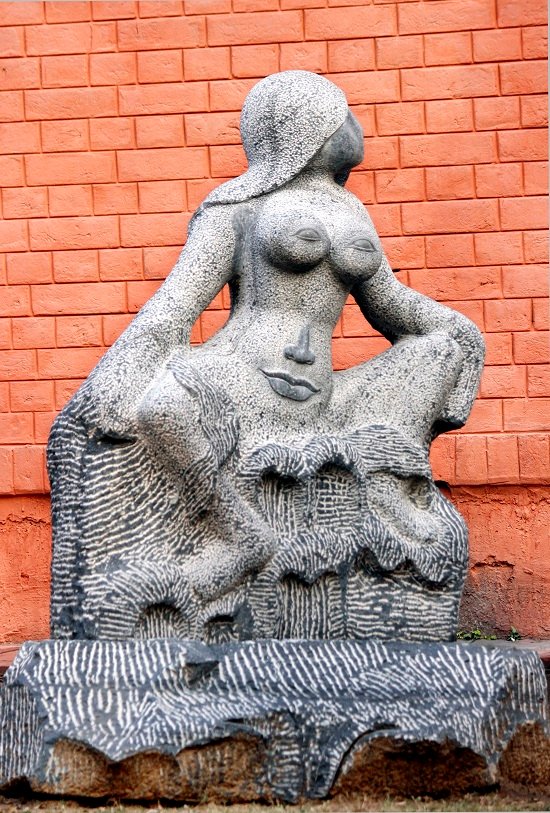 Photo By: Sumit Kumar
Sculptures have been made with different types of stones that are sourced majorly from Baslana, Jaisalmer, Gujarat and Udaipur. No colours have been used on any of these sculptures and most of the sculptures are black, yellow, pink and white in colour as they have been made from same stones. In the wooden sculptures most of the sculptures are made from sheesham (Talli) and teak wood.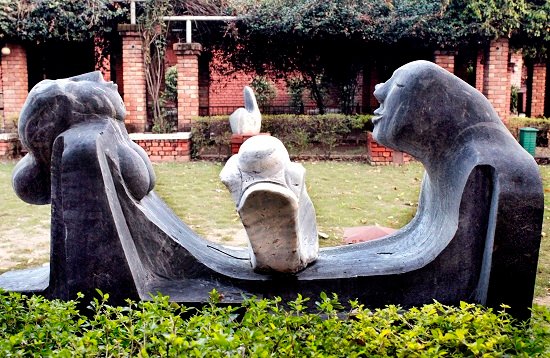 Photo By: Sumit Kumar
The wide-ranging styles depicted through these sculptures connote myriad manifestations. One of the most interesting things about these sculptures is that the title, sculptor's name and date of creation have been beautifully engrossed on most of the works.
Interestingly, when the sun goes down, the focused lights and music in the background adds to the charm of this place. Besides adding to its beauty, the light effect makes each of the sculpture worth observing and appreciating. Most of the works have an abstract theme and look at facets of life in an artistic way. The sleeping Ganesha to a replica of a brain showcase the sculpting skills of the artist and are a visual delight.
Photo By: Sumit Kumar
"In the years to come we will include terracotta, fibre and metal sculptures in the park. This plan of further expansion will not only increase the number of sculptures in the park but will make it one of its kind sculpture gardens in India. All the sculptures here are the assets of NZCC and are maintained by department only. Maintaining them is a must, after all their value is increasing with each passing day," said Sharma.
The sculpture park also sees a lot of BFA (Bachelor of Fine Arts) and MFA (Masters of Fine Arts) students but needs appreciation from the tricity residents and support from the government to establish it as a tourist destination that the city can boast about.