Emphasising, and reemphasising the need for awareness about this medical condition, which is the second largest killer of humanity in the world, senior doctors at the Post Graduate Institute of Medical Education and Research (PGI, for short) told media persons on the occasion of World Stroke Day that while stroke is preventable by taking certain simple steps in our daily lives, in case of a stroke also modern medical science has made it possible that disability and death can be prevented by immediately rushing a patient to a stroke clinic.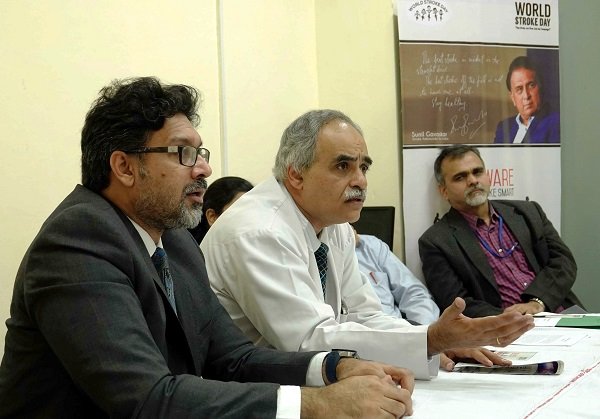 Photo By: Life in Chandigarh
Dr Vivek Lal, Prof. and Head of Department of Neurology, and Dr. Dheeraj Khurana, Prof. and in charge of the stroke control programme at PGI, said the biggest development in the past couple of years has been physical removal of a large blood clot, called an endovascular procedure, or a mechanical thrombectomy, which is being employed successfully to save lives and reduce the long-term effects of stroke. Thrombectomy allows trained doctors to use a wire-cage device, called a stent retriever, to remove a large blood clot.
For this a patient, on suffering a stroke, has to be immediately rushed to a stroke clinic where this procedure is performed after conducting a CT Scan to ascertain whether the cause of the stroke is a clot, blocking a vessel supplying blood to the brain, or rupturing of a vessel in the brain itself. The former is the most common cause of stroke, the neurologists added.
Dr Khurana said dissolving of the clot through intravenous technique (tissue plasminogen activator, or Alteplase IV r-tPA) is another excellent option, but it has been seen that this method sometimes is not very effective if the clot is blocking a larger vessel supplying blood to the brain.
Dr Lal emphasised that the seeds of stroke are sown in childhood itself, and increased physical activity is the best antidote to the condition. Physical activity also helps keep stress, which is another cause of stroke, at bay, he added.
The neurologists, as well as Dr. JS Thakur, professor of Community Medicine, School of Public Health at PGI, expressed their concern that the physical activity period, which till a few years ago was mandatory in schools, is no longer in prevalence. They advocated that the period should be reintroduced in schools and it should not be utilised for any other purpose but physical activity.
It was also stressed during the media interaction that consistent and determined efforts at rehabilitation of the patients, who have suffered long term disability due to stroke, had also shown good results. On the occasion, launch of a Neuro Rehabilitation and Spasticity Clinic by the Department of Physical Medicine and Rehabilitation, PGI, in association with the National Institute of Nursing Education and Department of Neurology, was also announced along with a Stroke Patient Support Group.
The PGI is also collaborating with the Government Multispeciality Hospital in Sector 16 to soon open a stroke service centre in the hospital, run by the Chandigarh UT Administration.
Good news : Cricket legend Sunil Gavaskar 'Stroke Ambassador for India'
His message : "The best stroke in cricket is the straight drive. The best STROKE off the field is not to have one at all. Stay healthy !"
Let Us Strive to STRIKE out Stroke
• S - Say no to smoking & alcohol
• T - timely check-ups for cholesterol, blood pressure and blood sugar
• R - reduce intake of salt
• I - include healthy food / diet (fruits and raw vegetables).
• K - keep yourself stress-free
• E - Exercise regularly.

Some glaring facts
• 116 million years of life lived with disability (YLD) worldwide in 2016
• Estimated 17 million strokes occur worldwide each year, of which 1.6 Million occur in India alone!!