Two young entrepreneurs from Chandigarh on Wednesday launched 'AlooPyaz' app which assures us of bringing good quality onions and potatoes directly from the farmers' organisations to the bulk end users as well as our neighbourhood kiryana stores and supermarkets.
Photos By : Life In Chandigarh
"In 'Navratra' offer, starting today onions in bulk will be available in 50 kg and higher packs @ Rs 39 per kg and potatoes @ Rs 5 per kg on the app for retailers, hotels, restaurants, caterers, canteens, departmental stores, modern trade, whole sellers and supermarkets. We will ensure same day delivery at no extra cost. The offer will remain open till October 7," shared the beaming duo of Sudarshan Patel and Vinod Singh Kashyap.
An alumni of Punjab Engineering College (PEC) Chandigarh, Sudarshan is an experienced hand from the corporate and food and vegetable industry. Vinod has had stints with big corporates like Walmart and Big Basket.
While the original concept is business-to-business (B2B), the end consumers will also benefit as they will be able to buy 1 kg premium packing from their neighbourhood kiryana and supermarket stores at prices much cheaper than the prevailing local market prices. "Initially we are placing these packings at two stores – Kumar Mega Mall in Sector 15 and Happy Homez Store in Dhakoli, Zirakpur - with an eventual target to make these available at 200 outlets across the tricity. The initial pricing is expected to be around Rs 46 for a 1 kg pack of Nashik onions with interested stores being advised to keep their profit margins low so that stocks fly of the shelf. One kg premium 'pahari aloo' packs will also be available at a price cheaper than the prevailing market price," Vinod told LifeInChandigarh.com.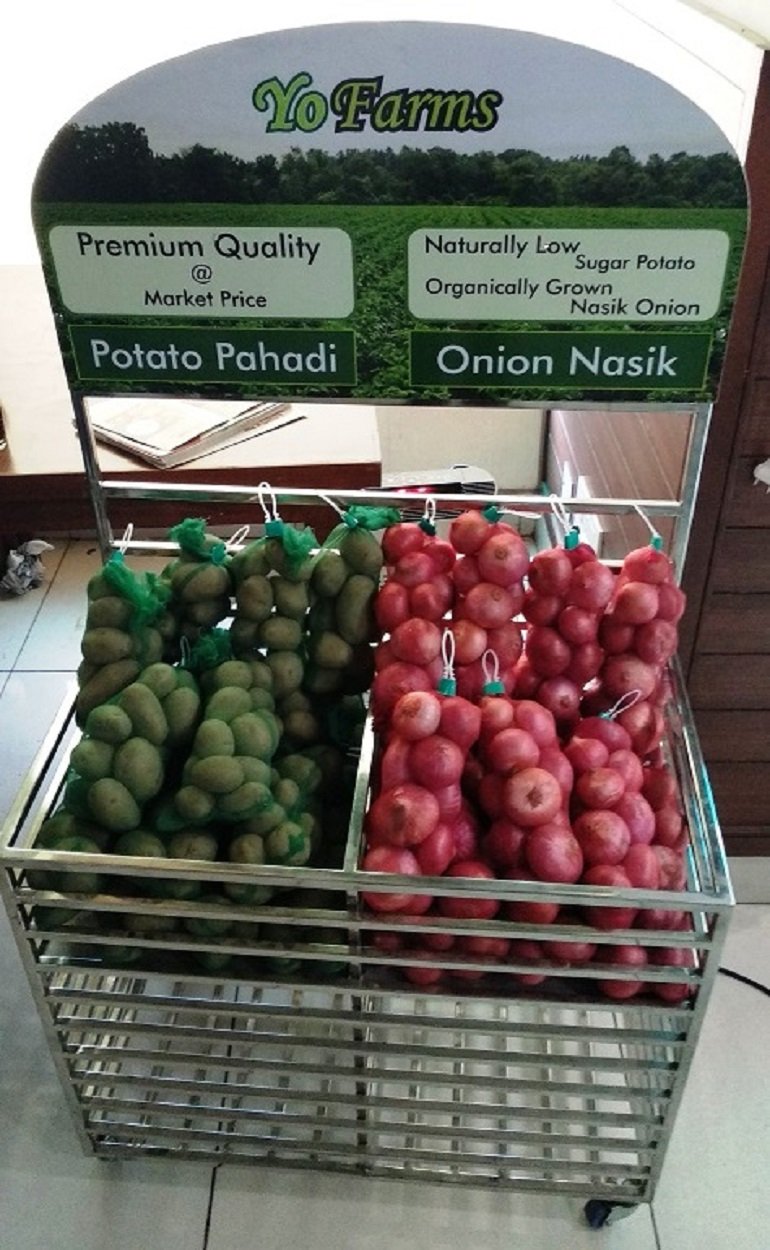 "We at POT Agritech Pvt Ltd are India's first agritech startup in onion and potato supply chain industry with a vision to organise the estimated $ 16 billion industry, which continues to remain unorganised resulting in a whole lot of distortions because of the 6-7 layers of middlemen involved. The app is aimed at bringing transparency in the market pricing of these commodities apart from checking the massive price fluctuations," Sudarshan emphasised. His earlier startup SabKuchFresh.com, launched in 2014, was acquired by Paytm, backed by Jugnoo, within two years.
"The company is initially sourcing onions directly from farmers' organisations in Nashik and potatoes from Jalandhar, Agra and Himachal Pradesh. We have organised collection, sorting, grading and packaging centres at various places. Gradually we will expand our operations to the National capital and later to 15-20 other cities," Sudarshan explained.
Vinod added that apart from consumers, the farmers will also benefit immensely from better pricing and being relieved of the burden of storing and packing their produce. The issue of uncertainty in payment will also be resolved as they will receive the payments the same day in their bank accounts digitally.
For more information, visit www.aloopyaz.in
LifeInChandigarh.com by APR Media House is an enjoyable digital reading startup, which keeps you abreast of the latest meaningful happenings of interest to large sections of folks in Chandigarh tricity, and expats from the region. It has been promoted by a public spirited senior journalist and media consultant with a view to encourage good quality and healthy journalism, a dire need of the times.
To keep in touch, drop an email or call :
Kochhar.apr@gmail.com
9815617676