Admitting that a lot still needs to be done on various fronts to come up to the expectations of the ever increasing number of patients visiting the PGI facilities with hope and faith, he claimed that during the year gone by the institute had been able to make headway in several critical areas. Several stalled projects were kick started, cadaver organ donations programme received a big boost, path breaking new transplant surgeries were initiated and better management of patient rush received utmost attention of his team of doctors, institute administration and engineering department.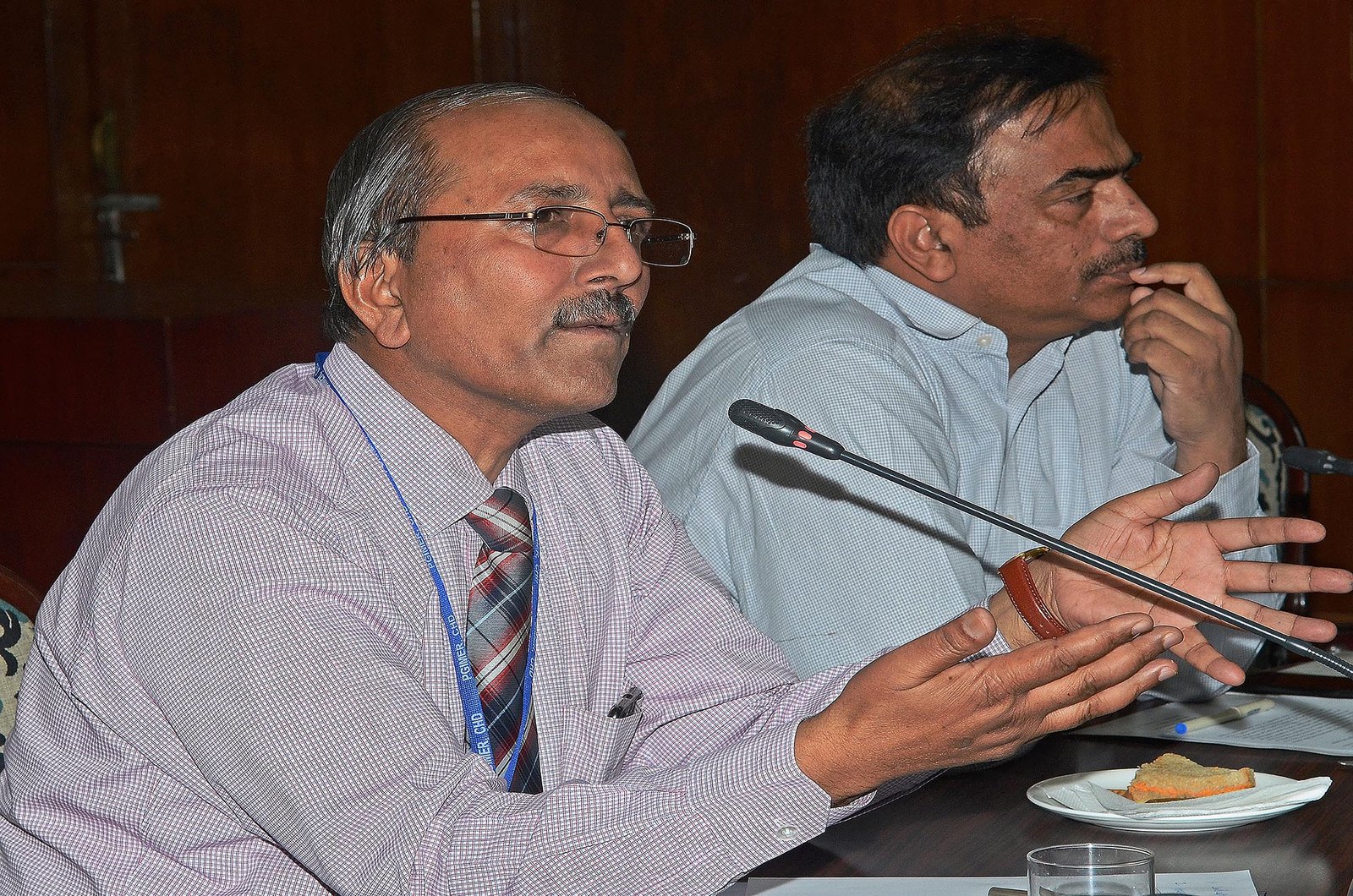 File Photo By : Life In Chandigarh
Prof. Jagat Ram
"Some of the projects, which have been in limbo for several years, have been put back on rails. Work on the 250-bedded hospital on the PGI campus and 300-beded Satellite Centre at Sangrur was started in right earnest and is progressing well. Both are expected to be completed by end 2018. We received approval of Rs 1475 crore for three major new projects - Advanced Mother and Child Centre, Advanced Neurosciences Centre, and Satellite Centre at Una in Himachal Pradesh. Work on Advanced Mother and Child Care Centre and Neurosciences Centre has been allotted in the last finance committee meeting of the institute and both projects are expected to be completed in the next 40 months," Prof. Jagat Ram shared.
Deputy Director (Administration) Amitabh Avasthi asserted that the PGI director has been vigorously monitoring the progress of works on all ongoing projects every fortnightly and monthly to ensure that all encumbrances cropping up from time to time are dealt with expeditiously. The effort is to check cost and time overruns, he added.
Sarangpur Extension Campus
Prof. Jagat Ram maintained that the Sarangpur extension campus project, to come up on 50 acres of land, and which is expected to majorly share the burden of patients on the main campus, was also being pursued with the Union Home Ministry through the Health and Family Welfare Ministry. The astronomical Rs 1100 crore price quoted for the land by the Chandigarh Administration was way beyond the PGI to bear and since the Union Territory was administered under the supervision of the Home Ministry the issue of heavily slashing or waiving off this price had been taken up with it, he said.
PGI received the highest ever 44 cadaver donations during 2017, as compared to 27 in the previous year, which facilitated organ transplant in 107 patients. The institute had also set a trend in robotic surgeries with more than 1,000 robotic assisted surgeries having been done. Urology department has taken a lead accounting for 800 of these surgeries, followed by the gynaecology department, ear and throat department and paediatric department.
New Transplants
In a first for the region, the institute successfully conducted a lung transplant and a combined lung and liver transplant, which involved a team of 20 doctors and support staff working in unison. A new procedure for inoperable Liver Cancer was introduced by the interventional radiology section of the Department of Radiodiagnosis in collaboration with the departments of hepatology and nuclear medicine.
Dwelling on measures being taken for better management of the massive rush of patients to the institute, Prof Jagat Ram and Amitabh Avasthi said the digital display token system had shown encouraging results in three departments where it was introduced recently and will now be implemented in all departments. To reduce rush for registrations, manned kiosks are planned to be set up in various sections of the PGI campus.
It is also being ensured that the senior residents and consultants report at their respective OPDs strictly on time. "I am myself taking regular rounds of the emergency and trauma centre with the medical superintendent and engineering department officials to remove bottlenecks. The process of granting clearances and discharging patients has also been streamlined to ensure that no patient stays admitted there more than is absolutely necessary," the PGI Director added.
Scan Facilities
Regarding long waiting periods for subsidised PET Scan, MRI, CT Scan, etc, he said efforts are being made to add more machines, wherever possible. "At the same time the radiodioagnosis department has been asked to ensure that very poor patients and those with life threatening conditions are given priority over others."
Commenting on another contentious issue of alleged nexus between hospital staff and private diagnostics centres and medical stores, Prof. Jagat Ram assured that strict measures were being taken to ensure that this did not happen. PGI security had been given strict instructions to keep a watchful eye and bar entry to representatives of such private interests solicited business. "A committee has been set up which is investigating specific complaints against hospital staff and strict action will be initiated against them if found guilty."
He said PGI was among the first institute in the country to provide stents and orthopaedic implants to patients at a cheaper rate through Amrit Pharmacy and constant pressure was being maintained on the pharmacy to ensure that they kept sufficient stocks and prominently displayed the rate lists so that patients did not have to buy these at market rates from outside.
Tele Evidence Facility
Sharing some other details, Prof. A.K. Gupta, who has been PGI Medical Superintendent for the last 22 years, said the institute had introduced the facility of tele evidence under which it was providing information required by courts in various cases through teleconferencing. In the 3,000 odd tele evidences provided so far the PGI had saved precious patient time of doctors and crores of the institute's funds.
He also maintained that the institute's anti-tobacco campaign had been a success, with patients and their attendants surrendering 750 kg of tobacco products at 90 odd entrances to various PGI facilities in the last three years. All such tobacco products were regularly incinerated, he added.
Prof. Gupta claimed that by better management of the 1948 beds available at PGI through an online monitoring system, the institute had admitted 14,000 more patients in 2017 than in the previous year within the same resources.
Others present at the media interaction were Prof D. Behera, Dean Research, Abhey Kumar, Financial Advisor, and S.S Saini, Superintending Hospital Engineer.
PGI Honours
PGI adjudged best public sector hospital for its services towards the promotion of cadaver organ donation by Ministry of Health & Family Welfare, Govt. of India, consecutively for second year.
PGI's initiative for promotion of eye donation conferred "Health Excellence Award" for Leadership and Management in Healthcare at 41st World Hospital Congress organized by International Hospital Federation at Taiwan.
The Week-Nielsen Survey 2017 ranked PGI second best in medical education, research and multispeciality patient care amongst fifteen best institutes in India.