Admitting that it was not practically possible for traffic policemen to be physically present on the roads at all times during the day and night, he said induction of modern technology was imperative for effective traffic regulation round the clock at all places. The installation of these modern cameras will ensure that night time traffic offenders do not go scot free and are penalised for their violations.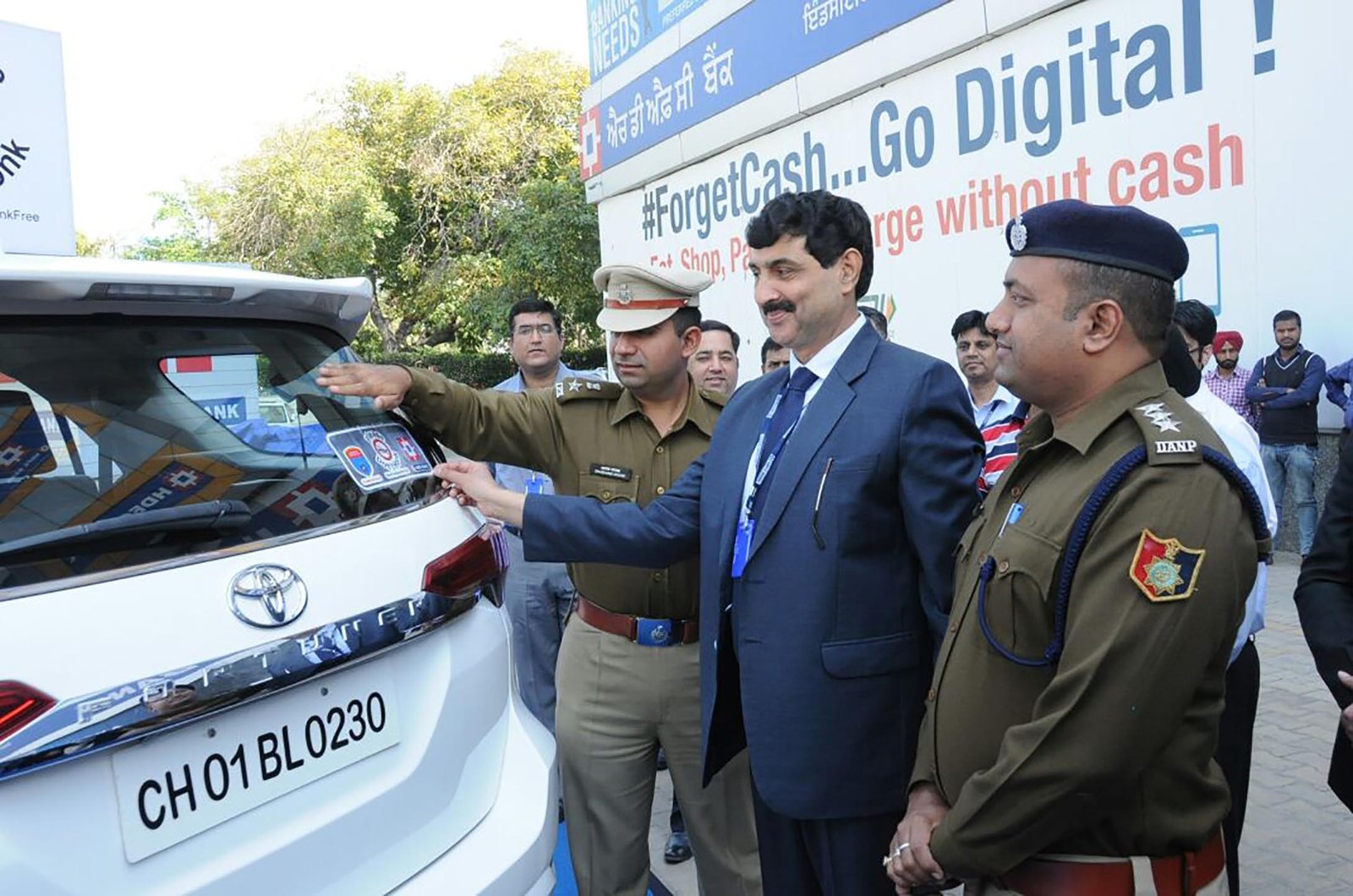 Photo By : Life In Chandigarh
SSP Traffic & Security Shashank Anand (left) helping paste a honk free awareness sticker on the SUV of HDFC Bank Regional Manager Vineet Arora (center)
This raises a pertinent question whether induction of modern technology alone will help in remedying the situation? The hotly debated and much hyped Varnika Kundu stalking case has already exposed the chinks in the CCTV network in the city. The investigating agency in the case has been unable to provide the footage of the cameras installed on the entire route of the alleged chasing episode and the multiple cameras installed at Housing Board Crossing, where the alleged attempt to kidnap the girl was reported to have been made.
Shashank Anand and his team of senior traffic police officials was at the HDFC Bank Regional Office in Industrial and Business Park Phase I as part of the continuing awareness campaign to ensure a honk free Chandigarh. Besides sensitising the HDFC officials to the need for controlling the menace of indiscriminate honking, honk free Chandigarh stickers were also pasted on the vehicles of some top officials of the bank.
Bank Regional Manager Vineet Arora told Lifeinchandigarh.com that he had promised to partner with the Chandigarh Traffic Police to spread the message through awareness drives within the bank staff in all branches and their respective customers by physical means, emails and social media posts. All bank staff will also affix campaign stickers on their vehicles and will launch a drive to paste these on the vehicles of its willing customers and the general public outside high footfall public places like malls.
Spelling out various initiatives being taken by the traffic police, Shashank Anand said a mapping of honk free zones like schools, hospitals, courts and old age homes was being done where honking within a 100 metre perimeter was absolutely prohibited even under the most compelling circumstances, and the regulation will be strictly enforced.
As part of a broader awareness drive, road users were being sensitised to the need for good road etiquette and persuaded to be mutually accommodative, compassionate, understanding and cooperative and not to get worked up on minor issues with other road users to prevent incidents of road rage. Regarding the honk free campaign, he said, it will continue for a reasonable time since persuasion invariably leads to permanent solutions. "We will not self pat ourselves for the work we are doing, and there will be a periodic independent impact assessment of the campaign. Enforcement, without which the entire exercise will be incomplete, will follow with full vigour," he added.
Other traffic police officials claimed that the awareness campaign against honking and modified silencers, especially in Royal Enfield motorcycles, had started showing positive results. Violations had reduced marginally, but a lot needed to be done still. No campaign can succeed without people's mass participation and cooperation, and our approach is in consonance with that spirit, they added.
Lifeinchandigarh.com sincerely hopes that today's awareness initiative will go beyond a mere photo opportunity and a PR exercise and make a real impact on the ground.