Chandigarh takes its cars very seriously and is seen as a strong market for luxury car manufacturers. This point is reasserted when a biggie like Mercedes Benz decides to unveil its first "India-specific product" in Chandigarh first. "While Delhi and Mumbai are equally strong markets, when it comes to north India, Punjab and Chandigarh are key areas for us," said Michael Jopp, Vice-President, Sales and Marketing, Mercedes-Benz India.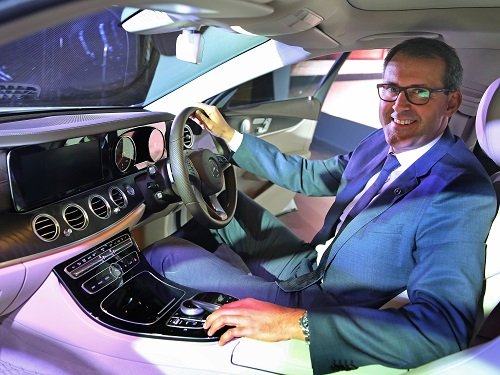 Photo By: Vikram Joy
Jopp was in the city to formally unveil the first-ever 'Made in India' long wheel base new E-Class. Incidentally, the right hand drive E-Class is the first India specific product from the luxury car manufacturer. "The E-Class sedan is India's highest selling luxury executive sedan and it comprises about 34% of the total Mercedes-Benz cars sold in India till date," informed Jopp as we met up with him at Hyatt Regency on Monday afternoon.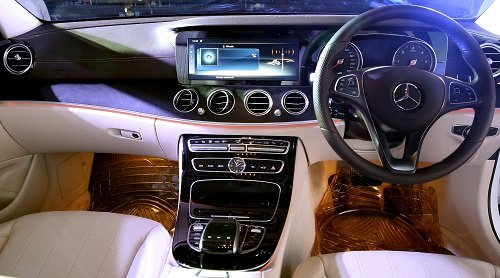 Photo By: Vikram Joy
With over 13 million units sold globally, the E-Class sedan and Estate are the best-selling vehicles for Mercedes-Benz. The long wheelbase version of the new E-Class is the first new generation car to be locally produced since market launch. "India is the only country to launch the right hand drive version of the long wheel base new E-Class. It took 48 months for the development of the new E-Class," said Jopp as we eyed the long beauty that packs in 37 degree recliner rear seats. That teamed with 64 colour ambient lighting makes it perfect to lounge in on a long drive. "Majority of our E-Class customers in India are chauffeur driven, and hence it was a natural decision for us to introduce the long wheelbase new E-Class in India and create a new benchmark in the luxury executive segment," said Jopp.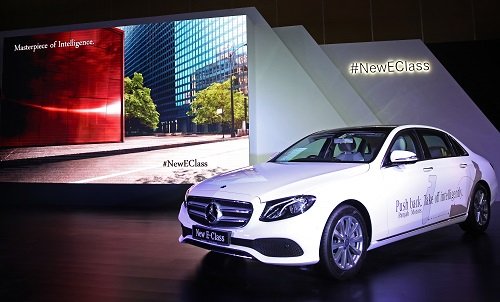 Photo By: Vikram Joy
Get to know the new sedan:
Technical Specifications: The E 350 d features a 2987 cc V6 diesel engine that churns out 190 kW (258hp) and 620 Nm of torque available at as low as 1600 rpm, 0 -100 km/h in 6.6 secs.
First time in the E-Class: Air Body Control | Chauffeur Package | 37 degree recliner rear seats | 9G-TRONIC transmission | Burmester® surround sound system |Parking Pilot, a wide high-resolution and bright display with a next-generation 12.3-inch screen as standard | 64 colour ambient lighting.
Price: The Mercedes-Benz E 200 is priced at Rs 57.05 lakhs and the E 350 d is priced at Rs 70.59lakhs (ex-showroom, Chandigarh)