Another first in North India will be a job-oriented three-year BSc program in Yoga, which has opened up a sea of opportunities worldwide.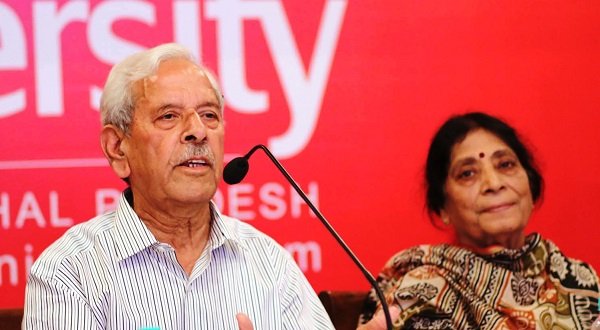 Photo By: Life In Chandigarh
Nestled in serene environs of mid Himalayas, the sprawling campus of the university, near Solan in Himachal Pradesh, is throwing open its gates to industry professionals-driven courses in Legal Studies, Management, Agriculture, Hotel Management, Pharmacy and Digital Journalism this year. So, there will be BA LLB (5 years) and LLB (Hons) of 3 years, PG Diploma in Business Management (12 months), four years BSc (Hons) in Agriculture, BSc Hospitality and Hotel Administration (3 years), two years B Pharmacy (Practice) and Young Journalists' Programme in Digital Journalism (11 months).
Interacting with media persons in Chandigarh on Tuesday, Founder and Vice Chancellor, Prof. P.K. Khosla said undergraduate students joining the tech university, which has risen up the rankings and won a string of awards for its proven high-impact research model, will have the advantage of taking up research from first year itself.
"It will now be possible under a unique undergraduate (B.Tech.) program in biotechnology where selected students have the opportunity to pursue the Summit Research Program based on the Harvard and Stanford model. The program provides first-hand exposure to high quality research in state-of-the-art global research environments, experience of writing and publishing papers, and personal interaction with acclaimed research practitioners/experts from around the world.
"The University is committed to seek the best candidates. If you are passionate about research and life-sciences, the university will ensure that your financial constraints do not come in the way of joining our program," he asserted.
The New Courses
BSc Yoga program is being started mindful of the fact that its popularity is going to open up rewarding career opportunities in schools, colleges, universities, hotels, resorts, hospitals, etc.
BA LLB & LLB (Hons) program will be at par with the National School of Law supported by living case histories by top legal luminaries of the country.
Young Journalists' program in Digital Journalism is designed for imparting practical experience to budding journalists and would be mentored by Mr Vipin Pubby, who served as Editor of the Indian Express for 18 years and has an overall experience spread over 37 years.
PG Diploma in Business Management, a year-long programme, is designed on the lines of the Indian School of Business (ISB), Hyderabad for working professionals. The program will be mentored by Prof Atul Khosla, an eminent Senior Executive with an illustrious career in the corporate sector.
The BSc (Hons) in Agriculture program will have Dr. R.S.Paroda, former Director General of the Indian Council for Agricultural Research and Secretary Department of Agricultural Research and Education, GOI, as mentor.
BSc Hospitality and Hotel Administration program with a huge employment potential has been instituted as per the norms of National Council for Hotel Management and Catering Technology, under the Ministry of Tourism, GOI. The program will be mentored by industry veteran Pratip Majumdar in association with top managers of country's leading hotel chains.
Two years B Pharmacy (Practice) program is especially designed for diploma holders working as chemists or elsewhere to earn B. Pharma degree enabling them to improve their professional skills. This Pharmacy Council of India approved course, would be mentored by Koushik Das Sarma, who holds a doctorate from Indian Institute of Science (IISc).