With a top speed of 40 kms per hour in eco mode, 'City Speed NYX e5' can be instantly boosted to 45 kms per hour by switching to pep mode. The scooter powered by a 600 W motor can generate peak power of 1300 W and comes with a fast charging and portable advance lithium-ion battery, which charges fully in 4-5 hours and gives a smart charge top up in 60 minutes.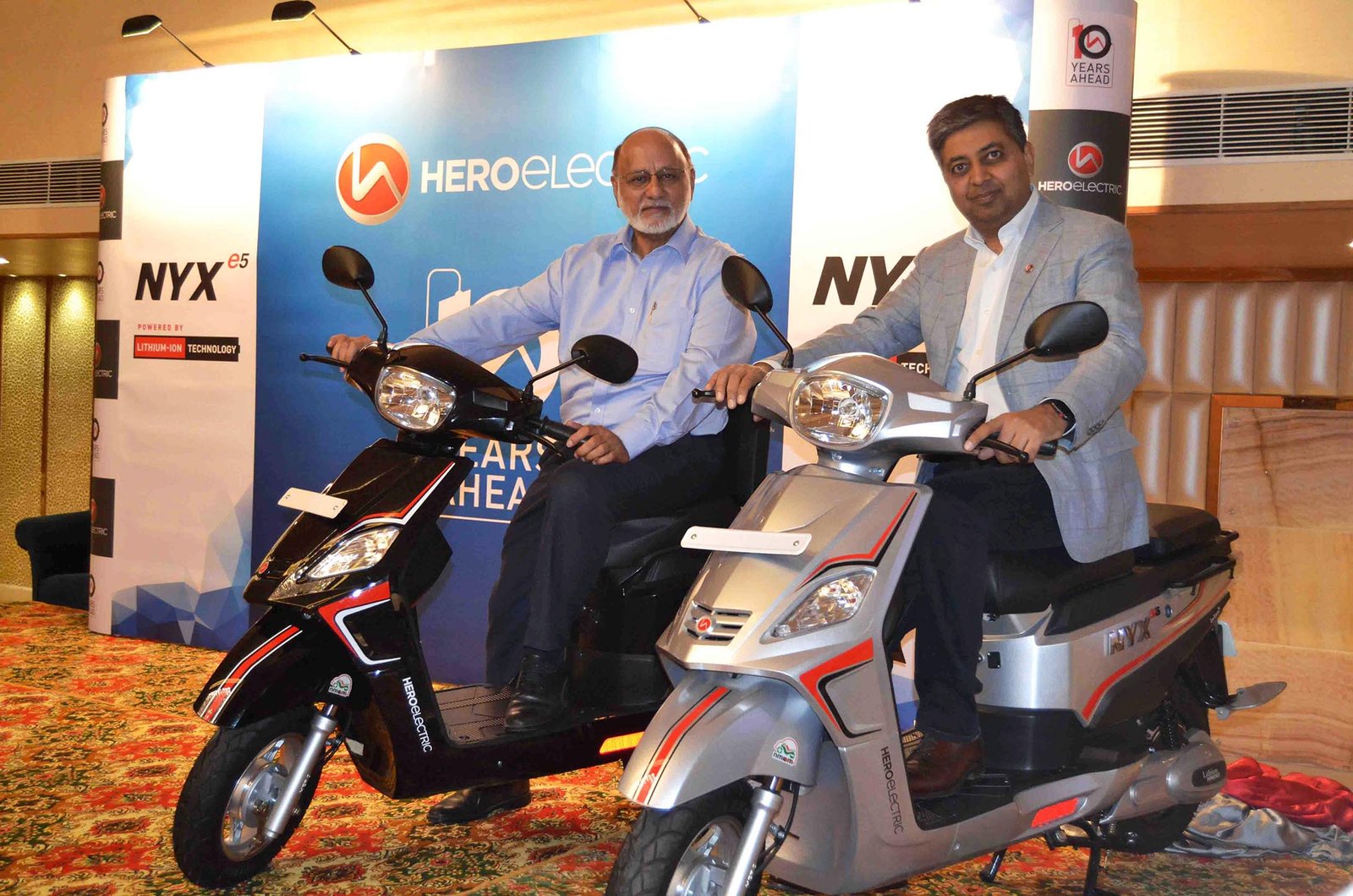 Photo By : Life In Chandigarh
The 'City Speed NYX e5' runs 60-65 kms on a single charge and can do another 15 kms with a quick charge. Since the battery, weighing seven kg, is portable you can carry along a replacement battery or pick one up on the go for increased range of travel. The battery can be disconnected and carried inside your home for charging from a normal power source. The eScooter and battery come with a three year warranty but the battery life is five-plus years, if handled with care.
The company has improved the torque of the eScooter, and claims it can now negotiate flyovers with effortless ease with a pillion rider. Negotiating pot holes and wading through water logged roads during rains is not a problem. "No breakdown is assured," says Hero Electric Managing Director Naveen Munjal.
Interacting with media persons at the launch ceremony in Chandigarh, Naveen said through the market for eScooters in India is still small, his company was showing an exponential growth in sales. From 12,589 eScooters sold pan India in 2015, the sales figure increased to 15,000 the following year and more than doubled to 30,200 in 2017.
"By bringing in world class technology real time to India we have been able to generate a lot of interest among the two wheeler buyers. And with people increasingly becoming environment conscious, eScooters are bound to rule the Indian roads in the not so distant future. We would welcome more players to enter the market with high quality, high performing eScooters. This will only help expand the market faster," he added.
CEO, Global Business, of the company Sohinder Gill said 'City Speed NYX e5' had been especially designed for the aspirational Indian. Besides improved styling, speed, range, and ease of running and charging, NYX e5 features a mobile charger and an innovative split seat with foldable rear one to provide back rest to the rider, while creating extra storage space. The eScooter has three side grab-rails for convenience of tying luggage.We are the only manufacturers using automotive grade plastic, paint and parts to generate a superior product, he said, adding that the eScooter comes in two colours – silver and black.
Talking about the major markets for eScooters, he said Uttar Pradesh and Delhi were the biggest markets for entry level eScooters because of the buyers there being price conscious. But South India is emerging as a major market for value for money products. Pockets in Haryana are also showing manifold increase in demand, he added.
"We have been able to rapidly expand our dealer network pan India with the current dealership strength standing at 425-plus. Out of these 32 dealerships have been opened in Punjab, Haryana and UT Chandigarh," Sohinder Gill informed.