In a first of its kind association in Northern India, Chandigarh Region Innovation and Knowledge Cluster (CRIKC), an alliance of 25-odd reputed public sector and private institutions of higher learning and research, and Confederation of Indian Industry – Northern Region (CII-NR) opened a new chapter in industry-academia partnership by signing a memorandum of Understanding (MoU) to work for common good. Punjab Governor and UT Administrator VP Singh Badnore was the chief guest.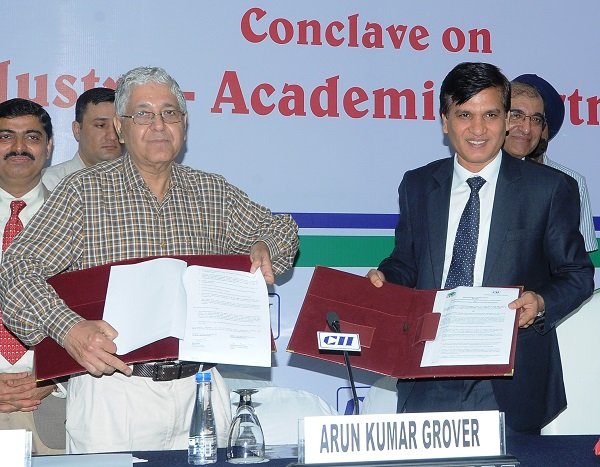 Photo By: Life in Chandigarh
The MoU envisages creation of a 'CRIKC-CII (NR) Industry-Academia (I-A) Board' for framing meaningful courses of higher learning in line with industry requirements, and commissioning and funding of research projects by the industry and absorbing this research in modernization and growth of the industry.
The board will prepare a roadmap and devise governance model to promote partnership programs between the research and educational institutes in Chandigarh region and industries represented by CII-NR. It will also undertake a number of activities like industry-academia interfaces, submit collaborative research projects to public and private funding agencies, set up industry sponsored chairs, scholarships, fellowships, laboratories at institutes in Chandigarh region.
The board will also organize industry-academia collaborative workshops, seminars, conferences, showcasing and networking meets, design competitions etc. to evolve new ideas for addressing industrial challenges and setting up start up, entrepreneurship and skill development programs.
Prof Arun Kumar Grover, Vice Chancellor, Panjab University, Chandigarh and President of the Governing Body of CRIKC, emphasised the need for linkages between government, industry and institutions for exchange of best practices and training for students. Industry and academia can replicate the concept of interchangeability of roles as practiced in advanced countries, he said.
Dr Dinesh Dua, Chairman, Regional Committee on Higher Education, CII Northern Region who is also CEO & Director, Nectar Lifesciences Ltd, said, "Academia is at the centre of developing trends. However, there is a gap between universities and industry that needs to be bridged. Acknowledging the importance of knowledge cluster, CII desires to work in tandem with CRIKC. Such an alliance will boost the R&D of industries and help enhance the educational skills of their employees. CII strongly believes that the country cannot achieve the universalisation of education without the contribution of the private sector," he added.