In Nipun's own words, the book relates the "story of friends, penned by a friend, for the friends". It is dedicated to all the free-spirited, adventure-seeking and fun-loving souls.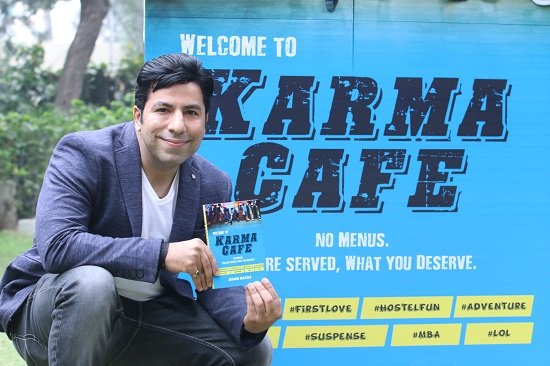 Photos By: Life In Chandigarh
Says the writer, who is deeply into media marketing, "If you are an avid reader of suspense thrillers, this one is a must read for you. Karma Café, published by Fly High Publications, is a fun filled, hilarious and action-packed suspense thriller that takes you on a roller coaster ride through the peppy college life, dating dilemmas, peer pressures and notorious pranks."
Ambitious Nitin, talented Shanky, dashing Jeff and prankster Harry meet each other in college and form an inseparable group 'V-4'. The vivacious and carefree nature of the gang lands them into many comical situations as well as serious trouble that tests their friendship. The group dynamics change when Preeti and Amie enter their group and love comes knocking. The settings and expressions used to narrate the two innocent and beautiful love stories is what the youth will be looking for.
The first half of the story is set in Chandigarh and the second in Delhi. All the surroundings of Chandigarh are used elaborately. So, the characters visit Sukhna Lake, Elante Mall, Rock garden and they romp on the Gedi route.
ABOUT THE AUTHOR
Author Nipun Nakra was born and brought up in Chandigarh. Schooled in St. Xavier's and Bhavan Vidyalaya, he did his bachelor's in commerce from DAV College and MBA from Panjab University. He started his career with 92.7 Big FM and moved on to Star Plus TV Channel.
His journey of writing started when he was preparing for his MBA entrance exam. He has always been an avid reader, having read William Shakespeare, Sydney Sheldon, Robin Sharma, Jeffrey Archer, Stephen Covey, Malcolm Gladwell among others. During his Media career he got to learn about the creative writing process which really helped to shape his writing dream. Most of his maiden book was written while sitting in cafes and libraries. Other than writing he is passionate about adventure sports and music.