It sounds unusual but their cause is anything but that. At a time when we take the environment for granted and go about our usual ways by not taking care of it, EcoSikh is making concentrated efforts in increasing awareness about climate change and making a difference in the community.
EcoSikh is a response from the Sikh community to the threats of climate change and the deterioration of the natural environment. The organization arose as part of the Long Term Plans for Generational Change programme initiated in 2009 by the United Nations Development Programme (UNDP) and the Alliance of Religions and Conservation (ARC) to help the world's major religious traditions create long-term plans to improve their relationship with the environment.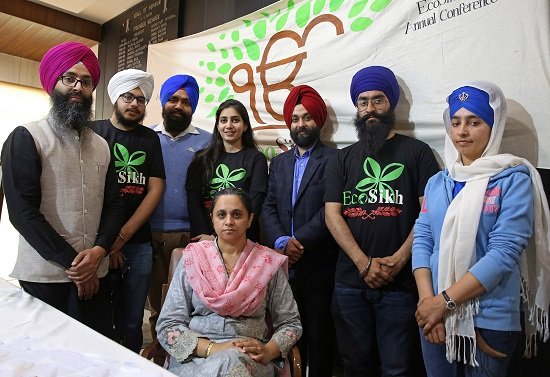 Photo By: Vikram Joy
The past seven years of EcoSikh campaigning has seen hundreds of trees planted by the gurdwaras and educational institutions, and over 2,000 trees planted by EcoSikh itself in Amritsar. Clean and green nagar kirtans have been established pan-India, three historical gardens associated with Sikh Gurus revived in Punjab and they have initiated the idea of organic langar at the Golden Temple which is now being adopted by other gurdwaras. Many gurdwaras have switched from harmful Styrofoam products to metal utensils and biodegradable pattals.
The Washington-based organisation is also credited for starting Sikh Environment Day in 2010 marking the Gurgaddi Diwas (enthronement day) of Guru HarRai, who became the 7th Sikh Guru in 1644. He was known in history to have deep sensitivity for nature and animals and had asked his followers to care for the environment.
The team of EcoSikh led by President Supreet Kaur was in Chandigarh to release its four-point environmental agenda for the upcoming Government of Punjab. EcoSikh is appealing to SGPC to set aside land for sacred forest in Kiratpur, Guru HarRai's birth-place. "Punjab which has a mere 3.5% of forest cover and it witnessed 900,000 trees axed in the last 5 years. So, the first priority should be to ensure that a well planned strategy is put in place to increase the forest area in the state. Secondly, there is a need to create awareness among farmers and among masses to conserve water and to ensure the industrial waste is treated before being dumped in the rivers. Thirdly, the government should provide provisions and training to farmers to prevent stubble burning which is causing havoc in the health of masses all across the state and north India. Fourth is to encourage farmers with proper training to increase farming without overuse of harmful chemical pesticides."
Dr. Rajwant Singh, EcoSikh's global President, stated, "SGPC should declare 100 acres of its land as a sacred forest dedicated to the memory of Guru HarRaiji in Kiratpur Sahib. Kiratpur is slowly becoming associated with last rituals only where as this is the place where we need to learn how to live. Having a forest will continue to inspire Punjabis to live with green consciousness. Sikhs from all across the world would flock to such inspirational place and it could bring eco-tourism to the area."
Adding to this, EcoSikh's South Asia Project Manager, Ravneet Singh, said, "This year the Sikh Environment Day is being celebrated with marathons, bicycle rallies, and several plantation events all across India and in Punjab. There are many gurdwaras in Europe and in Punjab are edging towards organic langar, an initiative launched last year by EcoSikh on this day."
EcoSikh also declared its kitchen gardening programme here at the press conference in partnership with Vigaas Foundation. The two organizations have plans to start organic kitchen gardens in 50 villages in the coming year.