News website LifeInChandigarh.com took a round of the exhibition for the benefit of readers during a well attended preview for select media and art lovers organised Friday, a day before the formal opening.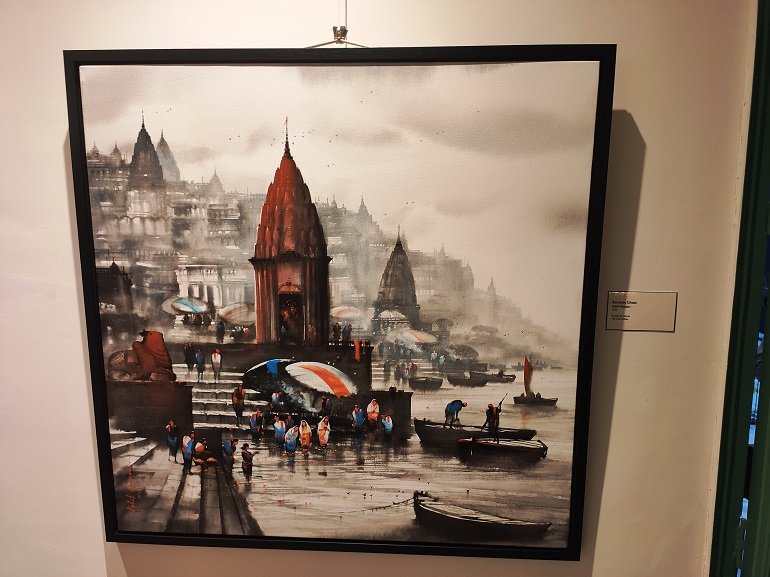 Photos By : Life In Chandigarh
Introducing us to the exhibition, and explaining the reason behind the theme of the exhibition 'Chalo Ghar Chalein', its curator Mehak Bhan said, "The exhibition endeavours to capture the magnetism of home; its pull. Every aspect of home that is highlighted in each of the works will mesmerise the viewer with the sweet, simple warmth of a family, a home, a 'ghar', which is more than a place."
The art works, largely paintings and a couple of sculptures, reflect the artists' deep, yet diverse associations with 'ghar'.
On display are works of senior artists like economist-turned-painter Nayanaa Kanodia and Vinita Karim, both of whom travel the world with their exhibitions. Canvases by artists like Satyadheer Singh, Manisha Agrawal, Daphy Brar, Sandesh Khule and Priyanka Aelay will draw the viewers to experience the familiar with a fresh new perspective.
Looking at the sculptures by Swati Pasari one will be instantly transported to a 'pooja ghar' with minds and hearts filled with peace.
Ashif Hossain's two paintings, including 'Old Bombay Kala Ghoda', find inspiration in the chaotic life of Indian Metropolitan cities and their populations, while Shiv Kumar Soni uses his imagination to inspire, and take viewers down memory lane of their own childhood to simplistic activities that once provided us endless joy, like kite-flying, chasing a dog, or playing with balloons, hats or toys.
The paintings on display use diverse mediums like watercolour on paper (Daphy Brar), oil on canvas (Nayanaa Kanodia), ink on paper, acrylic on paper (Satyadheer Singh) and acrylic on canvas (Ashif Hossain, Sandesh Khule, Priyanka Aelay & Shiv Kumar Soni).
Brief profiles
Nayanaa Kanodia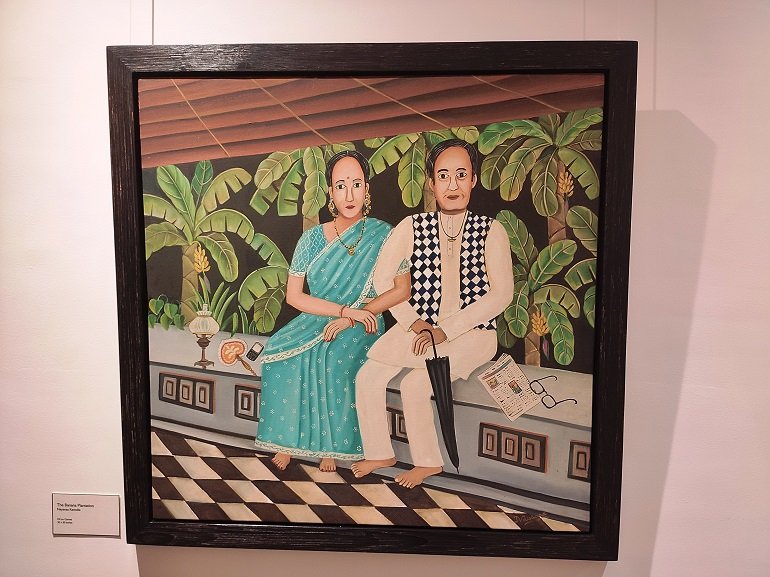 An economist turned painter and a brilliant colourist with a strong individualism in her work, Nayanaa Kanodia is a pioneer in the genre of L'Art Naif in India. Her 'Naïve Art', while delights the viewer with its whimsy, vibrant colours and polished surfaces, reflects a certain truth of life, and conveys important social messages through gentle wit and satire. Musee International D'Naif Art in Paris permanently displays her paintings. She has exhibited and demonstrated her painting techniques in Victoria and Albert Museum in London. She is the first Indian whose paintings have been selected in 'Paintings In Hospitals.UK', and first Indian to be appointed as a juror for Prisma Art Prize for their Rome Dividere in Europe. Featured in an international publication Women in Art by Reinhard Fuchs, a rare honour, she was chosen from all the artists of The Commonwealth Countries to have a solo show in their newly renovated complex in London. Impressed with the social messages conveyed in her paintings, a consortium of schools in Los Altos, U.S.A. is using her work as a medium of instruction to their students.
Shiv Kumar Soni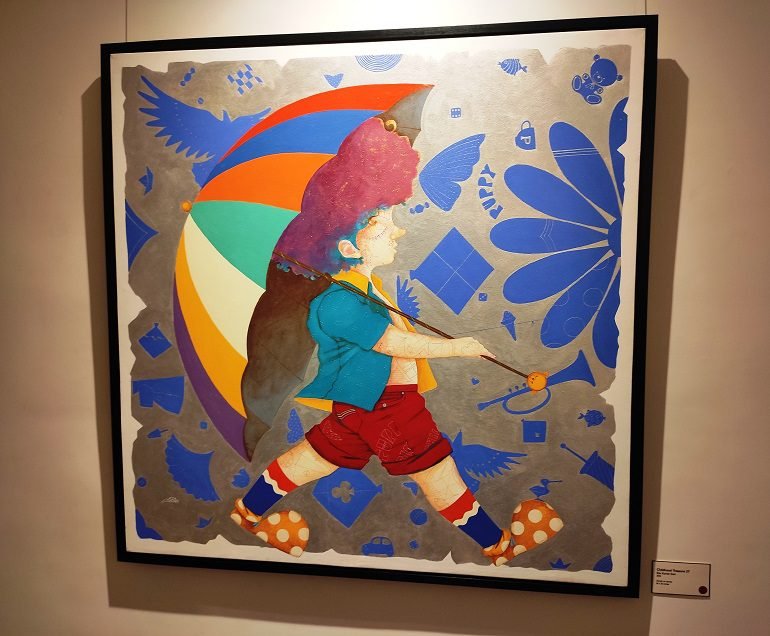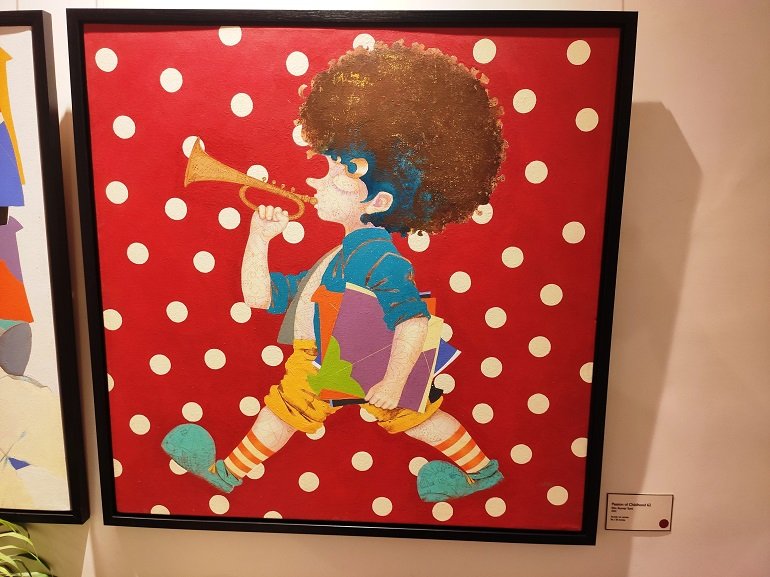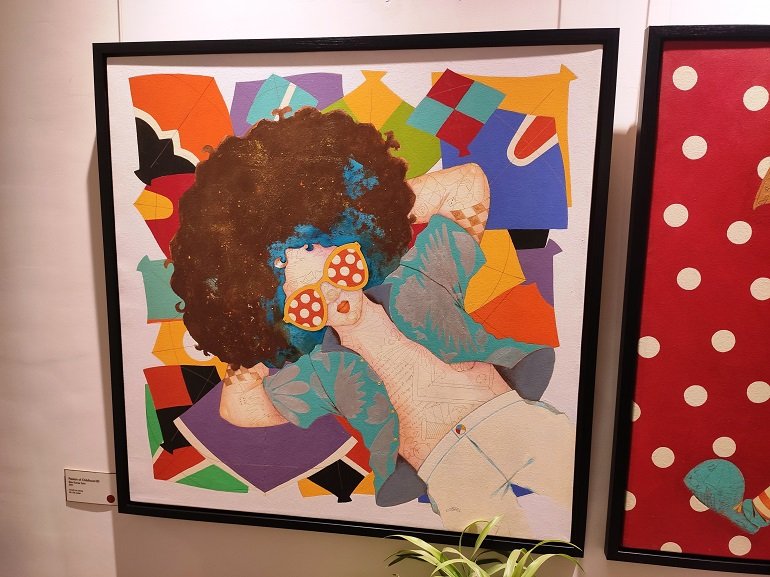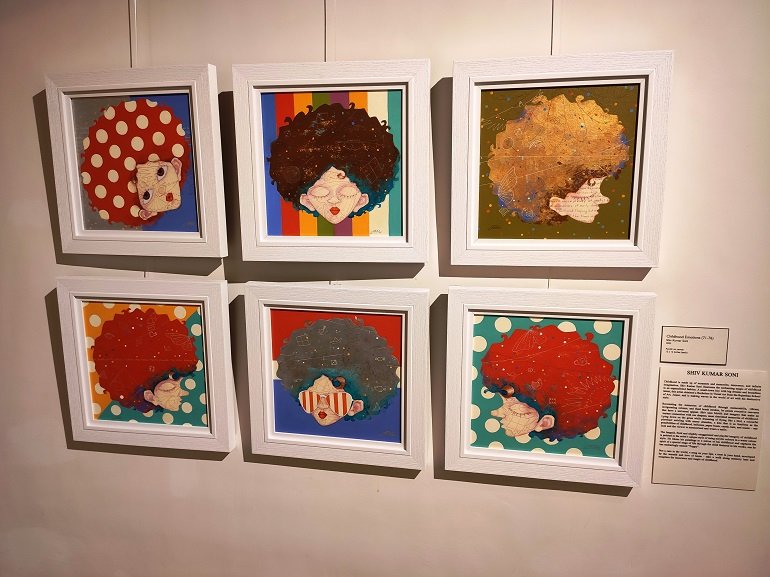 For someone who treasures childhood, Shiv Kumar Soni paints happy memories in vivid hues. This young and talented artist from Rajasthan (Bidasar, Churu), graduated in visual art, from Rajasthan School of Art, Jaipur. An imaginative painter, his likes to paint with acrylic color in water colored style. His artworks are alive with his observations as a child, brimming with life and quirky characters. Shiv also paints arresting landscapes in water color.
The main aim of his paintings is to evoke a sense of pleasure, to inspire and take viewers down memory lane of their own childhood to simplistic activities that once provided us endless joy, like flying a kite, chasing a dog or playing with balloons, hats or toys.
Daphy Brar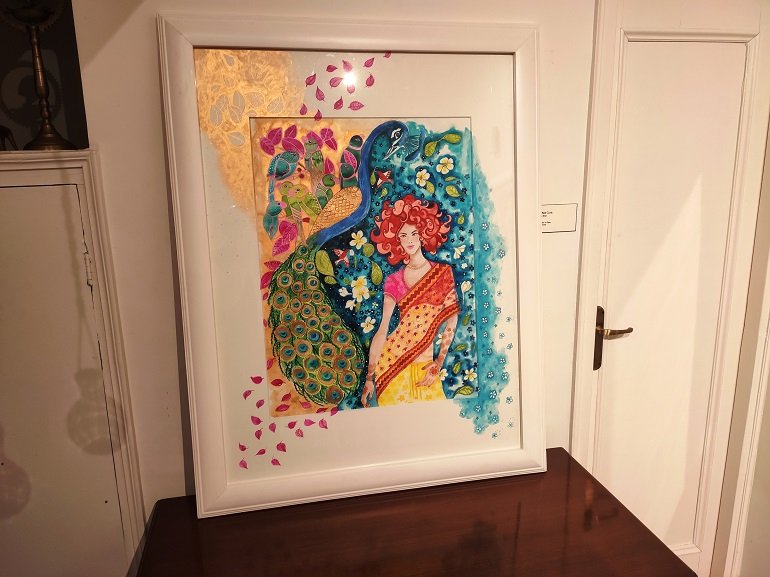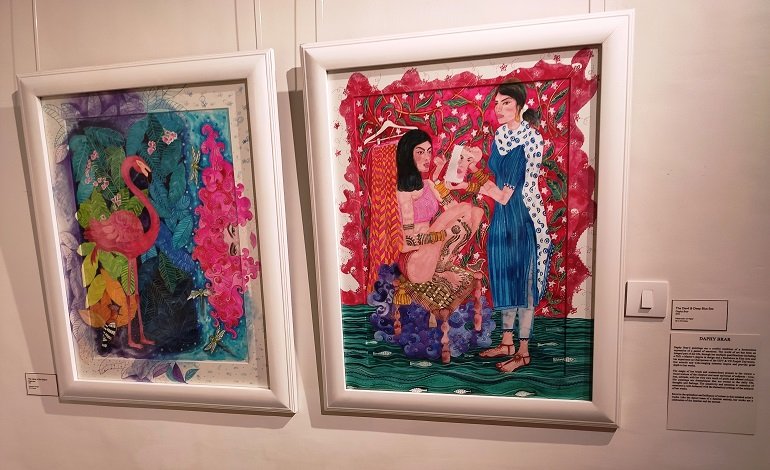 Daphy Brar's paintings are a soulful rendition, a harmonious expression of a gamut of emotions. The world of art has been an integral part of her life, through her multiple qualifications including a PhD, a Master's degree in design and a Bachelor's in Fine Arts and her experience as Chairperson of the University Institute of Fashion Technology & Vocation Development (UIFT & VD), Panjab University, Chandigarh. Her eclectic and wide-ranging interests inspire and provide great depth to her works.
The magic of her brush and water colours present to the viewer a visual lexicon of the simplest and most universal of subjects – love, loss, solitude, with her very own touch of quirk and vibrant colours. Her paintings are dreamscapes that are rooted in the daily life, thoughts and feelings.
Swati Pasari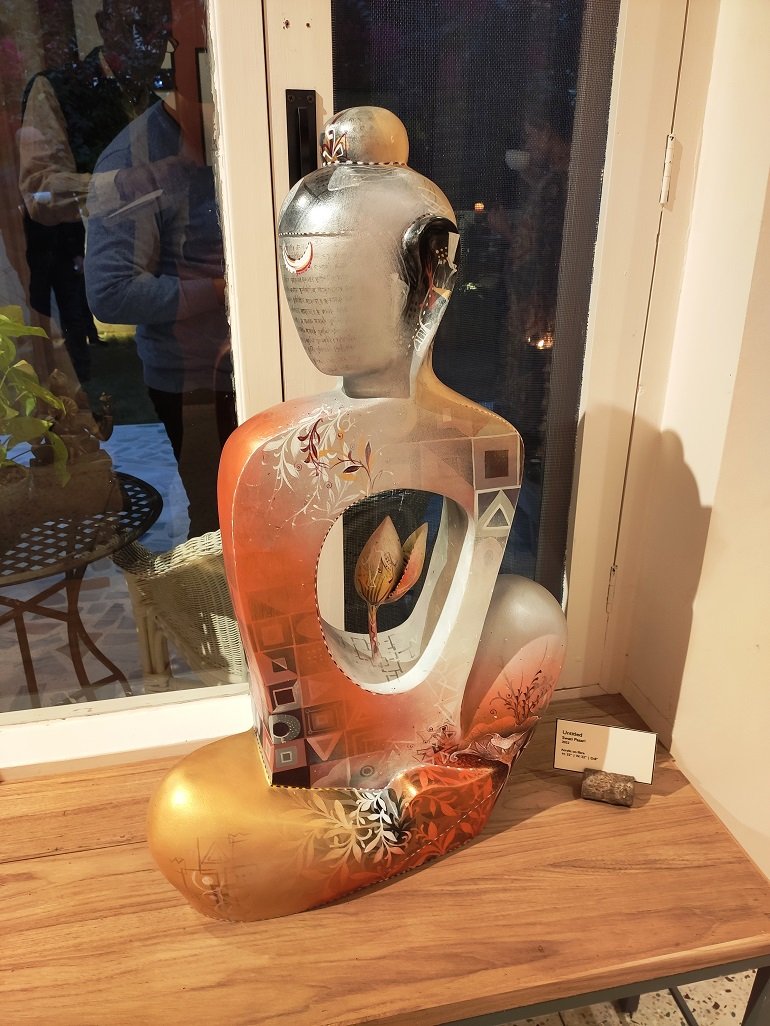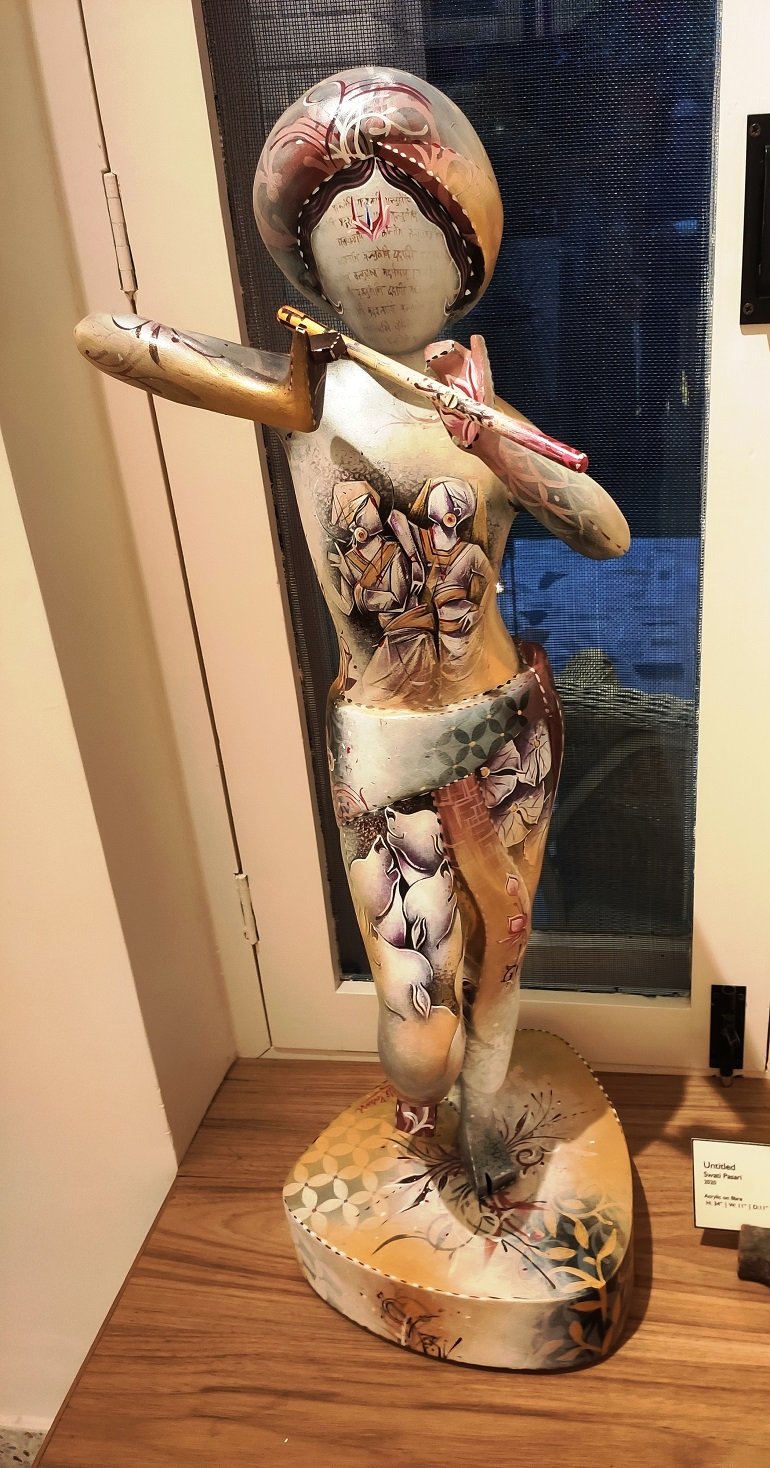 Soulink is an art brand based in Kolkata established by talented artist Swati Pasari who has been painting since 2007. A Pranic healer, her quest to express the spiritual in the tangible form has inspired her to create art on canvas and sculptural form. For Swati, art is said to be the journey of free soul, every artist strives for inner peace, and art is only a method of finding inner wholesomeness.
Her pieces bring calm, peace and composure to whoever views it.
Sandesh Khule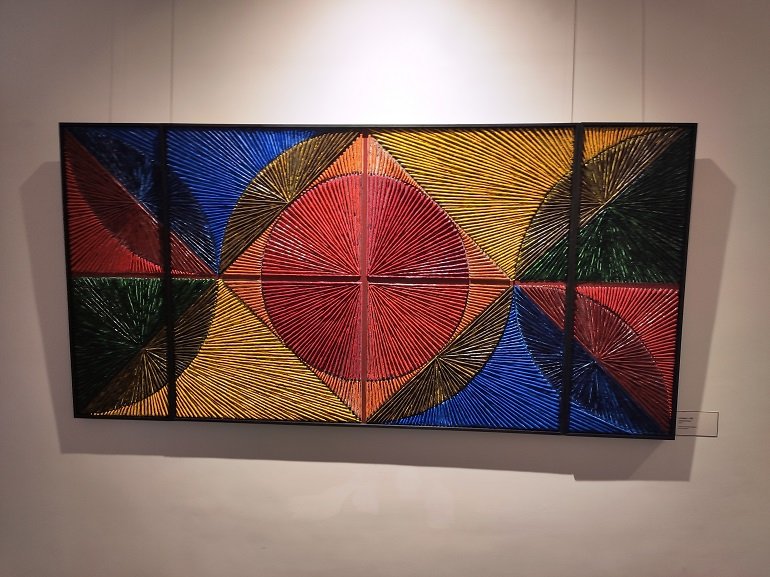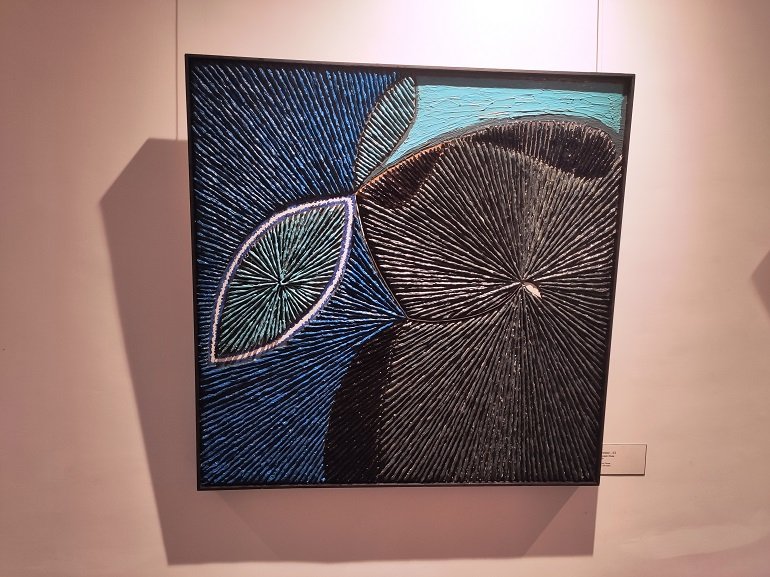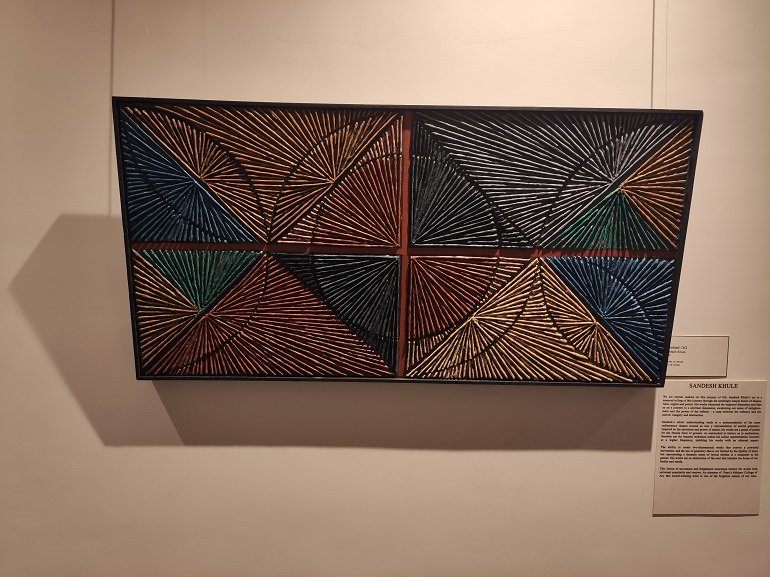 Sacred geometry inherent in the universe acts as the primary source of inspiration for Sandesh Khule's works as an artist. This inspiration is coupled with the philosophy originating from his personal experiences of his native culture and the mysterious ways in which Nature functions. Khule is drawn to abstraction forming a fundamental part of his pictorial practice and search for the genesis of the cosmos. In Indian tradition, source of energy is metaphorically referred to as goddess .i.e. female form of genesis.
Khule adheres to this source of energy as his prime idea of representation in his paintings, and employs an impasto technique of applying the pigment that not only enhances the colour but the reverberance created as the visual effect. His works are inspired by extensive study of the ancient Ellora caves of India, his explorations of the ancient Indic Purana, Vedas in Chennai, of cultural insignia etc. Lyrical forms, according to him, tend to distract the direct perception and hence he avoids decorative elements in his compositions. Curious, his works are about mysteries of life, of universe, an extension to his inquisitiveness for cosmogony.
Priyanka Aelay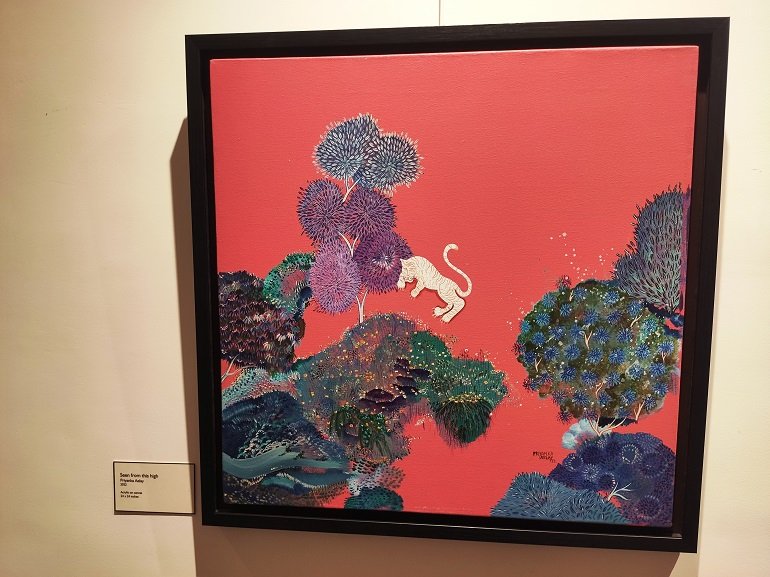 Born in 1990 at Hyderabad, Telangana, Priyanka Aelay is known for her contemporary work which represents a lot of flora and fauna with a minimalist approach towards Indian miniature art. Her work invites the viewer into her own web of creative impulses, spectacularly woven into known and unknown corral forms. The known mutate the unknown, imitating and renovating the 'real', as her 'kunstwollen' further gives rise to an innovative visual glossary of the implausible Imagery, which is predominant in her intricate detailed work.
Priyanka has a doctorate degree and is a research scholar from The English and Foreign Languages University, and has completed her Masters in Painting from Hyderabad Central University. Priyanka's present series is mostly on acrylic on canvas. She is credited with numerous prominent shows in India and abroad. She has been part of the prestigious cross residency program in Bordeaux, France by Bordeaux Metropolis and Kalakriti art gallery in Hyderabad and another residency by A4all in Sanskriti Kendra, Delhi, India.
Satyadheer Singh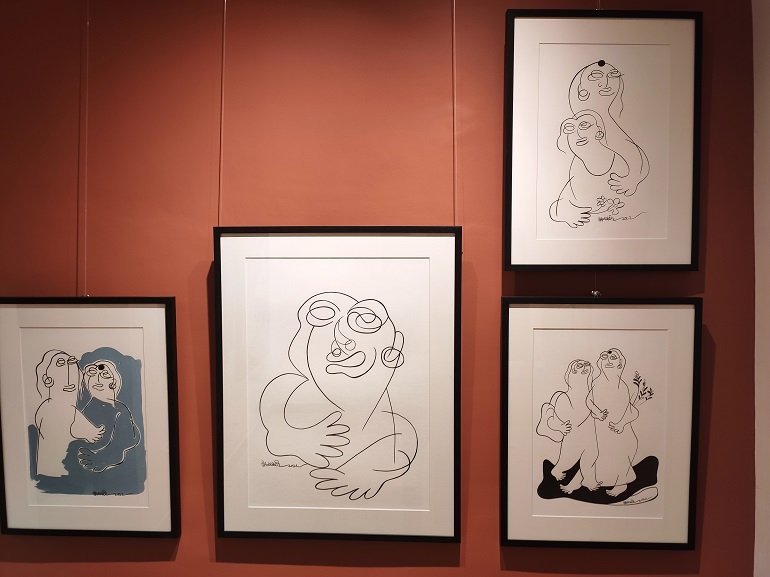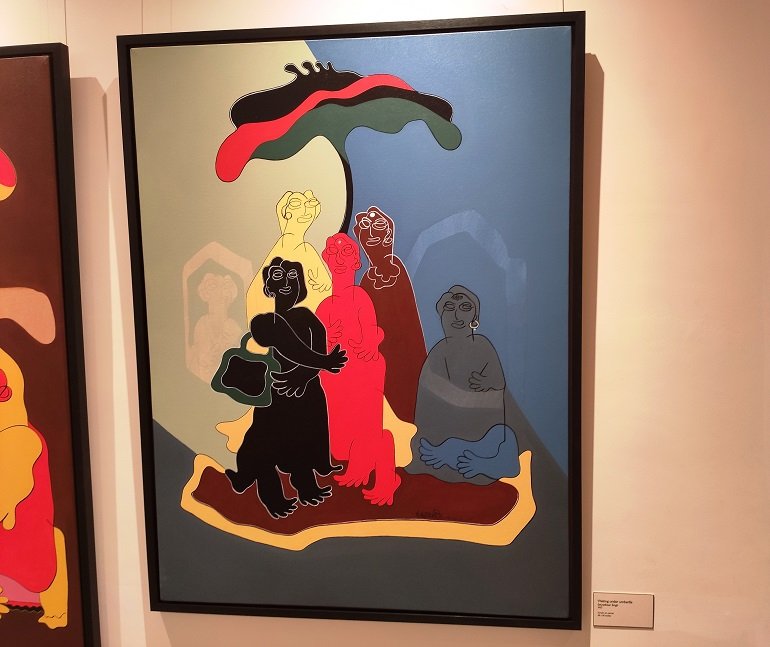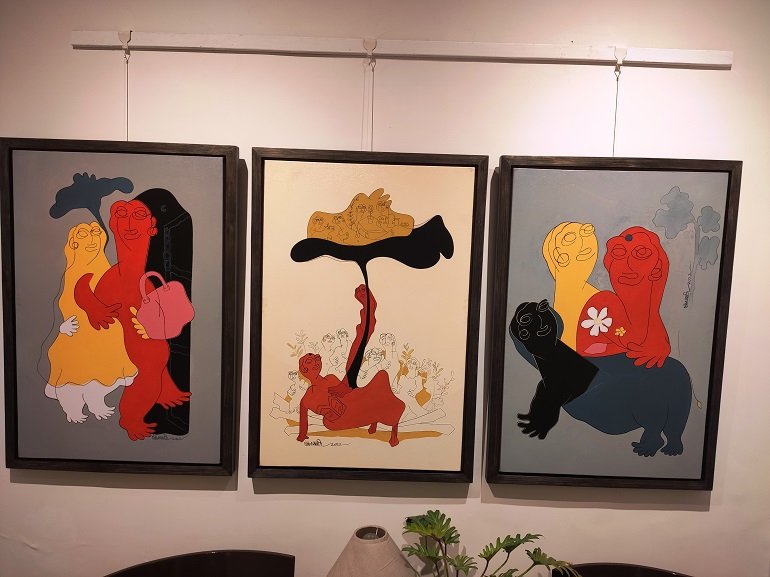 Born in the city of Allahabad (now Prayagraj), Satyadheer Singh, post his graduation in BFA from Allahabad University, moved to Bhopal to work from Bharat Bhawan (a world renowned multi art center) as a full time artist. Passionate about Hindi literature, his interest gave a creative bend to his mind, and he decided to express those thoughts in the form of paintings and drawings. The whole process of creative expression and the artistic environment at Bharat Bhawan helped him shape his talent and evolve as an artist.
His art depicts narratives in his own figurative style. Dramatic and explanative, he paints his figures in bold contours and spontaneity rendering the pictorial vocabulary rich and rhythmic. He is also drawn to folk and traditional history and philosophy, and all this finds place in his art in exaggerated, outstretched and animated narratives. Drawing from ordinary life experiences of the common man, his paintings show conflict between a dream and the real world.
Vinita Karim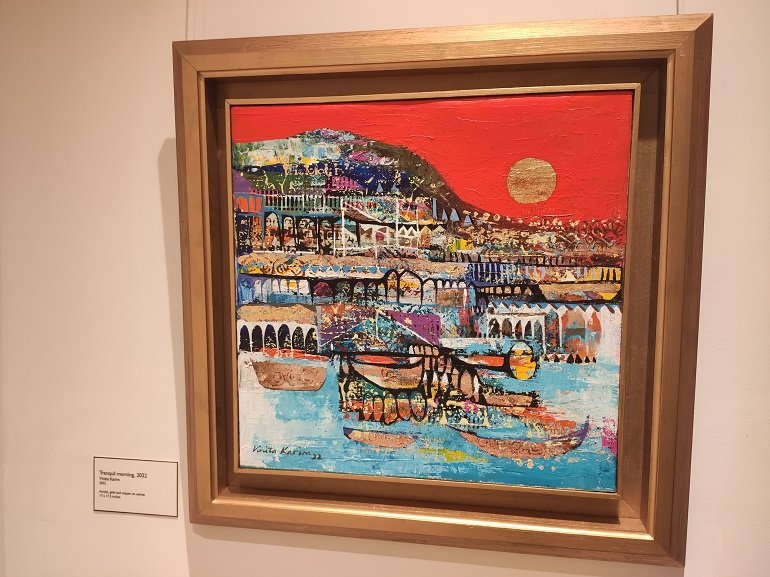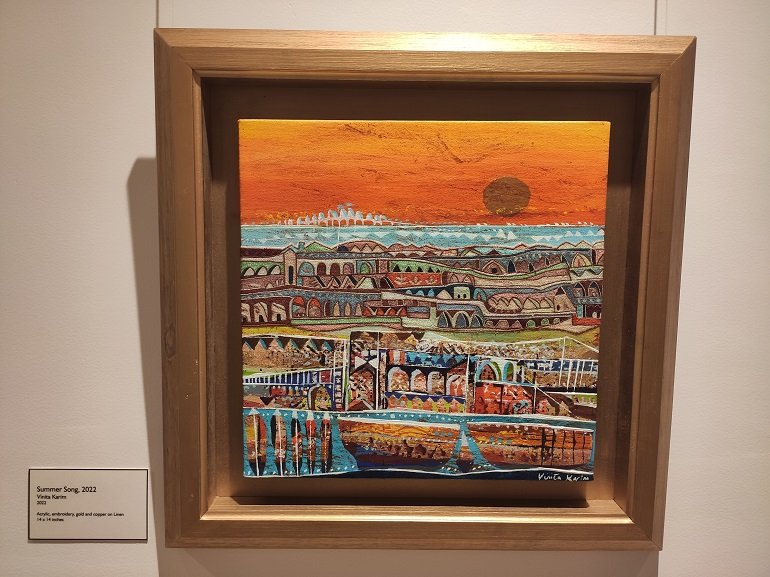 Born in Myanmar, of Indian descent, educated in both Sweden and the Philippines, Vinita's nomadic lifestyle has taken her across the world. She channels her constantly changing surroundings into her passion for art. No matter where she goes, through her paintings, sculptures, and installations, Vinita carries with her the rest of the world. While no image is an exact replica of any one city, she brings alive her musings of the magical elements of each place.
Her abstract cityscapes invite the viewer to enter them and inhabit a world with a pure golden sky, deep reds and blues shaping a rolling sea, festively coloured buildings, and a thin cloud stretching endlessly across the sky.
Vinita paints her joy: the dream-like quality of her cityscapes reveals the beauty and grace she finds through both adversity and success. Every element in her paintings partakes in this celebration of life. Though Vinita's cities manifest on canvas without any specific portrayal of people, they exude a sense of warmth derived from their abundance of life and revelry. This warmth translates beautifully to her sculptures. Her 'egg' series are not just beautiful shapes with ravishing colors but also represent the fascination of Life's beginnings.

Ashif Hossain
Based in Mumbai, Ashif Hossain is an artist from Kolkata who finds inspiration in the chaotic life of the Indian metropolitan cities and its people. His art, mostly in black and brown hues, reflects everyday life and the vibrant Indian culture along with its secularism. A Fine Arts graduate from the Government College of Arts, Kolkata, for Ashif, contrasts the modern with the past, the infrastructure, the people and the busy chaotic lives of the cities. His works depict his thoughts on life and it's past. His current muse is the Eternal City of Benares – one of the holiest cities in India, where pilgrims flock to the place to take a dip in the holy Ganges River, which is believed to absolve one from all sins.
Manisha Agrawal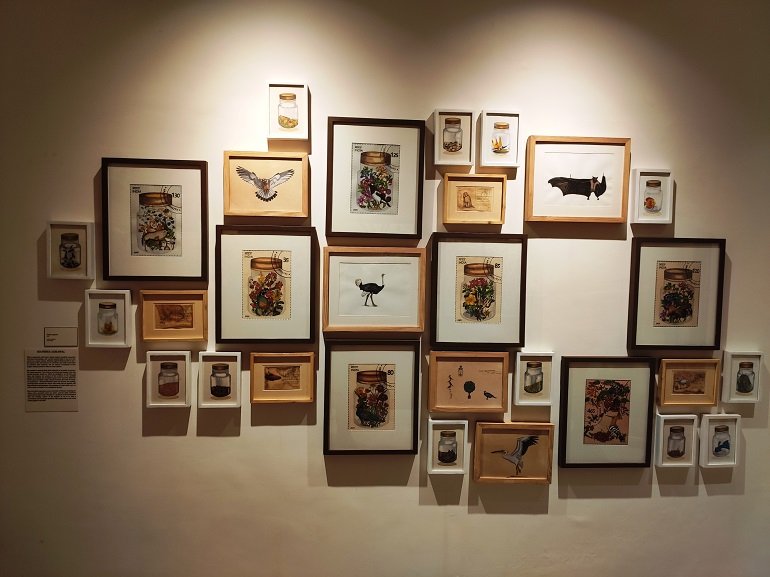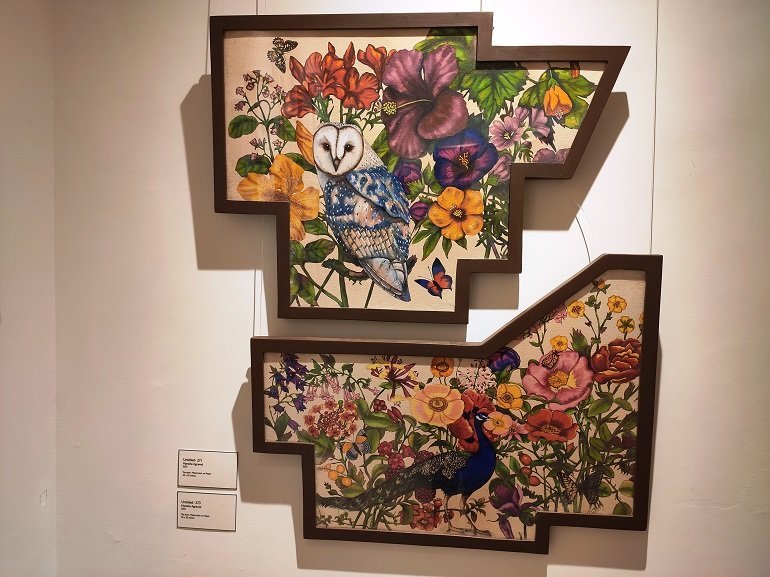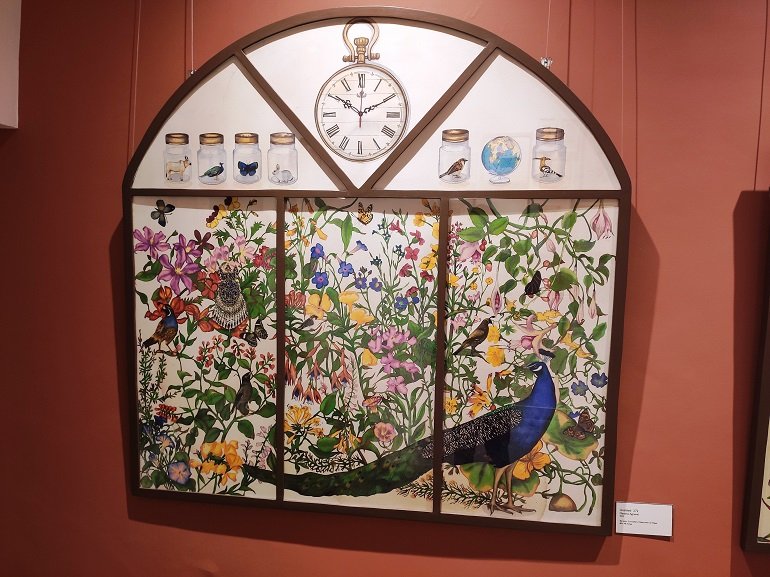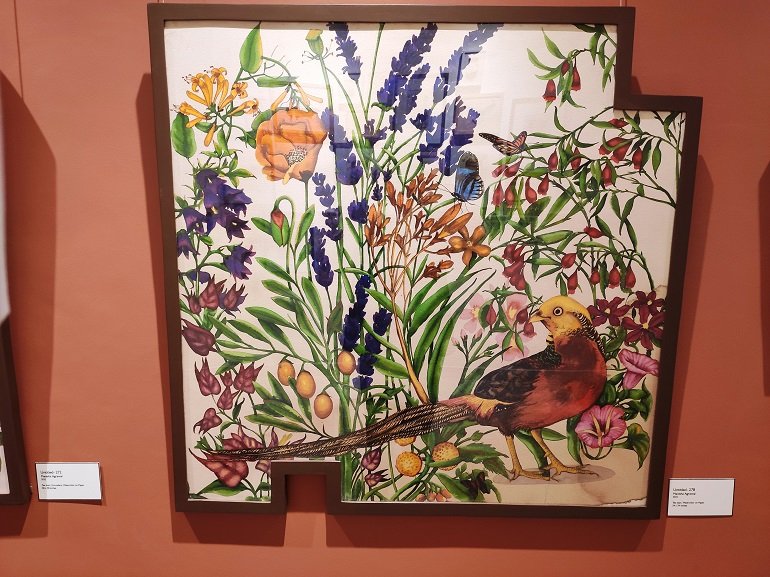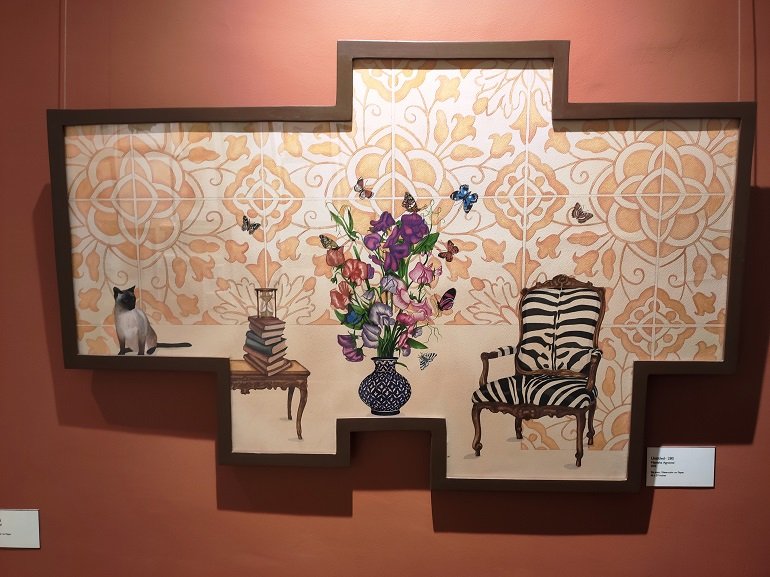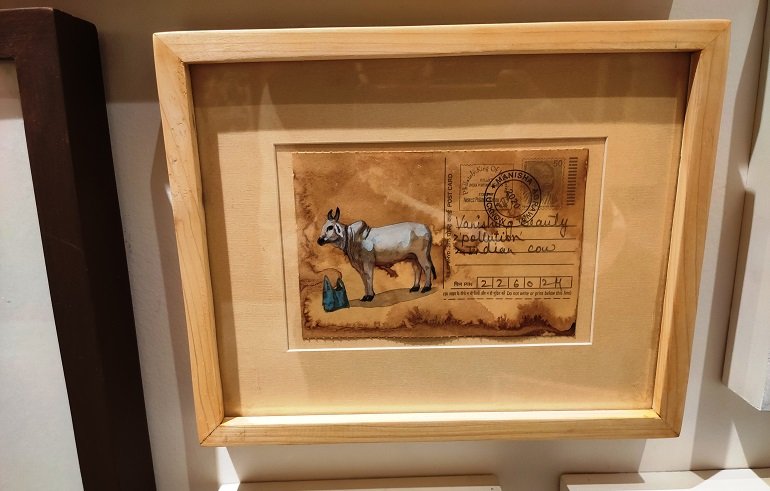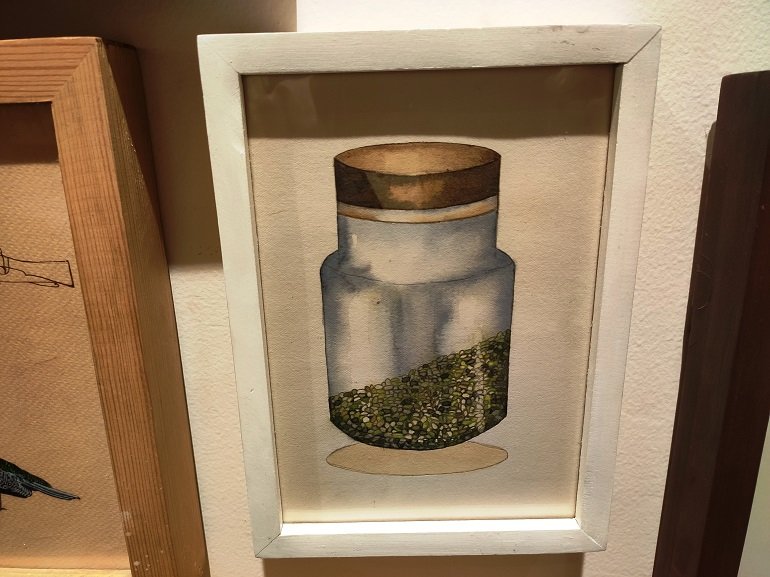 Indore-based Manisha Agrawal studied painting in the Government Fine Art College, Indore. Growing in a culture where flora and fauna have a special place in the people's religious life, Manisha looks at them as an integral part of natural and human life, finding a unique expression in her works. Many of her recent works are in a way a condolence to nature, which is being destroyed by rapid, unplanned industrialization and urbanization. Concerned with climate change, global warming, toxic pollution, mass extinction, extreme weather, she paints symbols and elements to capture the nihilistic future we are heading towards. Manisha has participated in many group shows across the country. She lives and works in Indore (India).
LifeInChandigarh.com by APR Media House is an enjoyable digital reading startup, which keeps you abreast of the latest meaningful happenings of interest to large sections of folks in Chandigarh tricity, and expats from the region. It has been promoted by a public spirited senior journalist and media consultant with a view to encourage good quality and healthy journalism, a dire need of the times.
To keep in touch, drop an email or call :
kochhar.apr@gmail.com
9815617676