Though winners were formally announced in all three categories – moms with babies in arms, moms with 1-3 year babies by their sides and the maternity queen (expectant mothers) - all the 100 odd participants were winners in their own right, the kind of grace and imagination they put into their respective performances.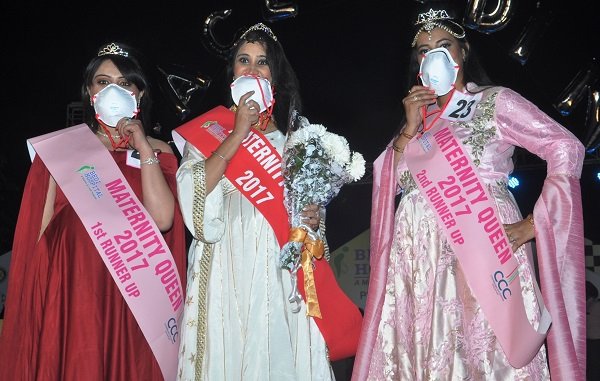 PHOTOS BY: LIFE IN CHANDIGARH
Dr. G.K. Bedi, a well known and respected gynaecologist, speaking on behalf of Bedi Hospital, said, the annual event, into its third season, was designed to showcase women empowerment, promote family culture (three generations of families were invited) and importance of motherhood. Among its other motives were creating awareness for infertility and cancer prevention in women, especially for career conscience women.

Another message came out loud and clear during the pageant. Apparently taking a leaf our of actress Deepika Padukone's ad, promoting a popular paints brand, the participants wore masks to press home the message "We, and our unborn babies, have a right to breathe clean air".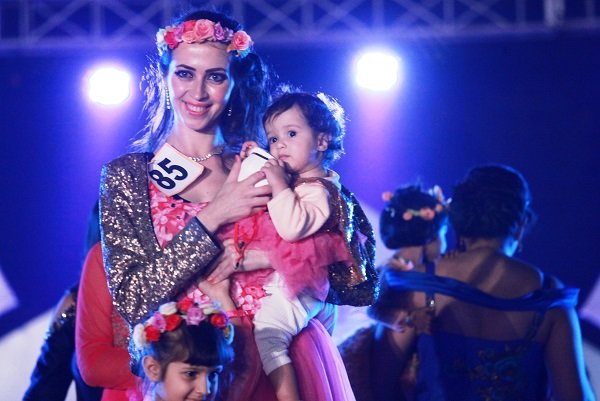 Dr. R.S. Bedi, paediatrician & Director Bedi Hospital, on the occasion of completion of 18 years of the hospital's existence, announced the opening of Grace Bedi IVF centres at seven locations in the region – Solan, Nalagarh-Baddi, Srinagar, Jammu, Pathankot, Kaithal and Yamunanagar – in association with respective local hospitals, the premises of which will be used to run these centres.

The evening started with the mom with baby in arm contest. It was a wonderful and touching experience for the gathering as some of the little ones appeared buoyant about facing the cameras and the gaze of hundreds of eyeballs and others cuddled up to the warmth of their mothers.

The second section – the moms with 1-3 year children in tow – had its mirthful moments. Some children walked with elan while holding their mother's finger, but the moody among them dragged their feet, and one odd just refused to budge from his position, necessitating the lady MC (master of ceremonies) for the day to intervene and egg the child on.

The 'Maternity Queen' contest was split into two sections, one in which the moms-to-be walked the ramp alone, and the other in which their hubbies accompanied them. The dads-to-be did not disappoint. They gave vent to their emotions through a variety of gestures like hugs, peck on the cheek or forehead, going down on one knee and offering a flower, one even going to the extent of lifting his lady love in his arms. There, however, was one odd gentleman too shy to express his emotions publicly. A bold lip-lock could have been expected in the atmosphere that was building up, but alas it was not to be.

Sheetal Saransh Sharma won the 'Maternity Queen' title, followed by Sanita Chawla as 1st runner-up and Tanvi Puri as 2nd runner-up.

The chief guest for the night, Dr G. Dewan, Director General, Health Services, UT Chandigarh, and J.S. Lamba, president, Rotary Club Chandigarh Central, joined Dr Vikram Bedi, neonatologist, and Dr Rubeena from Bedi Hospital in supporting the participants in the campaign for clean air.

Lifeinchandigarh.com wishes the Bedi family and Bedi Hospital many more such successful events