It seems to have got the Aggarwal community thinking. Just a few days ago the executive committee of the Aggarwal Sabha in Chandigarh unanimously passed a resolution that the members of the Aggarwal community should spend less on marriages. Weddings should be inexpensive and less ostentatious affairs, appealed the Sabha. A suggestion has also been made by the committee that marriage functions should be held during the day time to avoid extra expenses. While the Sabha denies that demonetisation has had a role to play in their recent announcement, it is a much appreciated move.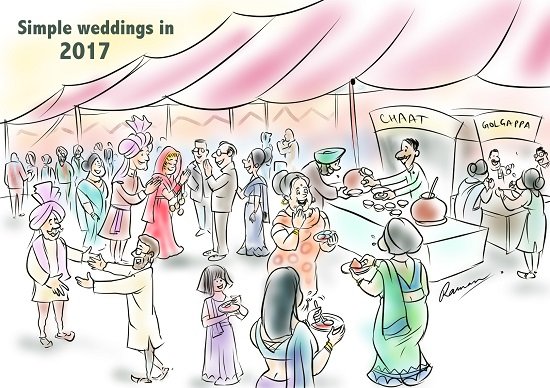 Photo By: Raman Bhardwaj

Speaking about the appeal to its community, Sunil Gupta, general secretary, Aggarwal Sabha, Chandigarh said, "Marriage functions should be simple. We suggest that even guests and relatives should not be given anything in form of 'shagun'. In the meeting of office bearers of our executive, a decision has also been taken that Aggarwal families should hold simple 'Rasam Pagri' functions." The Akhil Bhartiya Agrawal Sammelan, a national body, had also issued similar directives which the Chandigarh unit has taken forward.
According to rough estimates, Indian families (middle class to upper middle class) spend anywhere between Rs 20 lakhs to Rs 6 crores for weddings and associated functions. Recently, social media was abuzz with news over preparations for Union minister Nitin Gadkari's daughter's wedding. Reports suggested over 10,000 guests, most of them VVIPs, were flown to Nagpur in 50 charter flights. Terming the wedding as extravagant, the Congress party had questioned the extravagance in times of demonetisation and also sought bank details be made public. Also this month, former minister G Janardhana Reddy recreated the Vijayanagara empire at Bangalore Palace for his daughter's wedding which was spread over five days and saw expenses over Rs 500 crore.
"People have started using weddings as occasions to flaunt wealth and status," feels Neha Aggarwal, a city-based entrepreneur. Married to a doctor, Neha's own wedding was spread over three days but her parents made sure the guest list didn't run into thousands. "Times are changing and so are communities. Increasingly, we are becoming conscious of how we spend and are making wise decisions with our money," said the mother of two who hails the Sabha's appeal to tone down marriages.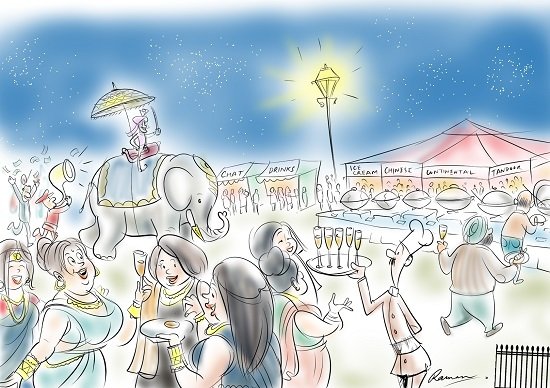 Photo By: Raman Bhardwaj

Equally appreciative of the move is Sunil Aggarwal, owner of Patyala – Royal couture, a popular designer clothing store in Sector 22, Chandigarh. "What most people forget is that the wedding is just for one day. Just like everyone forgets the previous day's news, it's the same for weddings. I feel the directive is a good move and personally, I feel there should be no wastage in weddings," said Aggarwal.
It is a widely known fact that in olden times, the community elders would maintain an account of money spent on a boy's education and bringing up (a bahi khata of sorts) that was presented to the girl's side with the aim of being reimbursed.
Reflecting on the Aggarwal Sabha's appeal, Dr M S Malik, president of the Jat Mahasabha in Chandigarh said, "It is a good move but we have been saying the same for a long time as well. It is not a result of demonetisation. All communities in general should avoid spending such large sums on weddings. Where is the need to show off?"
Some years ago, the Delhi Sikh Gurdwara Management Committee (DSGMC) had also tried to discipline the community by issuing an advisory against serving of non-vegetarian food and alcohol at Sikh weddings. The DSGMC had also issued an order asking Sikhs in Delhi to keep their weddings simple instead of hosting elaborate functions. While the move met with mixed reactions, big fat Punjabi weddings didn't show signs of toning down. It is hoped that the Aggarwal Sabha's appeal doesn't go in vain. It would be nice to see simple wedding affairs where the bride and groom mingle among a close set of guests who are treated to limited albeit delicious menu. Can we expect 'simple and nice', 'low-key but fun' headlines to trend when it comes to weddings in 2017? We sincerely hope to.