It's time to celebrate the change of season and usher in the first set of Navratras of the year. The nine days seen as an auspicious time of the year also mean fasting for some while bringing in dietary restrictions for others. Those who do not fast during the Navratras usually choose to skip non-vegetarian meals during the period.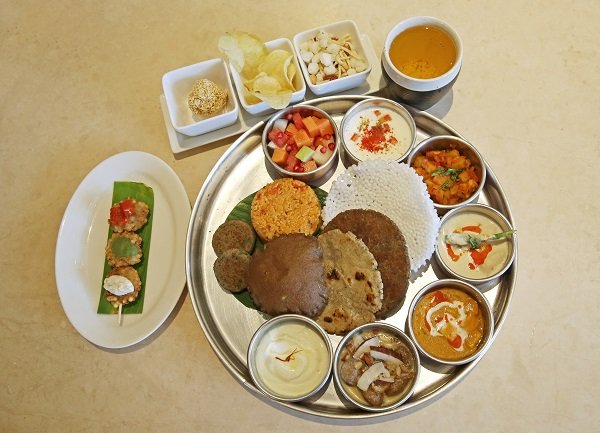 Photo By: Vikram Joy
Interestingly, when it comes dining out options, many of us choose to try out the special Navratra fare that most places offer. For the uninitiated, Navratra thalis offer vegetarian and satvik (sans onion and garlic) meals. With the first day of the Navratra having rolled out today, we decided to plan a meal out at JW Marriott Chandigarh and we surely came back impressed.
Looking to make it no less than a gourmet affair, the thali on offer at the Cafe@JW packs in a multiple course spread. One is offered a refreshing welcome sherbet that has been infused with cardamom. Given how the weather has suddenly got warmer, this was a welcome surprise.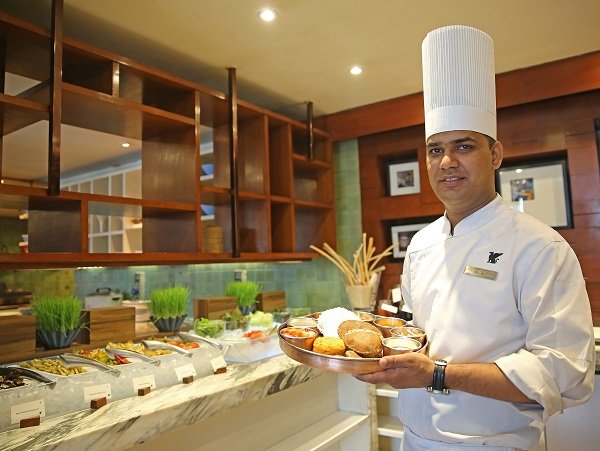 Photo By: Vikram Joy
Working his way around the quintessential Navrata thali, Chef Ashish here has put together two rotational menus that go beyond the usual 'sabudana kheer' and 'aloo ki sabzi' meals. We loved the idea of a starter before the thali arrives. The sabudana tikkis presented on a skewer will put an end to all fasting blues. We also relished the 'arbi and dahi ki sabzi' along with paneer that was made with green tomatoes and had a nice, slightly-spicy aftertaste. 'Sabudana kofte' and pulao made from 'swang ke chawal' are also a part of the thali menu.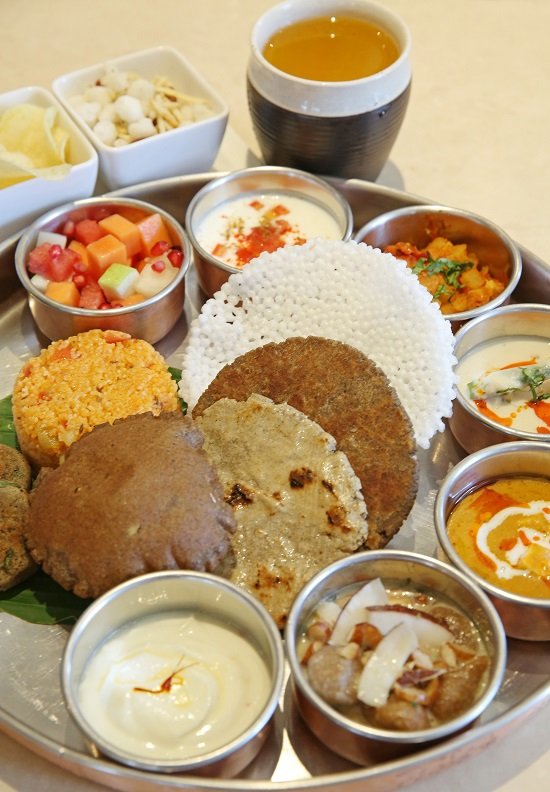 Photo By: Vikram Joy
The thali is truly humongous and the dishes paired with the 'kachhe kele and kuttu ke atte ka parantha' and kuttu pooris will more than just fill you up. What's nice is the fact that despite there being a lot to eat, the flavours are mild and the dishes are light and not oily. Looking to experiment with traditional Navratra specific ingredients, special emphasis has been paid to desserts. The 'shakarkandi halwa', despite its copious amount of ghee, is really good as is the 'rabri mixed with badana' made from kuttu atta. The latter is topped with generous amounts of badam and the 'meetha' is just right.
"Keeping religious sentiments in mind, entire non-vegetarian spread of the buffet has been moved to one section of the cafe," informed the hotel's executive chef Naveen Handa. The thali is priced at Rs 750 (excluding taxes) and will be on offer all through the Navratras.