The nip in the air is hard to miss and with the dipping mercury signalling a change in season, restaurants around town have taken cue to rework their menus. But more than just a toss-up of season specific dishes, the new menus have been well thought out keeping in mind the palate of diners in the city.
Photo By: Life in Chandigarh
Multiple Spread at Baluchi: It's one of our favourite restaurants in the city when it comes to Indian cuisine. Moving away from the predictable Mughlai and north Indian (predominantly Punjabi) fare, Baluchi housed in The Lalit Chandigarh offers a good mix of popular dishes culled from across the country. The new menu, curated by their team of chefs, is indeed plump and it traverses through south Indian, Bengali, coastal and Awadhi fare. The jeera ananas aab is a drink that's super refreshing and the cumin flavour stays with you for long, in a good way. Given how the weather is changing, the malabari shorba made from cocount milk is warm and filling. There's a robust range of starters like mutton galauti (expect melt in the mouth flavours), tandoori tusli masala artichoke, malai broccoli and the likes. The main course is equally appetising – the chicken stew with appam is a perfect way to enjoy a new flavour. Dal Baluchi retains its smokiness the Vendaka masala pachadi is worth a try, though the Patrani macchi needed a bit more time in the steamer for our liking. The perfect accompaniment to the menu is the selection of breads from their signature naanery. We are big fans of the gilaafi naan and the paan kulfi. A meal for two will cost Rs 2,000.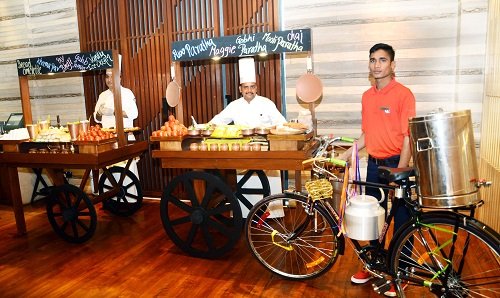 Photo By: Life in Chandigarh
Midnight Meals at JW Marriott: There's been a spurt in the number of eateries offering midnight food deliveries. But when you are out with friends and family on a weekend and looking to grab a bite in the middle of night, the options for a safe and hygienic place are almost zilch. Looking to fill the gap, Cafe@JW housed in JW Marriott Chandigarh has rolled out a special midnight menu. A look at the cutely styled carts in the dining area with hot tawas, stacks of eggs, pots bubbling with chai and you realise the focus is on familiar and comfort food. On offer are popular combinations like bread-omelette, keema-pav, Maggi noodles, curd and paranthas and more. Streetside favourites made by gourmet chefs in nice ambience are the USPs here and pocket-friendly prices. A meal for two will cost Rs 1,200.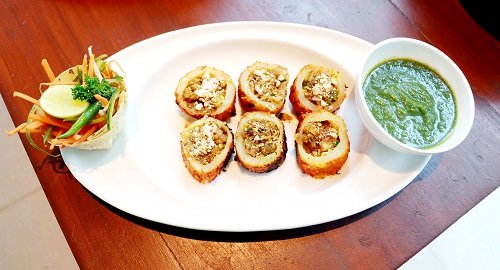 Photo By: Life in Chandigarh
Popular favourites at Taj Chandigarh: Maintaining a balance between local palate and the preferences of outstation guests including international travellers can be tricky. It's here that the new menu at Cafe 17 housed in Taj Chandigarh scores well. There's everything from Amritsari chole kulche and puri, poha and paranthas, dosas and idlis to waffles and pancakes, Danish pastries, French rolls et al. The soup and salad section has been revamped totally. We like the use of ingredients like quinoa, asparagus and cherry tomatoes in the sandwiches. Since it's an all-day diner, there are new additions to the main course meals like Sufiana paneer tikka, Charmula chicken brochettes, Andhra tawa fish and loaded nachos. A meal for two will cost Rs 2,000.