At a time when markets are flooded with branded stores, high-street labels and 'designer wear', a young artist is making a case for handmade, pure and original art that's also wearable. Meet Gahna Gupta, a Zirakpur-based artist who hand-paints scarves and textile.
An alumnus of National Institute of Fashion Technology (NIFT), Delhi, Gupta has specialised in textile design and also worked with Anthropologie, the American clothing retailer. Even when she worked in Delhi (before shifting back to Chandigarh) Gupta would take out time to paint. "I was drawn to textile and even brought home an 'adda' to stretch my fabric on and paint," informs Gupta who also makes hand knotted jewellery.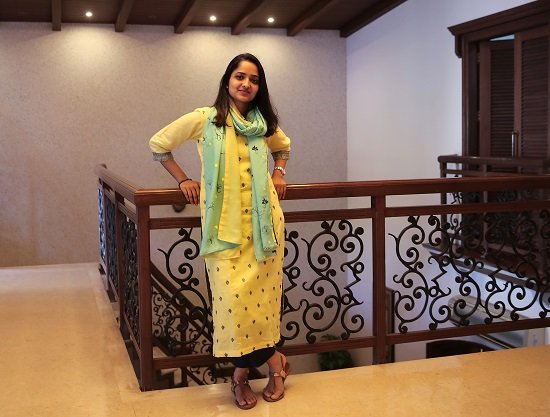 Photo By: Vikram Joy
Using freestyle strokes and fabric colours, the artist treated the textile as canvas and went with the flow. What emerged were abstract designs to more put-together floral artworks. Soon Gupta found her rhythm and hand painted over 100 pieces that were finished off with tassels and embellishments like pom-poms. She also christened her label 'Coloring'. "Credit goes to my mother, Meera Gupta, a designer herself who helped me with the finished product," says Gahna as we meet her at her studio in Zirakpur.
Gahna is now ready with her new collection that would be showcased at La Feria, a two-day lifestyle exhibition that rolls out at Leisure Valley on March 4. We were lucky to get ourselves a preview. When someone says scarves, you picture a not-too-long length of fabric, usually in silk or cotton that's printed or in a solid colour. In Gahna's collection the scarf is actually fairly long and can also double up as a dupatta. We liked the use of fine cotton, some even textured, and the use of different printed cotton as borders and trimmings. The artwork is definitely the highlight and wrapped around your neck will make for a conversation starter!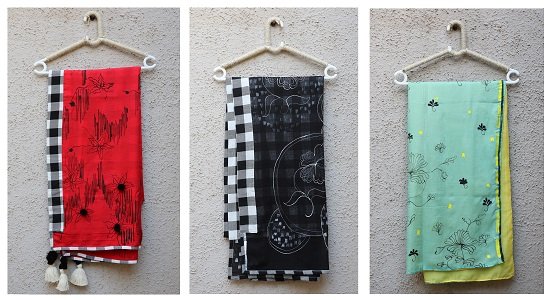 Photo By: Vikram Joy
Interestingly, all the scarves come with a lining. "That is intentional as I don't want the underside to look unfinished and not match up," informs the artist who feels art should not be confined to conventional spaces. Keeping with the handmade theme, the scarves come sweetly packed in a handmade cotton bag and a hand-written note by the artist.
As far as colours go, expect bolder hues like black and red to pastels like lime yellow and pale mint. While the scarves are priced between Rs 1,800 to Rs 3,500, the artist is also pairing them with long kurtas that would also be available at the exhibition. "I am now working on more intricate designs on textiles that can be framed as well," signs off Gupta.
If you liked reading about Gahna, you can check out her page: www.facebook.com/coloringbygahnagupta