Today Shweta Parakh, who runs "Cinema School in a Sandook", which she describes as a "film school out of a bag!", has a motley of 120-odd school going children from Mumbai and Chandigarh hooked on to short films as a passion. Their five years of efforts, during which they have produced 200 short films that have been screened across 37 international film festivals, have paid off big time !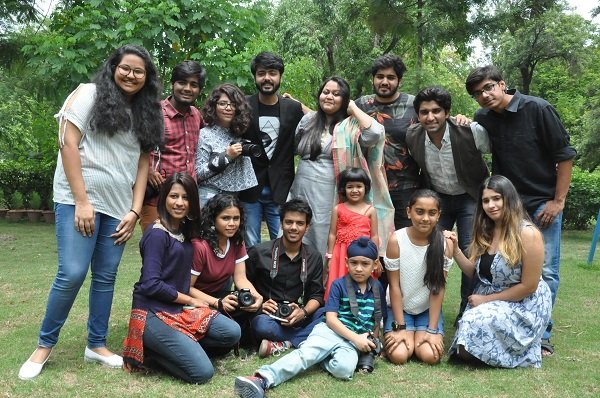 PHOTOS BY: LIFE IN CHANDIGARH
Interacting with media persons at the Chandigarh Press Club on Wednesday, Shweta, Founder & CEO, Purple People Labs, said seven short films co-created by students from Chandigarh, Mohali and Mumbai will premiere at the prestigious Grand IndieWise Convention (or Miami Film Festival) in Miami, Florida, USA between August 24 to 27 this year.

Visibly exited over the invitation, she said the Convention is an "Entry by Invite Only" festival for filmmakers and industry professionals from 80+ countries and is one of the world's most important fests for parallel cinema. Purple People Labs will be among the youngest crew of filmmakers participating in the festival, she gushed, adding that they have been invited being India's largest producer of films by kids.
"We will also be the only production house from India which will be screening films in Miami. Over 20 films from PPL qualified for nomination, from which seven best films will be screened at the Miami Festival. In all around 250 films are to be screened at AMC 24 Aventura Theatre as part of the festival which is expected to attract 400+ filmmakers and industry professionals from 80+ countries," she said.

Apart from screening their films, the students will also produce a documentary film about the event. PPL crew will interview filmmakers from world over on the festival's blue carpet as the official "Kids' Press"!, Shweta informed.

The first short film made by kids that reached the international circuit under the PPL banner was "Beti", a film on girl child education. This time yet another short film with a strong global message has been rolled out by the kids' crew - The Photograph. The film is based on an emotion behind an award winning photograph clicked by a war journalist, where a little girl surrendered herself by raising her hands mistaking the photographer's camera to be a gun! The film throws light on a very sensitive situation faced by children in war nations.

Shivain Arora from PU, Chandigarh is the cinematographer of the film, Post production has been done by Rhea Sharma of Banyan Tree School, Chandigarh, Smyra Grover (4 yrs) from Little Flower, Panchkula has acted in it. Omkar Shitole, from KC College Mumbai has directed it and Shirish Waghmare from Ramesh Sippy Academy of Cinema and Entertainment is handling all post works.

All of these young filmmakers along with Brinda Thamman, 10 yrs, St. Kabir Public School Chandigarh, Jai Kunwar (6 years), Grade 1, Shemrock School Mohali, Pawan Taneja, KC College Mumbai interacted with media.

"After my first short film "Beti", I realized that my voice can actually reach out to the world through films. I loved the concept of "The Photograph" and as a law student I would always want to stand up for the larger good of humanity", said Shivain .

"I had a great time working in Chandigarh with the kids' crew, it's my first time here. The entire idea of our work being seen by filmmakers from all over the world is exciting as a learning experience", said Omkar Shitole from KC College Mumbai.

"I am really excited at the prospect of meeting filmmakers from all over the world, we are gonna rock at the blue carpet. I will try sharing some live updates", said Yashas Chatree, 9 years, Purple People Labs, the youngest 'journalist' travelling to Miami.


About Purple People Labs


Purple People Labs runs a "Cinema School in a Sandook", a film school out of a bag! The Mumbai based startup travels across India to listen to children's stories and mentors them to take those stories to the screen.

The various filmmaking programs are designed to motivate kids to speak their mind and develop communication skills for digital and new media.

Purple People Labs is self-funded through participations of International schools and utilizes 100% of its profit to reach out to kids from marginalized communities. PPL is working on its web platform "Youth Say TV".

The vision is to amplify young voices to the world!