Releasing a T-shirt for the event at a media meet on its sprawling campus located in EduCity, Sarangpur, Campus Director Prof. (Dr.) Jaskiran Kaur lead the faculty and students council in announcing that the run will be professionally organized in three different categories - Half Marathon (21.1 km), Mighty (10 km) and Fun Run (5km). There is a token participation fee in all three categories and registrations are being accepted online by the event partners CityWoofer (https://www.citywoofer.com/e/narsee-monjee-half-marathon).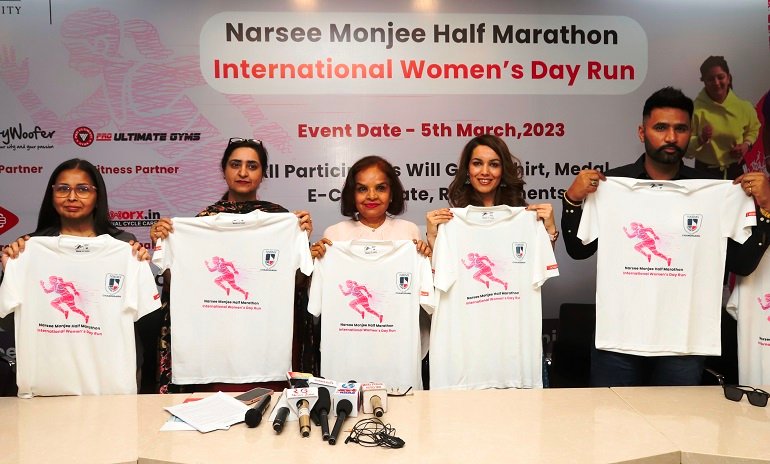 Photos By: NMIMS & Life In Chandigarh
There are winner cash prizes for men and women separately in all three races in the open category, while winners in various age categories within each race will be presented trophies and gift hampers. Overall Rs 1 lakh worth of cash prizes are up for grabs.
Each participant will get a half marathon t-shirt and a finisher e-certificate. Refreshments will also be served. There will be hydrations points at designated points along the routes of each race. Ambulances with attending doctors and a physio will be at hand for assistance.
The run is supported by a couple of run groups and a cycling group, members of which will guide the runners as marshals. Ultra marathoner Amit Gulia is the Race Director.
The minimum age for participation in the 21.1 km half marathon is 18 years, For 10 km run it is 15 years and for 5 km run 12 years.
Among others who participated in today's half marathon T-shirt release event was sports and social activist Deep Shergill, who is also a fitness enthusiast, noted singer Naveed Akhtar and cancer survivor turned national masters athlete Opinder Kaur Sekhon.
LifeInChandigarh.com by APR Media House is an enjoyable digital reading startup, which keeps you abreast of the latest meaningful happenings of interest to large sections of folks in Chandigarh tricity, and expats from the region. It has been promoted by a public spirited senior journalist and media consultant with a view to encourage good quality and healthy journalism, a dire need of the times.
To keep in touch, drop an email or call :
kochhar.apr@gmail.com
9815617676