Triveni Sangeet Sabha will conduct its next programme on March 4 at Bhargava Auditorium, PGI, (Sector 12 Chandigarh) at 6.30 pm. Kathak exponent Pandit Rajendra Gangani will be performing along with Pandit Kalinath Mishra and Nandita Puri. The entry to the event is free.
About the artists:
Rajendra Gangani, disciple of Pandit Kundanlal Gangani began his training at the age of four. The renowned Jaipur Gharana saw the emergence of an outstanding performer in the talented scion of a family of dancers serving the art of Kathak for centuries. Pandit Rajendra Gangani graduated from the Kathak Kendra in 1984 and has since mesmerised audiences all over the world. He has choreographed several group compositions and dance dramas. An accomplished musician and composer, he also has a mastery over the tabla, Pakhawaj and harmonium.
He has won numerous prestigious awards, notable among them are 'Sangeet Raj', 'Shashtriya Natya Shiromani' and the 'Sangeet Natya Academy Award' bestowed upon him in 2003 by the President of India (late) APJ Abdul Kalam.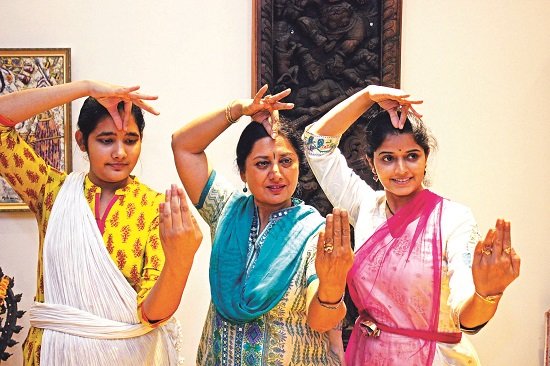 Photo By: Sumit Kumar
Nandita Puri is a kathak exponent hailing from the Jaipur Gharana. She is fortunate to have Padamshree Dr Roshan Kumari as her Guru who is a renowned danseuse of India. She has won accolades performing extensively in India and abroad in festivals like Khajuraho, Ellora Fest, Taj Fest, Karveer fest etc. She holds the title of Nritya Prabhakar and Pravin from Prayag Sangeet Samiti. A government scholarship holder Nandita has performed widely under the ageis of the Indian Council for Cultural Relations (ICCR).
Pandit Kalinath Mishra is a renowned tabla Nawaz from the Banaras Gharana. He is the disciple of Pandit Madan Mishra and the legendry Pandit Kishan Maharaj. He has a unique style of playing, wherein he infuses tremendous energy in his nimble fingers causing the table bols to flow in beautiful melodious sounds. Pandit Kalinath Mishra is also a solo percussionist but his ability to enhance the renderings of other artists makes him an exceptional accompanist. He has accompanied eminent artists like Pandit Shiv Kumar Sharma, Pandit Harish Prasad Chaurasia, Pandit VG Jog, Pandit Birju Maharaj, Pandit Brij Narayanan to name a few. He has participated in numerous festivals in India and abroad. He has also developed many tabla presentations, a popular one being 'Tabla Tandav' which has over 30 percussionists.