Hopping between Singapore, Mumbai and Chandigarh, Anjali, who has walked the ramp in ace fashion weeks like Lakme India, Wills Lifestyle, and was a top ten finalist in Miss India 2010, wants to make Chandigarh another hub for sending beauty queens to national and international pageants and ramp walks.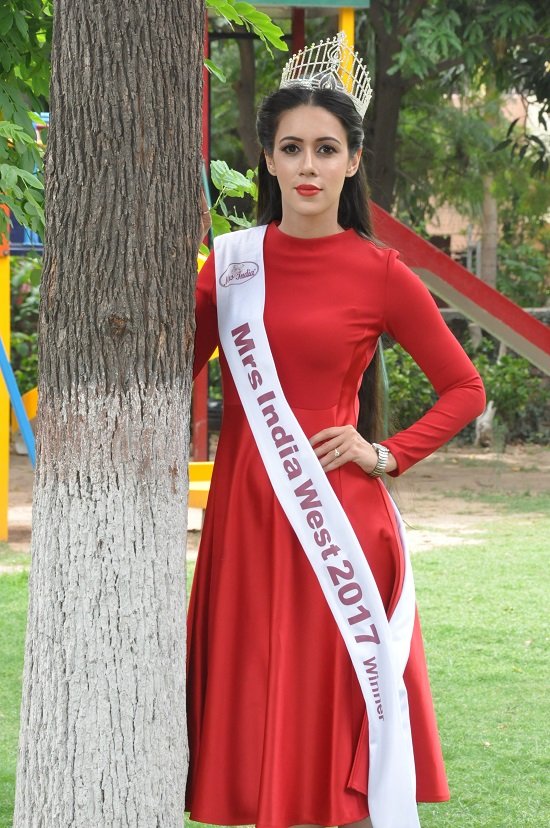 Anjali Raut Gill
PHOTOS BY: LIFE IN CHANDIGARH
In Chandigarh, on one of her brief visits, Anjali spells out her plans for the region. Running a successful talent management company and modelling school – 'Cocoaberry Ministry of Talent' - with her younger sister Alesia Raut in Andheri East Mumbai, she has recently opened a centre in Sector 2 Panchkula. "We have already given six finalists in Miss India 2017 pageant – Miss India Jammu & Kashmir, Miss India Chhattisgarh, Miss India Jharkhand, Miss India Kerala, Miss India Karnataka and Miss India Madhya Pradesh.
"We see a lot of potential in Chandigarh region, where beauty and flawless skin abounds. Height, overall personality and fire in the belly are the other traits required to succeed in this world," Anjali opined.
"In our Panchkula centre we are giving individual sessions to aspiring models. An all encompassing 5-10 days individual session may cost between Rs 40,000-50,000. We call the trainees at different times of the day for these sessions. We are able to do two batches a month – one in Chandigarh and one in Mumbai. For those who have it in them, but cannot afford to pay so much, we have two full days of group sessions for 20-25 trainees. We also have opportunities for those trained by us to be recruited as models," Anjali said.
Born and brought up in Mumbai, Anjali did her initial schooling from Bombay Cambridge, before relocating to Singapore for three years, where her father got posted. She participated in her first pageant, Miss Bombay, in 2006 when she was 17 years old and won the title. There on, studies and modelling went hand in hand. Channel V's Get Gorgeous title in 2009 followed by a top 10 finish in 2010 edition of Miss India pageant took her to a high point of her career as a girl.
Anjali strongly feels that along with appearing good physically one needs to also focus on spiritual well being. She herself practices Pranic Healing & Nichiren Buddhism and maintains that the spiritual side to her helps her attain mind-body-soul alignment.
In 2011 she got hitched by a Sikh 'munda' in Singapore, whom she met through a common friend, and now has a lovely three-year-old daughter, who has already walked the ramp with her as a show stopper. "I'll let her decide what she wants to do when she grows up. It's her individual choice," Anjali said when asked if she would like her daughter to follow her footsteps.
Didn't she ever think of joining movies? "I was never inclined towards movies. I am happy doing what I am passionate about, modelling and participating in beauty pageants," she said.
Coming back to the Chandigarh market, she said "this is an untapped market. Mumbai is more evolved. There is raw talent here which needs to be groomed and polished. I would love to see more and more girls and women from here making it big nationally and internationally."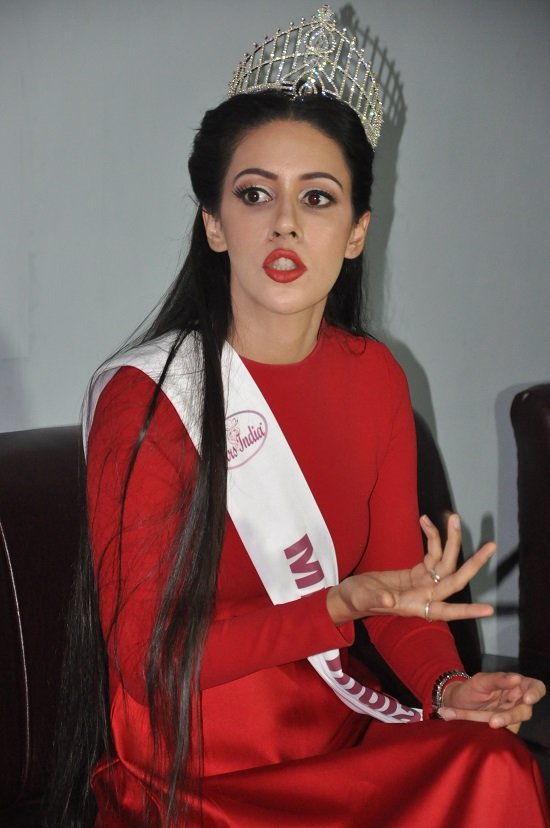 Has she herself received professional training ? Pat comes the reply. "No, I haven't. I am a self made runway model, as I would like to call myself. One needs a lot of self belief to do that. But it does help when you hit the ramp running. When you are raw, people tend to hesitate putting their money on you."
She has a piece of advice for aspiring models. "Choose the pageants you want to participate in carefully. Preferably go for ones which progress to the international level if you are really ambitious and have the fire, passion in you."
Here's wishing all the very best to the Chandigarh 'nuuh' (daughter-in-law) !!