Calling a cab at your doorstep has become transparent and easy these days. More importantly, one doesn't have to step outside and bicker over fares. Besides Ola and Uber running in the tricity, there's viaTaxi, a Chandigarh-based start-up by three young entrepreneurs - Sharat Sharma (33), Abhay Panwar (26) and Paras Vij (27).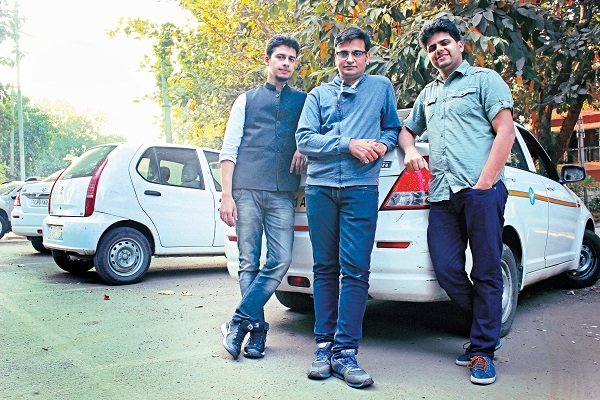 Photo By: Sumit Kumar
Sharma has been running a software and a web development company, Riacube for nine years now and based on his research and experience he came up with the idea to make a universal platform for taxi owners and travellers.
"We have been working with customers for their IT service needs and have a good client base in travel and taxi segment. After analyzing my data, I realized that they spend a lot of money and efforts to get bookings from online customers. When it comes to travellers, everyone usually searches on Google, and contacts them for availability and cost. Then, they compare and choose one on various factors. Mostly it happens that they book the lowest without knowing hidden charges and later felt cheated," explains Sharma.
"Security is also a major concern. We at viaTAXI are committed to provide safe and comfortable journey, hence we have provided an extended feature of GPS tracking to share live location with anyone without any extra charges. This feature is helpful for single women travellers as well," says Sharma. The mobile app can be downloaded from the Google Playstore (travelviataxi).
Vij and Panwar are part of Sharma's team. The trio faced some initial challenges. "It was a real challenge for us to bring authorized taxis on board because it is the most crucial part of the project. Many taxi owners are not tech savvy. So we re-designed the taxi registration process to speed it up, and made it smooth and easy for everyone to understand," recalls Sharma.
The project is a few months old and initially the team invested their own savings but now a Canadian transport company has decided to invest in their start-up. They have engaged more than 100 taxis from more than ten cities including Tricity and Delhi-NCR.
Speaking about how their services stand out among competitors in the same space and Sharma says, "Most of the other taxi providers have a fixed pricing model. We allow the taxi owners to quote price according to availability and requirement. At the same time we offer travellers to choose from multiple available prices," he explains.
Recently, viaTaxi started a #RespectforChauffeur campaign. As a gesture of respect, Sharma has requested his team to lessen the use of word 'driver' and replace it with chauffeur.