The first thing that you notice the moment you are welcomed by Richa Agarwal into her plush day spa and salon in Sector 9, Chandigarh is her flawless and glowing skin. It soon becomes the starting point of our conversation. Blemishes, black spots, dull, dry, tired skin have become common descriptions for skin issues faced by a majority of us. "Add to that sensitive skin. In fact, a lot of people these days take pride in saying that they have sensitive, irritable skin. If your skin needs special care, it is a sign that it needs help," said Agarwal.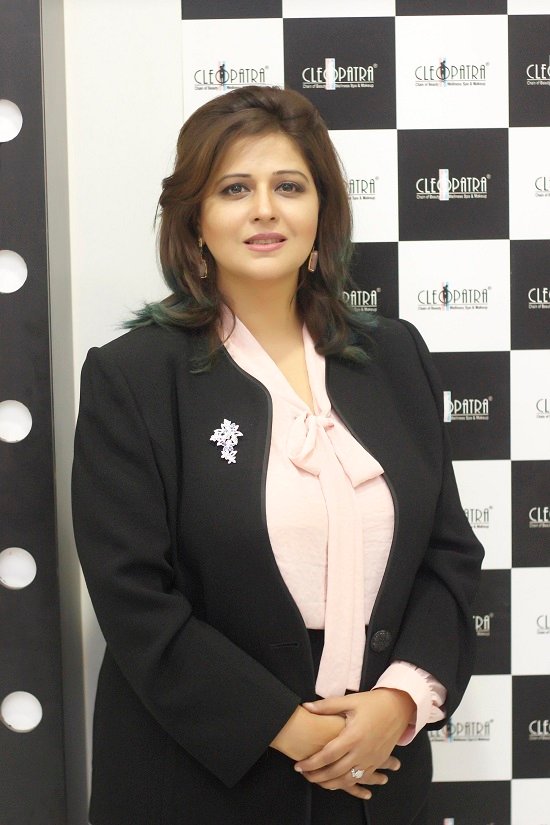 Photo By: Sumit Kumar
She would know. For more than a decade now – 13 years to be precise – Agarwal has been dealing with the all kinds of hair and skin types with bridal makeovers forming a large chunk of her work.
A well-known beauty, wellness, makeup, and nutrition consultant, Agarwal founded the Cleopatra chain of day spas, beauty and wellness centres in 2003. "When I first started a day spa, people weren't really aware of the concept. Today, it has caught on. Also, people in the Tricity are very well travelled and keen to explore new concepts," said Agarwal. Apart from the Tricity, Cleopatra has centres in Patiala, Jaipur and Ludhiana.
"A spa service isn't just about getting a body massage. It is a 360 degree approach that we follow which includes setting the right aroma in the room, selecting the right natural products to be used according to skin type and also choosing the music to be played that can help you de-stress," explained the beauty guru.
A 360 degree approach
Keeping in mind that music is an integral part of a spa experience, Agarwal recently brought in popular Bollywood singer and composer Ankit Tiwari to formally inaugurate a spa fest at her centre in Sector 9. "He was very keen to try out a spa service and we demonstrated the latest Vino candle therapy to him, which he said he would try later in his visit," said Agarwal.
Elaborating about the newly launched treatment, Agarwal said, "The weather can play havoc on the skin and one tends to lose a lot of moisture. In this candle therapy, we melt a candle made from pure Shea butter on the body for a massage. It doesn't scald the skin and is warm enough for application. The result is immediate and the therapy is very good for the skin."
Natural is key
Speaking of treatments, Agarwal, who has been working closely with natural ingredients, admits her focus is on eco-friendly products and creating awareness about the same. "For instance, when one gets a hair spa done, most salons apply a leave-in cream followed by steaming and that's it. We have worked out treatments that start with using a paraben-free shampoo and a head massage using oil that has been infused with natural ingredients like apricots followed by a hair tonic made from shikakai. The leave-in conditioning comes at a later stage. Similar is the case with skin treatments. We are lucky that India offers a bouquet of natural ingredients that are best for skin and hair care," said Agarwal who brought home the Best Chain of Spa 'n' Wellness Award at Indian Salon and Wellness Congress 2016 held earlier this year. "This is the third year in a row that Cleopatra has been awarded," informed the wellness expert.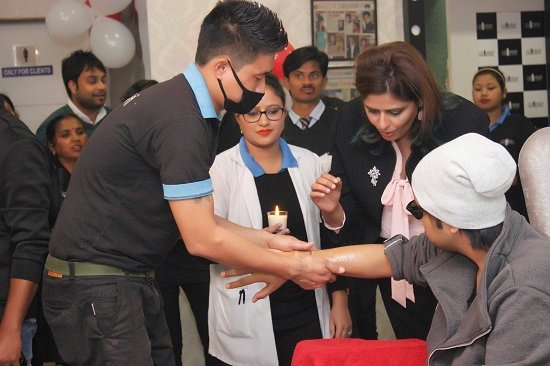 Photo By: Sumit Kumar
Where are we going wrong with skincare?
"One of the major areas where I find women in particular going wrong is that are doing too much with their skin. The constant use of make-up and harsh beauty treatments is not good. Also, we tend to go for skin peeling treatments too often. The skin is a delicate organ and we need to let it breathe. Just as we have days to detox our bodies, similarly we should give our skin a day off to replenish," advises the expert.
For those who use makeup regularly, Agarwal suggests using a mild make-up remover to remove make-up. "It is very important to take off all make-up and then moisturise the skin. Same is the case with hair care," she says and once again highlights the use of natural products.
Support from home
Setting her sights at the international arena, Agarwal recently made a winning presentation at Intercoiffure International Hair 'n' Beauty show in Paris. Her work as a successful entrepreneur has been recognised by the numerous awards that dot her office wall. "It hasn't been easy and there have been many challenges along the way. Nothing works better than hard work and quality service," feels Agarwal.
She also credits her two daughters in encouraging her to do her best. "There are times when one has to do the balancing act straddling between home and office. I have been lucky to find all the support," Agarwal smiles to say.
Her mantra to de-stress
For someone who works in helping tired and stressed out clients relax and de-stress, it's only natural that we ask Agarwal her mantra to stress-free living and that ever-beaming smile. "Ah! That's a good question," beams Agarwal as she sits back and thinks. "I am a movie buff and while there were times when I would see each and every movie that hit the screens, I am a bit more selective now due to time constraints. Also I love to listen to old Hindi songs. It really helps me unwind," said Agarwal as she went on to add, "Many years ago, when I got the time, I would actually sit down and sketch. I hope to get back to that."
Training the future hands
Not one to sit back and take things easy, Agarwal has joined hands with City & Guilds, a global leader in skills development. Cleopatra is also a part of Pradhan Mantri Kaushal Vikas Yojana (PMKVY), a flagship scheme by the Ministry of Skill Development and Entrepreneurship (MSDE). "Since we are strong players in the beauty and wellness industry of the region, I wanted to impart all round training to those looking at a career in this field. Our aim is not to only teach beauty treatments but also train in areas of hygiene, professionalism, rules, regulations and ethics through our academy," explains Agarwal.