It is early morning as we arrive at the residence of Chandigarh's newest mayor in Sector 21. The Jaswal household is already in action and as Asha Kumari Jaswal lets us know early into our conversation, she's always been an early riser and likes to get things done on time. "I don't even like taking naps during the day," quips the 62-year-old.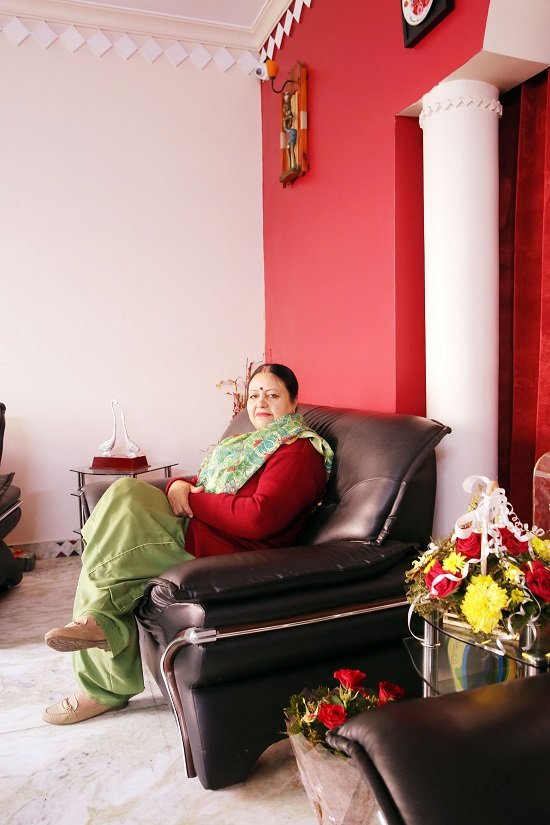 Photo By: Life in Chandigarh
A lawyer by profession, Jaswal is the city's 21st mayor and a BJP Councillor. She won from Ward 17 (Sectors 18, 19, 21) in the recently held Chandigarh Municipal Corporation (MC) elections. Not a newbie to either politics or social service, Jaswal has been associated with Bharatiya Janta Party (BJP) for nearly three decades and is an important member of its Mahila Morcha wing.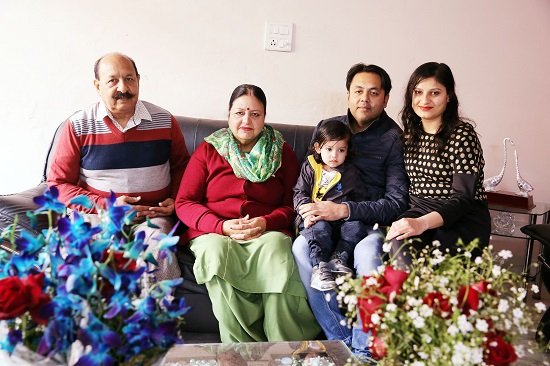 Photo By: Life in Chandigarh
Family and background
Jaswal hails from village Thural in Palampur district in Himachal Pradesh and shifted to Chandigarh in 1966. "My father worked in the Survey of India and was keen on a permanent posting. He chose Dehradun and sent me to study in Chandigarh as my brothers were also here," reminisces Jaswal. She enrolled in the Government Girls Model Senior Secondary School in Sector 8 in Class IX. She completed her MA in Political Science from Panjab University and it was after her marriage into a family of advocates that Jaswal showed a keenness to study law. "From the dining table to even when we travelled in the car, everyone in the family would be talking law and discussing cases. I felt left out and asked my father in law about studying law and he encouraged me wholeheartedly," says Jaswal. Her husband, Gurdial Singh Jaswal, supported her decision as did her sister-in-law. She credits the latter for all her support till date. "My son was in Class 2 and my daughter was barely a year-and-a-half old when I decided to study law. The support I got at home was a big help," admits the mayor. Incidentally, her family - son Berjeshwar, daughter-in-law Shaveta and daughter Aanchal Thakur - has had a strong role to play in her career, social service endeavours and run-up to becoming mayor. "My parents, brothers and even my extended family are in Chandigarh and we have always been there for each other," says Jaswal, who is grandmother to Nynishia and Mivaan.
Early career
"My father-in-law founded the All India Rajput Students' Aid Society in Chandigarh and later ran the Maharana Pratap hostel there. I was closely associated with its functioning since 1993 and my social endeavours started from there. I was always eager to offer help where I could," says Jaswal. The family's association with the Rashritya Swayamsevak Sangh (RSS) and local BJP party leaders were the ideal training grounds for a young Asha Kumari. "I remember doing home visits when required with the party leaders. I enjoyed being a ground worker and was inspired by the likes of Pushpa Goyal, Kamla Tandon, Shanta Hit Abhilashi, all of whom were associated with the BJP," admits Jaswal.
Not many would be aware that in 1996 when the city got its first mayor in BJP's Kamla Sharma, Jaswal's name also did the rounds. "Someone joked in the office the other day that I was 20 years late in sitting in the mayor's chair," quips Jaswal as she adds, "My son was at a crucial point in his academics then and I wanted to be there for him."
Plans for the city
As area councillor, Jaswal admits she likes to make surprise checks. "Now instead of just my ward, I have to concentrate on the entire city," she lets us know. And given her penchant for getting into action without wasting time, she's started a ward watch backwards. "I have started from Sector 26 as larger problems exist in colonies and the villages. I am meeting the sanitary health inspectors as well as officials from public health department as cleanliness is my first priority," says Jaswal. Eager to set up as many Sehaj Safai Kendra (SSK) as possible, the mayor admits she won't shy away from issuing out challans to deal with the problem. "I believe that if you involve the public and include them in your endeavours and even if it means imposing taxes, it can be done," Jaswal points out. She strongly believes in public participation and has been requesting Resident Welfare Associations to work in collaboration with the MC to handle waste, including horticulture waste. "We are short of garbage collection vehicles and will look to upgrade soon," she informs.
'Waste no time'
Approachable and affable in nature, Jaswal has been requesting people keen to host her for social events to keep the line-up for Sunday. "The one-year term for a mayor finishes in no time and I want to be able to do as much as I can for the welfare of the public. I have already got down to meeting officials and addressing key issues like garbage, parking et al," says the mayor.
Photo By: Life in Chandigarh
On reservation for women
"I don't think reservation is needed these days for women. There are so many examples around us that show that women have achieved success even when there was no reservation," says Jaswal. She remembers the time when a senior party leader quizzed her whether they would be able to fill up names for seven wards reserved for women in MC and Jaswal said, "I told him we could fill all 26. I think women aren't apprehensive anymore to show their mettle."
The mayor off duty
When she's not working as Councillor or helping in mediation as a lawyer - she counsels people, be it couples on verge of divorce or embroiled in family litigation, Jaswal admits she loves to travel. "As a family we have been on many road trips to different parts of the country. Though we went to Thailand recently, I love going to Rajasthan," admits the mayor. She jokes how her bags would be packed on a Thursday evening when the courts would be readying for a break. "We didn't want to waste any time and post work on Friday we would be off," Jaswal smiles to say.
Mayor ko gussa kyun aata hai?
Ask what irks her the most and Jaswal doesn't take a minute to answer, "I hate it when people lie. I am very quick to own up to a mistake but I find people say something and do the opposite. I make sure I catch the person and let him or her know what I feel," says the mayor, who is known to speak her mind.
'I am fearless'
Growing up in the hills admits the mayor made her quite fearless. "You must have heard about ghost stories in the hills but trust me I am yet to come across any. I would make long journeys alone and it made me fearless. Even today, I don't shy away from doing what I feel is right. If you are positive and do good, you have nothing to fear," she sums up.