How do you introduce someone who needs no introduction? Well, it's a dilemma journalists face very often. So, we leave the formalities and let our subject, the beautiful and talented dancer Nandita Puri take over. Born to a renowned classical singer in the city, Primila Puri, Nandita Puri is a well-known face in the television industry. But as she admits so herself, she has treated acting (she was a part of many Hindi daily soaps) as her second profession, and it will always come after her first love, kathak.
Photo By: Sumit Kumar
Puri started formal training at the age of 19 as a disciple of Padmashree Dr Roshan Kumari, under whom she learned for five years. She has, ever since, immersed herself in the Jaipur gharana of kathak, which focuses on nritya or pure dance and is known for its dextrous footwork, Carrying forward the legacy, Puri shares with us her love for the art form and how she continues with Shringaar, her unique initiative to give the art and culture scene a much needed boost.
What is Shringaar?
Puri teaches kathak at Shringaar in Sector 16 which is a beautifully crafted location; a treasure house of sorts inviting you to loosen up and explore the treasure which lies within you. Walk into her place of work, which is rightly calls her place of worship, and you tend to forget everything and automatically flow into the realm of tranquillity. Set up along with her husband Dan Dhanoa, Puri has transformed a part of the place, which is originally her mother's house, into one serene beauty. With dance lessons taking place in the studio facing a beautiful garden, which can accommodate 180 people, it steers clear from the traffic and other disturbances. It never feels like the place is in the heart of a city. Her husband, a former actor who works in the merchant navy, is also an art collector and has been a key contributor here. "When he first came here, he got excited after seeing all the empty walls," quips Nandita.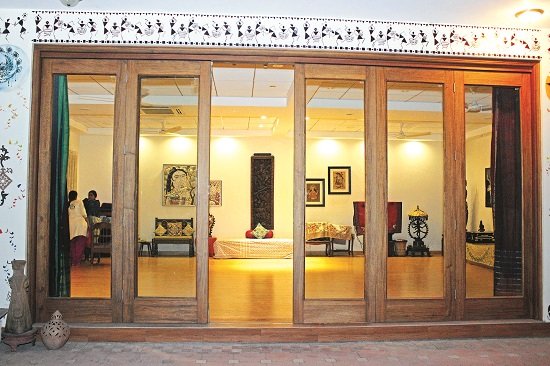 Photo By: Sumit Kumar
An art collector and a sculptor himself, Dhanoa came up with the idea of making it a stage for upcoming artists to showcase their art and that is how an art gallery found its way in the basement. "So he said, let's have a space where we can encourage people to put up their paintings and other art work. It is not a big commercial venture," shares the dancer.
Together, they organise exhibitions, hold workshops to revive the dying art culture in the city. Over the last three years, the two have organised eight workshops. They have also been magnanimous in opening this abode to other artistes and have experts take yoga classes at the venue in the mornings.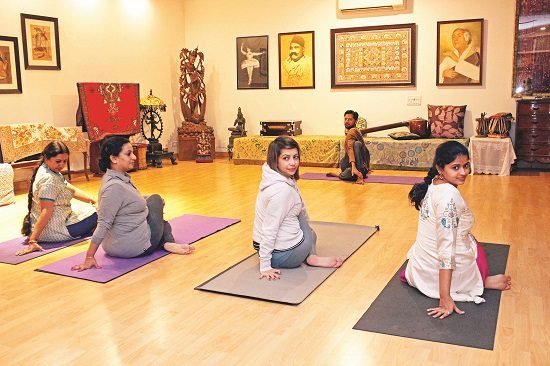 Photo By: Sumit Kumar
Not quite happy after coming to Chandigarh, almost nine years ago, Puri felt that the city was not as culturally up-beat and energetic as Mumbai is. It was not until three years ago that she decided to give Chandigarh, which she considers as the best city to live in, its own cultural hub and that led Shringaar.
But what came as a disappointment to Puri was that most people wanted to learn Bollywood style of dance. Despite that, she kept teaching kathak and now, after two-and-a-half years, she has 14 students who train under her. "I feel I am doing my bit in a sort of effort to keep the classical traditions alive" says Nandita. "Here, they learn only classical. Sometimes we do folk to ease them off the discipline, but no Bollywood," she adds.
Photo By: Sumit Kumar
An artist who has never said no to a dance performances, and has whole heartedly stepped up to perform at every opportunity she has got, even when it came to spending money from her own pocket, Nandita found acting, which although came her way accidently, as a blessing in disguise. It gave her the financial freedom she needed in the early days of her dancing career. Both Nandita and her husband are of the view that the city, despite being designed by an architect and having its own art schools, lacks the enthusiasm and knowledge for art. Being a part of the family which is art oriented and with an aim to do everything she can to promote art, Nandita actively gets involved, along with her classical singer sister Chandrika Budhiraja, in the programs organised by Triveni. Triveni is a music organisation, which was founded 15 years back to promote classical art forms by her mother, classical singer Primila Puri, a disciple of Ustad Munawwar Ali Khan, along with other artists from the city. It has performances four times in a year which she loves to be a part of.
Next on the cards for Nandita is a purely classical ballet with the concept of healing with music. While it will take her sometime to bring it Chandigarh as it will first be showcased in Mumbai, she is working on another surprise element for the city. It is going to be a workshop, which she's busy planning for. It will bring in fitness, dance and enjoyment together. "We are going to start with slow music and yoga and moves on to Sufi dance, folk dance and classical dance. This is for those people who don't have the time to come and learn classical but still want to learn dance," she tells us. We can't wait to enrol.