Given this background, Imran, an ethnic Pashtun whose family had long settled in Mianwali, north western Punjab, in Pakistan, is apparently looking to etch his name in the annals of history. But the crown he has inherited is weighing heavy on his head, with the path of charting a new course for his country paved with thorns.
In the wake of internal strife, an almost intractable economic situation, mounting international pressure, especially from its once closest ally The United States, on the issue of Pakistan not doing enough to rein in international terrorism being bred from its soil, looming danger of international isolation, besides the all important need for doing a balancing act with the Army establishment and the Islamic hardliners, has left him with very little options.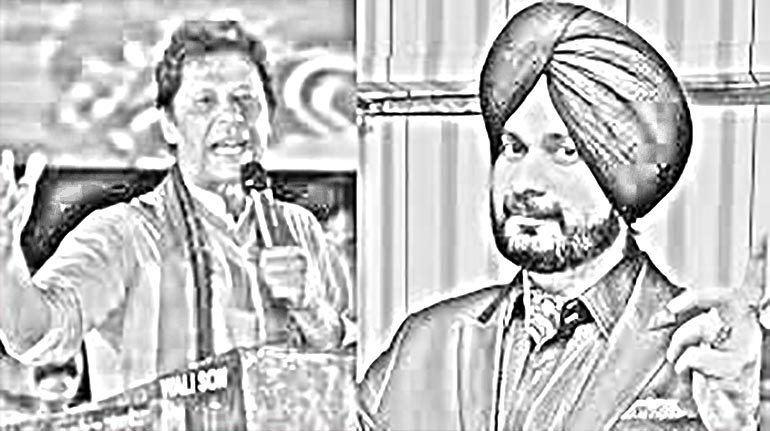 Perhaps, he has had to also rethink his country's long standing policy of leaning too heavily on China, especially in the light of the recent trade war sparked between the Dragon and the USA, and its repercussions for Pakistan in the future.
The Pakistan Prime Minister's peace overtures towards India immediately after taking over reins of power, which did not find much traction with the Indian establishment, followed up closely by his government's pro active action on the Kartarpur corridor, can be seen as Imran Khan's strategy to give an impression to the international community that his government is serious about pursuing peace with its neighbours and curtailing terrorist activities on its soil targeted at other countries. Creation of the corridor, linking two most revered places associated with first Sikh Guru Nanak Dev on either side of the troubled border (Dera Baba Nanak in Gurdaspur district of Punjab and Kartarpur in Pakistan) has been a long standing demand of the Sikh community and a very emotive issue for it.
Realising that the Indian government is not going to be taken in easily by the rhetoric, and will insist on ground action against the terrorist organisations being harboured and supported by the Pakistan establishment as a precondition for resuming bilateral talks, Imran Khan appears to have resorted the emotive Sikh card in an apparent effort to pressurise the Indian Government into engaging with his government.
And, he has masterfully chosen Navjot Singh Sidhu, his once cricketing rival and now maverick politician from Indian Punjab with a wide fan following, to generate a lot of noise over the corridor becoming a harbinger for peace between the two warring countries. Expectedly, 'Sixer Sidhu', as Navjot was popularly called by cricketing fans for his big hitting, has gone over the top after receiving a 'pump' from his new found 'bosom friend'.
The two were never known to be great friends. Sidhu was one of the Indian cricketers invited by Imran to his swearing-in ceremony as Prime Minister of Pakistan. While the others politely excused themselves in the wake of the heightened tensions between the two countries, citing their prior commitments, Sidhu, seeing it as another opportunity for getting international attention, went gaga over the invite and publically announced his acceptance of his yaar's (close friend's) invitation. His reception at the swearing-in ceremony three months ago, though, was not as warm and pronounced as what he received at the ground-breaking ceremony for the Kartarpur Corridor on the Pakistan side recently. So, what happened that the 'bosom friendship' developed so quickly!
Sidhu has been known to play to the galleries with his inimitable one-liners and poetic expressions no matter what the occasion - a public address, official meeting, press conference, cricket commentary or comedy show - and that is what he did with elan during both his 'personal' visits to Pakistan.
That Sidhu has bigger political ambitions than just being a minister in the Punjab government is well known. But with fellow cricketer-turned-politician Imran Khan ascending to the post of Prime Minister in Pakistan, his ambition appears to have soared further. Imran Khan's off-the-cuff remark that he hoped that they would not have to wait for Sidhu to become 'Wazir-e-Azam' (Prime Minister) of India for the two countries to become friends would have only added fuel to these ambitions.
Having developed serious differences with the leadership of the BJP, a party he represented for nearly 12 years in Parliament, Sidhu was keen on being projected as the chief ministerial candidate in the 2016 state assembly elections in Punjab in a move afoot then to join a buoyant Aam Aadmi Party (AAP). But when that did not work out, he joined the Congress midway through the election process saying he was a "born Congressman" and it was a "homecoming" for him.
The Congress won the elections handsomely, and Sidhu, tipped to become Deputy Chief Minister, was denied the post by Capt Amarinder Singh, who became Chief Minister. The maverick had to settle for the post of cabinet minister, a situation he has apparently not been able to reconcile with. Not being on the same page with Sidhu on several issues, Capt Amarinder Singh is known to have put his foot down and overruled him on quite a few occasions.
Smarting from these snubs, Sidhu insisted on proceeding to Pakistan in his personal capacity to participate in the Kartarpur Corridor ground-breaking ceremony despite being asked by Capt Amarinder Singh to reconsider his decision. The Chief Minister, a former Army officer, had himself declined the Pakistan invite citing the neighbouring country's continuing support to terrorism in India and efforts to foment trouble in his own state.
Sidhu has revelled in the attention showered on him by the Pakistan establishment and especially by Prime Minister Imran Khan. In steadfastly supporting the cause of the Kartarpur corridor, and using it as an instrument to press for resumption of official level contacts between the two countries, Sidhu is aiming to win a leadership role in the Sikh community worldwide and further raise his currency in Punjab politics.
To what extent he succeeds in his designs is yet to be seen. People, who applaud his histrionics, also remember his various flip-flops, right from switching to a party he once blamed for all the country's ills, to accepting the one time "Pappu" as his "Captain" and former Prime Minister Manmohan Singh as his new found "guru" after running him down as a "weakling".
The recent attempt by Sidhu to run down Capt Amarinder Singh by not recognising the latter as his 'captain', and asserting that Congress President Rahul Gandhi is his as also Amarinder Singh's 'captain', is seen as a deliberate action by him, emboldened my his avowed close proximity to the Gandhi family icon.
The Congress President, as then Vice President of the party, was believed to be opposed to naming Capt Amarinder Singh as the chief ministerial candidate in the 2016 state assembly elections, wanting a younger candidate instead, but had to relent as Congress was desperate to win an assembly election to break the string of successive losses across the country. Sidhu is known to have struck a personal understanding with Gandhi before joining the Congress midway through the election process.
As for India's response to Pakistan's offer for resumption of talks, it should necessarily be guided by overall national interests, and keeping the bitter experiences of the past in sharp focus. But at the same time it should not be outrightly dismissed as another ploy. Pakistan Prime Minister Imran Khan's assertion that he stands by his word of making a fresh beginning, and that he cannot be held responsible for past happenings, deserves a cautious consideration despite the rhetorical 'googly' talk.