An assurance to this effect was given to Punjab Chief Secretary Vinni Mahajan while inspecting the site to review the progress of works. The Chief Secretary was briefed among others by Dr RA Badwe, Director Tata Memorial Centre Mumbai and Dr Rakesh Kapoor, Director, Homi Bhabha Cancer Hospital and Research Centre, New Chandigarh.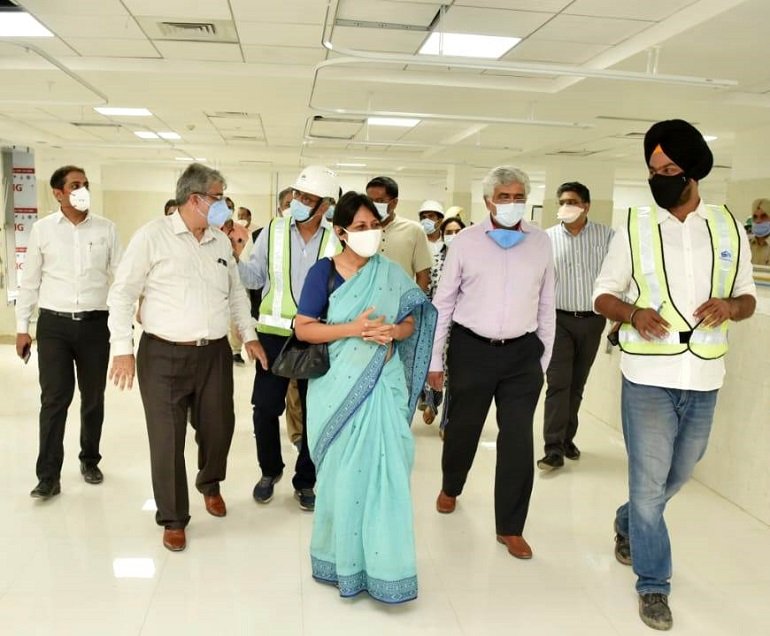 Photos By : Punjab Chief Secretary's Office
Life In The hospital will cater to cancer patients from the entire northern region, comprising Punjab, Haryana, Himachal Pradesh, Jammu and Kashmir, Rajasthan, Uttarakhand and Uttar Pradesh.
"The hospital will start radiotherapy, radiology, CT scan, MRI, ultrasound, x-ray, mammography, medical oncology, chemotherapy, day-care ward, pathology and lab facilities, minor OT, besides initiating OPD services such as surgical oncology, medical oncology, radiation oncology, palliative care preventive oncology," The Chief Secretary was quoted as saying in a press release issued by her office.
The cancer care center will be equipped with high-end diagnostic and treatment facilities such as two linear accelerator, brachytherapy, PECT CT, bone marrow transplant (BMT), CT simulator, MR simulator, interventional radiology and surgical facilities, besides day-care centre, ICU and recovery units, detailed Ms Mahajan.
The hospital is being set up with a sanctioned cost of Rs 663.74-crore in a built up area of 40,545 square meters for which 50 acres of land has been provided free of cost by the Punjab Government.
The press release said, the hospital will be fully IT-based with electronic medical records facility. It will also be interlinked with all the Tata Memorial Centres located across the country. This will help the patients of this region get online super-specialty consultation for managing various types of cancer ailments under the disease management groups (DMGs).
Besides residential hostels for doctors and nurses and residential accommodation for faculty, the hospital will also offer stay facilities for cancer patients in a specially-built dharamshala.
Pointing out that two state-of-the-art cancer hospitals are already functioning at Sangrur and Bathinda in Malwa region of the state, Vini Mahajan said while the Homi Bhabha Cancer Hospital in Sangrur has so far treated more than 23,000 cancer patients, the advanced cancer diagnosis, treatment and research centre in Bathinda has cured more than 2,500 cancer patients.
Informing that a tertiary cancer centre is also being established in Fazilka to further strengthen the cancer treatment facilities in the state, she said, "Major civil work has been completed and it is likely to start operations next year." More than 65,000 cancer patients have been provided cashless treatment under the Mukh Mantri Punjab Cancer Rahat Kosh Scheme at various cancer hospitals in the state, she added.
Among others present during the Chief Secretary's visit to the hospital site were Punjab Principal Secretary PWD Vivek Pratap, Mohali Deputy Commissioner Girish Dayalan and Dr Ashish Gulia, officer in-charge of the Homi Bhabha centre.
Medicity, in New Chandigarh, is spread over 250 acres in the immediate vicinity of PGIMER Chandigarh and comprises sites for multi-specialty and super-specialty hospitals, medical research institutes and housing facilities for doctors and other staff.
LifeInChandigarh.com by APR Media House is an enjoyable digital reading startup, which keeps you abreast of the latest meaningful happenings of interest to large sections of folks in Chandigarh tricity, and expats from the region. It has been promoted by a public spirited senior journalist and media consultant with a view to encourage good quality and healthy journalism, a dire need of the times.
To keep in touch, drop an email or call :
kochhar.apr@gmail.com
9815617676