In elections results announced on Tuesday to the 15-member Panchayat Samiti and 10-member Zila Parishad, the BJP announced it had won 11 and 8 seats respectively, leaving the Congress again licking its wounds. The elections were held on Sunday.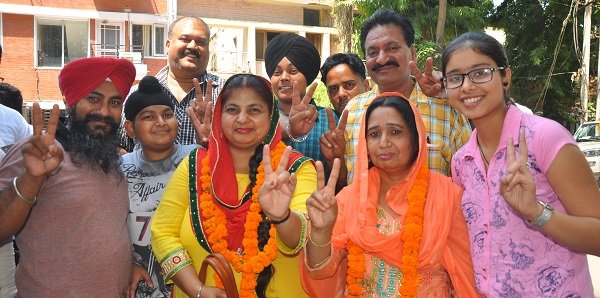 The winning panchayat samiti and zila parishad candidates from Behlana, Sushil Kaur & Santosh
The results resounded in the general house meeting of the municipal corporation as well, with former Mayor Sood, asserting that the people had once again given a stamp of approval to the pro common man agenda of Prime Minister Narendra Modi, under whose leadership the BJP is capturing power in one state after the other.
In December, last year, the BJP had pulled off a coup of sorts by decimating the Congress in the general elections to the municipal corporation, claiming 20 of the 26 elected seats with its ally Shiromani Akali Dal taking the alliance tally to 21.