A Class XII student of Vivek High School Chandigarh, Kaustav Kochhar has shown the way to the community that if you have the spirit, and the will, you will invariably find a way to contribute that little bit extra to make a significant impact.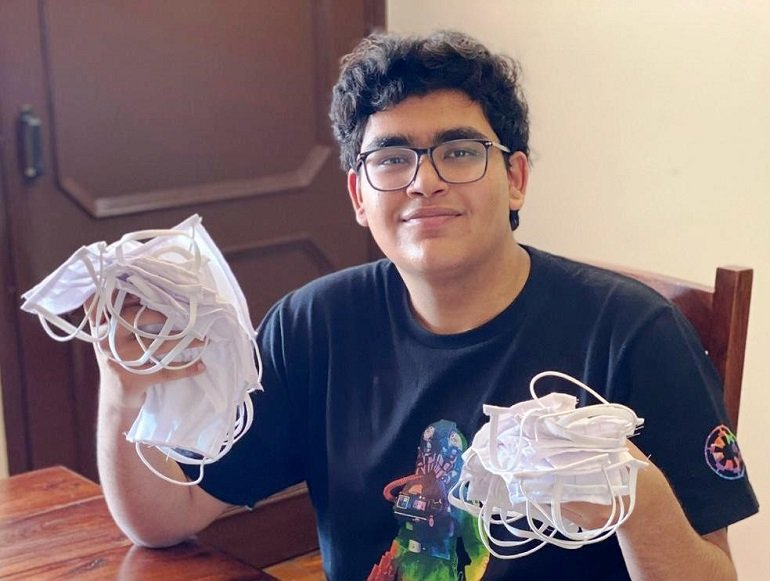 Photo By : Life In Chandigarh
The 16-year-old, who has been keenly following the developments relating to the spread of Coronavirus infection, had noticed that like in all other crisis situations, it is the underprivileged sections of the society which were the hardest hit by the pandemic and the subsequent lockdown/curfew.
Kaustav resolved to do something to mitigate the suffering of these ill-prepared and vulnerable sections. He found that a face mask, the first line of defence against catching coronavirus, was in short supply and out of their reach. So he immediately did some online research and came out with a perfect solution for a home-made mask, which is washable and reusable.
Having collected a breathable cotton fabric from the market, he caught hold of a tailor to custom-prepare masks as per WHO guidelines for home-made face masks. He has so far got distributed 250 face masks, 150 soaps, 25 sanitiser bottles, 50 kg rice, 50 kg pulses and 500 packets of biscuits among slum dwellers in the city through the Samarpan Foundation.
Says Kaustav, "I was concerned that this current trend of rapid spread of the virus is going to most adversely impact the underprivileged sections, which, under normal circumstances too, can barely make ends meet. If they get infected, the situation will worsen for their families. Hence the thought of making masks best suited to their needs," he adds.
Kaustav's plans do not end at that. He is determined to continue with his efforts and help out the underprivileged sections in these extremely trying times.
LifeInChandigarh.com by APR Media House is an enjoyable digital reading startup, which keeps you abreast of the latest meaningful happenings of interest to large sections of folks in Chandigarh tricity, and expats from the region. It has been promoted by a public spirited senior journalist and media consultant with a view to encourage good quality and healthy journalism, a dire need of the times.
To keep in touch, drop an email or call :
kochhar.apr@gmail.com
9815617676