Suggesting that state governments at this stage should get involved in promoting international flights from international airports in their respective states on the lines of the Assam Government, which is offering subsidy to airlines which start operating international flights from Guwahati to ASEAN countries, he said jumpstarting international traffic from their states would prove to be a real game changer. "It will open up major business hubs like London, Dubai and Singapore for unlimited trade opportunities," he added.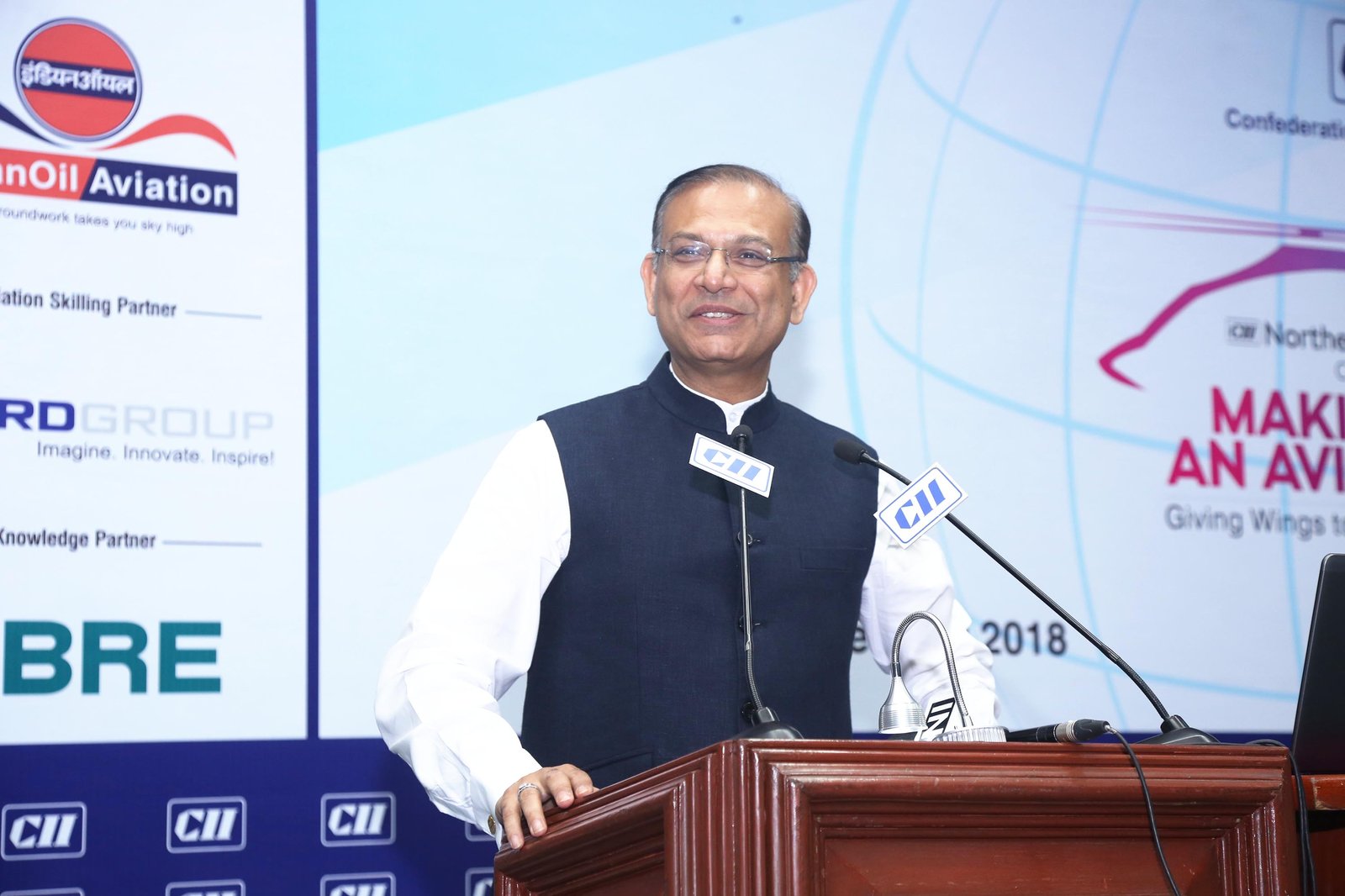 Photos By : Life In Chandigarh
"The future of aviation in Northern states is extremely bright. I would like to see the international airports in Hisar, Jewar, Chandigarh and Amritsar competing with Delhi international airport in the coming years," the minister said.
Chandigarh Airport
Focussing his attention on the Chandigarh International Airport, Jayant Sinha said by the summer of 2019, precisely last Sunday of March, the International Airport at Chandigarh will be open 24x7 to wide bodied aircraft with the Cat 2 ILS (Instrument Landing System) becoming operational and the runway being extended to 10,400 ft length, besides addition of other international facilities at the airport. "With the support of participating state governments, long haul flights to and from destinations like Toronto, New York, London, Sydney could become a reality in no time," he said.
Supplementing the information provided by the minister, Chandigarh International Airport Limited (CHIAL) CEO Suneel Dutt informed the gathering that the ILS would be upgraded to Cat 3 by next winter, when it would be required most, by further reducing visibility constraints. He informed that there are 70-80 scheduled flights operating from the airport and there are no restrictions on parking of aircraft. Five more parking slots are being added to the existing 10 by October 2019, he added.
100 Airports Operational
The minister said with the country's 100th airport becoming operational at Pakyong in Sikkim, one of the most beautiful airports in the world, sitting on a table top, connectivity to the entire North-East has been further strengthened. It has opened the beauty and wonder of Sikkim to the rest of the world. He claimed that the UDAN (Ude Desh ka Aam Nagrik) scheme is proving to be a landmark initiative, under which 32 additional airports have already been made operational and scheduled airlines are operating from them. This phenomenal expansion is being spoken about around the world and is the successful culmination of Prime Minister Narendra Modi's dream of giving opportunity to a common man who wears a 'hawai chappal' to fly a 'hawai jahaz'.
Reeling out figures, Jayant Sinha asserted that in the last 4 years, there has been a twofold increase in number of passengers who have flown by air - from 60 million (6 crore) in calendar year 2013 to 120 million (12 crore) in 2017. The number of passenger trips have also increased from 100 million (10 crore) in financial year 2014-15 to 180 million (18 crore) in FY ending March 2018. The growth rate of 15-20 percent has been the highest among large aviation markets in the world and is expected to sustain in the coming years, he affirmed.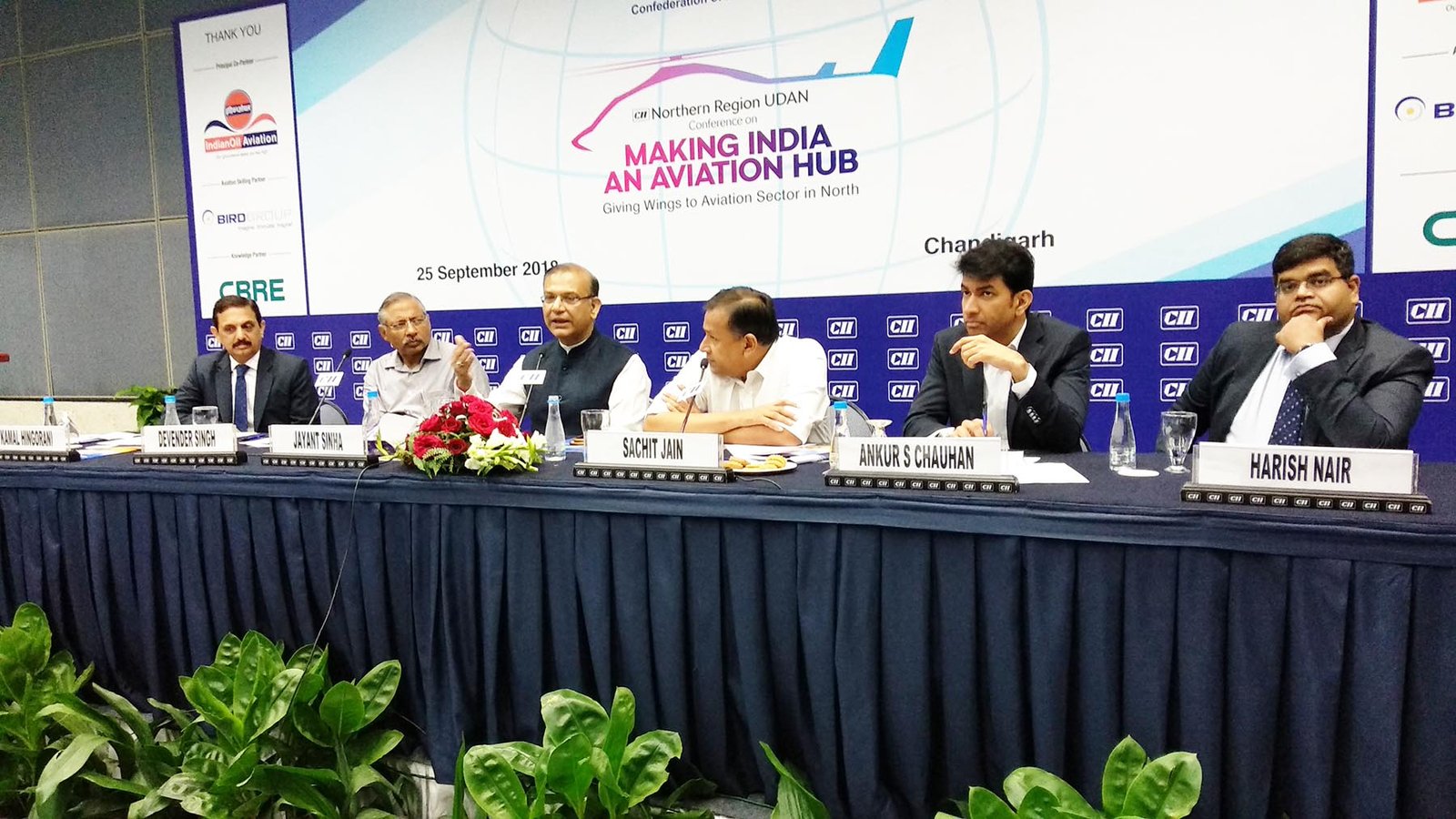 "Still, we are just scratching the surface. Out of a total population of 1250 million (125 crore) only about 120 million (12 crore) people have travelled by air, though this figure has already topped the number of people who have undertaken air conditioned Railway travel.
"Aviation is poised to become the largest industry in the Indian economy. In all of the 67 years since independence the country had added 400 commercial planes to its fleet. While in the last four years alone, orders for 1,000 planes have been placed. This is apart from the 100s of military aircraft being acquired," he added.
Great Time To Investment
Making a strong pitch for investments in the sector, the minister said, "The demand for air travel is extraordinary, and therefore it is a great time for people to invest in the aviation industry. The whole concept of airport regulation has been overhauled to attract Indian and foreign investment in the sector. Under the new approach being adopted, focus has shifted from revenue based model to yield based model, which cuts costs both for the passengers and the airlines. This new model is being tried out for Jewar airport, he added.
Talking about the Civil Aviation Policy adopted in June 2016, Jayant Sinha said the very first such policy in the history of the country is a forward looking document designed to cater to an exponentially growing demand. Under the NABH (NextGen Airports for Bharat) Nirman initiative, planning is being done not just for increase in passenger trips to 220-230 million (22-23 crore) in the next few years, but for a billion (100 crore) passenger trips in the next 10-15 years, which will mark more than a fivefold increase from the present level, he said.
Informing the gathering that an investment of Rs 1 lakh crore in the aviation sector in the next five years is already in the pipeline, of which Rs 18,000 crore is to be made by Airport Authority of India (AAI) alone, he said Greenfield aviation projects coming up at Jewar in Uttar Pradesh, Hisar in Haryana and in Navi Mumbai and Goa are a result of attractive policies being pursued by the government. But to reach the 1 billion passenger trips mark, another Rs 3 lakh crore investment will be required, he added.
Claiming that the massive liberalisation and opening up of the sector has shown positive results, with the aviation sector poised to become the next telecom sector, he informed that in fact with an estimated business of Rs 1.5 lakh crore to Rs 2 lakh crore it is already the size of the telecom sector. He expressed confidence that the sector, which is on an unprecedented growth path, will have massive multiplier effect on other sectors of the economy.
'Digi Yatra'
Asserting that the government wanted to ensure high levels of passenger ease and comfort at all airports and by all airlines, the minister assured that the same standards will be applied to all airports across the country.
"Under a new globally unique initiative, 'Digi Yatra', we are going to ensure that passengers need not carry any travel papers at all and breeze through immigration and security with the use of biometrics based systems at all major airports. Boarding pass will also become a thing of the past. For this passengers need to get KYC compliant once with their finger print and iris scan. The Bangalore Airport has already placed a big order for machines to become Digi Yatra compliant," he said.
Regarding shortage of various categories of skilled manpower in the aviation industry, he said the government had set up a liberal regulatory framework, and expressed confidence that the private sector will step in and investment adequately in the training sector to supplement the capacities of various autonomous and government institutes like the Rajiv Gandhi National Aviation University, and fill the gaps.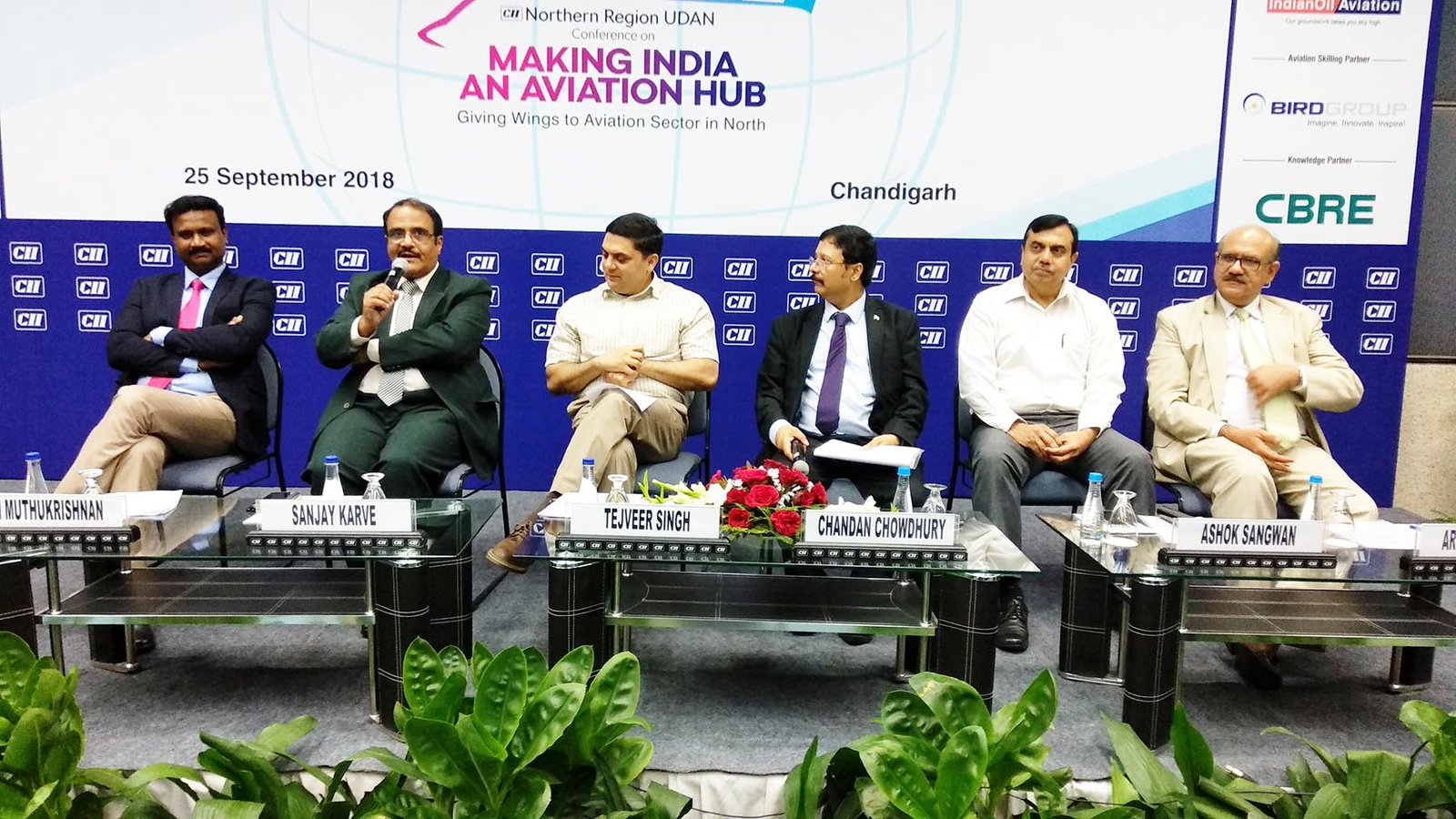 ATF Prices
On measures aimed at arresting the crippling aviation turbine fuel (ATF) prices, he said his ministry had earnestly taken up the matter for bringing ATF under the purview of the GST regime so that the industry could benefit from input tax credits, but a decision on it rests with the GST Council, which is seized of the matter.
Referring to the issue of slot management, especially peak slots, at the international airports in Mumbai and Delhi, he admitted that the allocation of slots for business airlines was a major issue at Mumbai International Airport because of a sole runway, but otherwise it was considered among the most efficient airports in the world, handling 1,000 flights a day from a single runway. The under construction Navi Mumbai International Airport, a Greenfield project, is expected to help majorly ease these problems. "It is going to be a massive airport with two runways, but it could take between 2-4 years to complete."
Delhi International Airport is being overhauled to make it one of the largest airports in the world. From handling 65 million (6.5 crore) passengers a year, its capacity will be expanded to handle 100 million to 120 million (10-12 crore) passengers a year. Currently Atlanta International airport tops the list of largest airports in the world, handling 104 million passengers a year, closely followed by Beijing Capital International Airport, which caters to around a 100 million. "Despite having three runways, the Delhi International Airport is not running optimally as the systems are being readied for managing peak slots. Passenger traffic handling capacities at the various terminals are also being scaled up in a phased manner," he added.
Haryana Story
Elaborating on the aviation scene in Haryana, state Additional Chief Secretary - Industries and Civil Aviation Devender Singh while addressing the inaugural session said, the newly constructed airport, part of a proposed massive aviation hub in Hisar, has received approval for operating six scheduled flights on the Delhi-Hisar and Hisar-Chandigarh routes for which negotiations were on to sign MoUs with airline operators to start the flights. He requested the Minister to give them a slot in Terminal 3 of IGI airport Delhi as a special case, instead of Hindon Civil Airport, as at present.
In due course the airport runway will be expanded from 4,000 feet to 11,000 feet and an international terminal constructed to allow long haul international flights to operate from the Hisar Airport, he informed, adding that the state civil aviation department is in possession of 4200 acres of land in its name, which would, in phases, be utilised for a proposed aviation university, aerospace manufacturing and maintenance, repair and overhaul (MRO) facilities, etc. Expression of Interest had also been invited for business airlines to operate non scheduled flights from Hisar to various popular hill destinations like Shimla, Kullu and Dharamshala and also within the state of Himachal Pradesh.
There is also a proposal for operating flying clubs and an Aero Sports Academy from the other operational airports in Haryana on PPP model, Devender Singh shared.
Concluding the inaugural session, Kamal Hingorani, Member, CII National Committee On Civil Aviation & Chief Customer Service Officer, Spicejet Ltd, confirmed that Spicejet was indeed discontinuing its Delhi-Chandigarh flights from October 6. However, he sought to allay apprehensions that it was going to be permanent decision. The aviation industry is very dynamic. With the ATS prices shooting up to an all time high because of the sliding rupee, the airline has re-evaluated its position on many routes, including Chandigarh. He assured that they will be back.
IAF More Open
Participating in a session on "Policy and Regulatory Environment In Aviation Industry: The Way Forward", moderated by Dr. Chandan Chowdhury, Associate Dean, Indian School of Business, Principal Secretary to Punjab Chief Minister and Secretary Civil Aviation Tejveer Singh felt that the IAF was now more open about allowing civil airports to be developed and operated from its airfields, which made sense with capital costs involved in constructing independent airports cut drastically. He gave the example of Halwara airport which was not approved under UDAN 1, but which had now been sanctioned and would be made operational in three years time.
Addressing the session, Haryana Director Industries and Advisor Civil Aviation Ashok Sangwan while admitting that till about five years ago the state civil aviation department was restricting itself to running three flying clubs and supervising VIP flying, said now, realising the important role of the state government in accelerating the aviation industry, the department is focussed heavily on creating infrastructure and extending incentives to the industry. He informed that a Request for Proposal (RFP) is being released soon for setting up an Aero Sports Academy at Narnaul airport.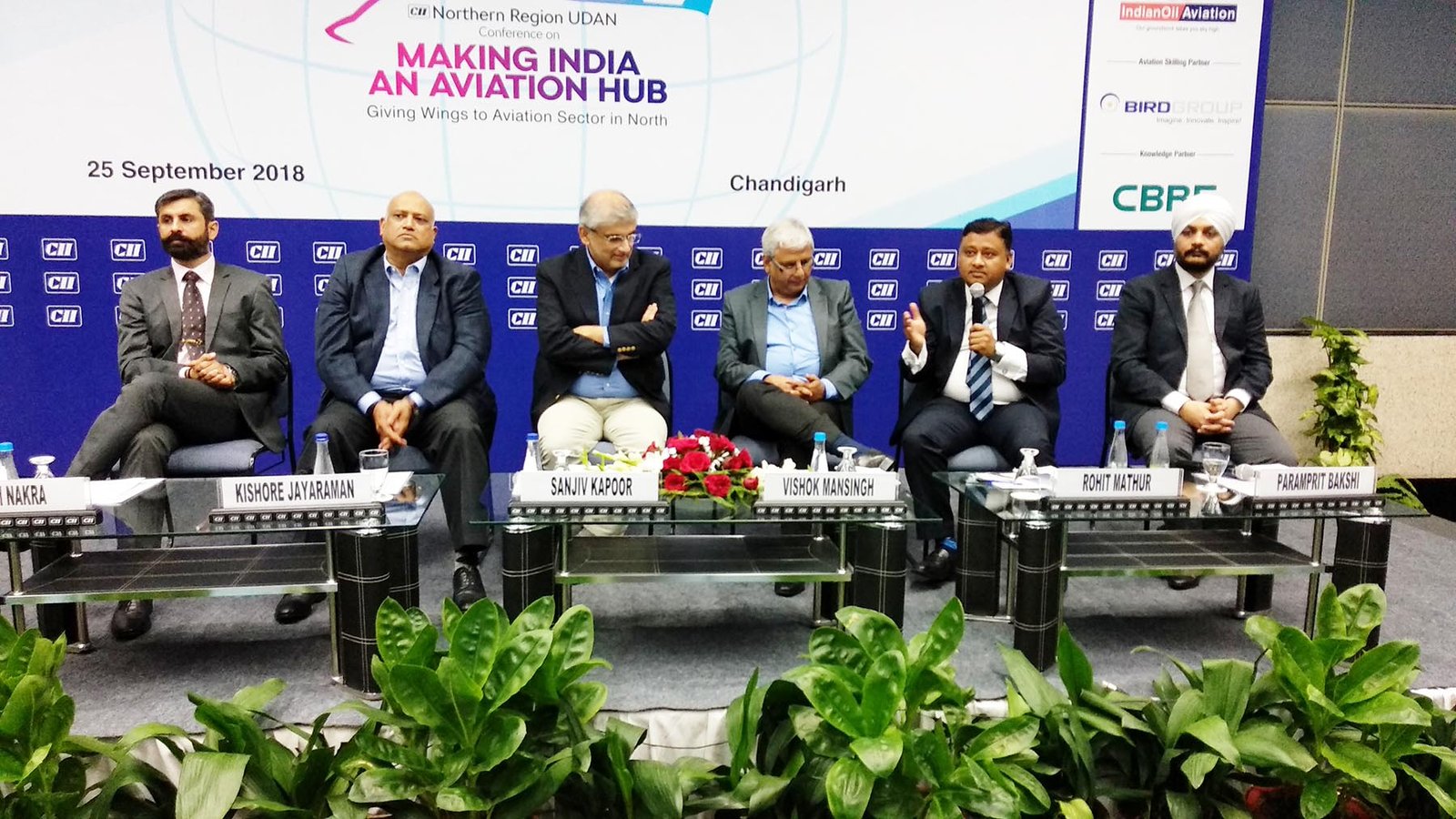 Need Regulatory Changes
Maharashtra Civil Aviation Director Capt. Sanjay Karve was of the opinion that it is high time the armed forces review some of the archaic rules and regulations governing civilian movement around defence bases framed in war times, which no longer existed.
Air India Director Operations Capt. Arvind Kathpalia called for regulatory changes, asserting that overregulation in aviation sector to enforce safety standards invariable adversely affected operations, especially of smaller operators, which faced insurmountable cost and financial viability issues.
Dr. M. Muthukrishnan, Head – Environment, Delhi International Airport Limited (DIAL), emphasised the need for good land use planning around airports to allow for expansion whenever required so that public litigation can be avoided.
In the session on "India as a Global Aviation Hub & Creating Regional Hubs", session chairman and Chief Strategy and Commercial Officer of Vistara Airlines Sanjiv Kapoor shared that Vistara's experience of operating flights from Chandigarh International Airport has been good and the airlines is planning to increase its flights from the city.
Maj. Daksh Nakra, Head – Northern India, Bird Education Society for Travel & Tourism, highlighted the massive gap between demand and supply for skilled manpower in the aviation industry and the lack of adequate skilling facilities for filling the gaps.
Kishore Jayaraman, President, India & South Asia, Rolls-Royce, felt that India had the potential to connect Europe with Asia, to act as a bridge between East and West, but the challenge lies in quickly expanding the airports in our major cities to adequately cater to ever increasing volumes of passenger trips.
Vishok Mansingh, CEO of TruJet Airlines, while emphasising the need for creating local aviation hubs, felt that the airlines did not need subsidies but level playing field with the heavily subsidised Railways and road transport. He also wanted policy changes to bring down running costs of airlines to protect their bottom lines.
Point To Point Copter Services
Rohit Mathur, CEO Heritage Aviation Pvt Ltd, expressed confidence that helicopters had a great future and the government needed to majorly encourage point to point helicopter services with a brisk frequency to increase running time of helicopters and make them viable. Right now these were largely being used for leisure and pleasure. Giving an example, he said cost of point to point connectivity with 4-5 trips a day on Chandigarh-Manali and Chandigarh-Dharamshala could come down to Rs 4,000-Rs.5,000 per person per trip.
Advocating liberal helicopter operation regulations, he claimed that Sao Paulo in Brazil had 700 operational helicopters and 200 helipads. In Canada, helicopters are freely used in spraying farmlands, and in many cases each member of a farm family is a licensed helicopter pilot, he added.
Paramprit Bakshi, Vice President – South Asia & Head – Strategic Business Units of global aviation advisory CAPA, said India enjoyed a great geographical advantage but at the same time, hemmed in between two major aviation hubs, Dubai and Singapore, it has to face stiff competition in its push towards itself becoming an aviation hub.
A CII-CBRE report titled 'Giving Wings To Aviation Sector In North' was released on the occasion.