In a new year interaction with media persons on Wednesday, Sidhu said he had already met with some success in getting the central government to approve release of funds for the three smart city projects, for tourism circuits proposed by the state government and strengthening of fire safety mechanism in the state.
He informed that the central government had approved release of Rs 350 crore for the smart city projects in Amritsar, Ludhiana and Jalandhar and another Rs 50 crore was being contributed by the state government for the purpose. And, with Amritsar being declared a heritage city, the state government will be able to spend Rs 600 crore on these three smart cities during this year – Rs 200 crore for each city.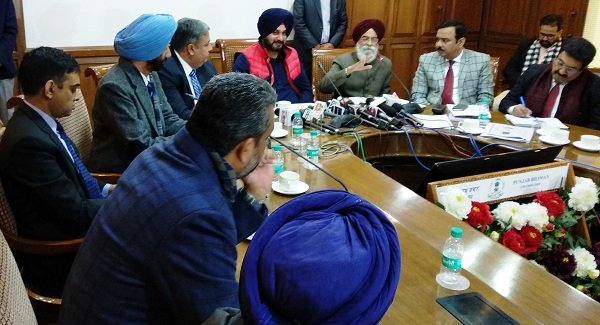 Photo By: Life in Chandigarh
The ministries of home affairs and housing and urban affairs are also expected to release funds to the tune of more than Rs 750 crore for strengthening the fire services, purchase of fire equipments and raising a fire services training centre in the state.
Another Rs 100 crore had been cleared by the Union Tourism Minister for religious and heritage tourism projects in Punjab, including Sri Anandpur Sahib, Fatehgarh Sahib, Chamkaur Sahib, Jallianwala Bagh, Hussainiwala and Khatkar Kalan memorials, Saragarhi and Kalanaur.
The minister claimed that more resources would be generated through better compliance of rules and plugging of leakages in collection of various levies and expenditures in the urban local bodies. Maintaining that speedy implementation of e-governance measures was the only way to check the rampant corruption in the system, he announced that in order to streamline the functioning of urban local bodies and to assess the irregularities and shortcomings M/s Grant Thornton Ltd had been appointed as an independent review and forensic audit agency.
Grant Thornton has been mandated with carrying out the forensic audit of infrastructure work carried out by the urban local bodies in the last 10 years. In the first phase, the agency will conduct the audit in four municipal corporation towns of Amritsar, Jalandhar, Ludhiana and Patiala, four improvement trusts in these towns, and three municipal councils of Kharar, Zirakpur and Rajpura. The agency will look at works related to water supply, sewerage and sewerage treatment plants (STPs) carried out by the Punjab Water Supply and Sewerage Board and works related to town planning department.
To generate substantial savings in energy consumption, conventional bulbs in all 4.90 lakh street light points in the urban local bodies will be replaced with energy efficient LED lights between March and November this year.
A massive recruitment exercise has been undertaken to fill up more than 600 vacancies of engineers, inspectors and senior assistants in various urban local bodies by the end of the current financial year.
Under an urban infrastructure improvement plan, the department has begun the process of providing 100% river water supply, sewerage, roads, street lights and storm water maintenance facilities to the urban population.
Punjab Arts Council Chairman Surjit Singh Patar, who was also present, spelled out the various initiatives of the council in touching each one of the 12,000 villages in the state with its activities aimed at changing the distorted mindsets of large sections of the rural population and restoring the glorious period of Punjab shaped by Guru Nanak and various rishis and sufi saints.
His vision for Punjab involves restoring weekly arts and culture periods in educational institutions, holding arts festivals and competitions to identify and nurture talent, creating nursery rhymes steeped in Punjabi culture, posting of periodic online magazines with best contributions in poetry, short films, paintings, etc. from the youth. He has also proposed grant of scholarships for promotion of art and culture among Punjabis during the 550th birth anniversary of first Sikh Guru Nanak Dev in 2019 when an Asian Art Festival is also planned to be held.
While claiming that a comprehensive tourism policy was ready for formal launch soon, Navjot Singh Sidhu said various tourism circuits on thematic lines had been finalised by the state government and would be taken up by one by one for development with technical and financial assistance of the central government. Among the circuits identified are Spiritual Circuit, Maharajah Circuit and Mughal Circuit.
The two occasions of the 550th birth anniversary of Guru Nanak and centenary year of Jallianwala Bagh in 2019 will be commemorated on a grand scale to attract tourists from across the world.
Policies are also being formulated to promote film tourism by establishing film cities and medical and wellness tourism in a big way. Conservation of cultural and heritage sites and early completion and promotion of Virasat-e-Khalsa to make it the most visited museum in the country are also on the top of the state government's tourism agenda.