In one such initiative, class XII student of Strawberry Fields High School Ganeemat Kaur has started making hand sanitisers at home and getting them mass distributed in the city's villages and colonies for free. She now wants to inspire other students who can spare the time during lockdown to join her in a chain to broad base this community activity.
Photos By: Life In Chandigarh
"I bought a carton of Isopropyl Rubbing Alcohol (concentrated form of hand sanitisers) containers, which are readily available with local chemists, and 15 cases of 250 ml bottled water. The water was mixed in the concentrate in the ratio of 40-45: 55-60 to make a perfect sanitiser, rivalling any branded one available in the market. The consignment so prepared was got distributed free of cost among needy people in Nayagaon, Jagatpura and some other colonies through an NGO," gushes the teenager, a sense of satisfaction written all over her face.
How did it all start? What was her inspiration?
"During the course of the lockdown, one day I happened to be watching the kids of our neighbourhood 'dhobi' (ironman) play. Out of curiosity I asked them about how they were maintaining personal hygiene during this disease outbreak. They knew nothing. It was then that I resolved to do something about it," she shares.
How did she gather info about making sanitiser at home?
"Our family doctor was consulted, and on his guidance the concentrate was procured from the chemist, mixed with water in the right proportion, and the sanitiser was ready," Ganeemat (Gina to her family and friends) adds.
Gina is of the view that for well placed people personal hygiene may sound so simple, but for thousands of our less privileged brethren it's something beyond them even if they are aware. It is this section of the population which needs to be extended a helping hand in these trying times to keep them clean and safe, she says.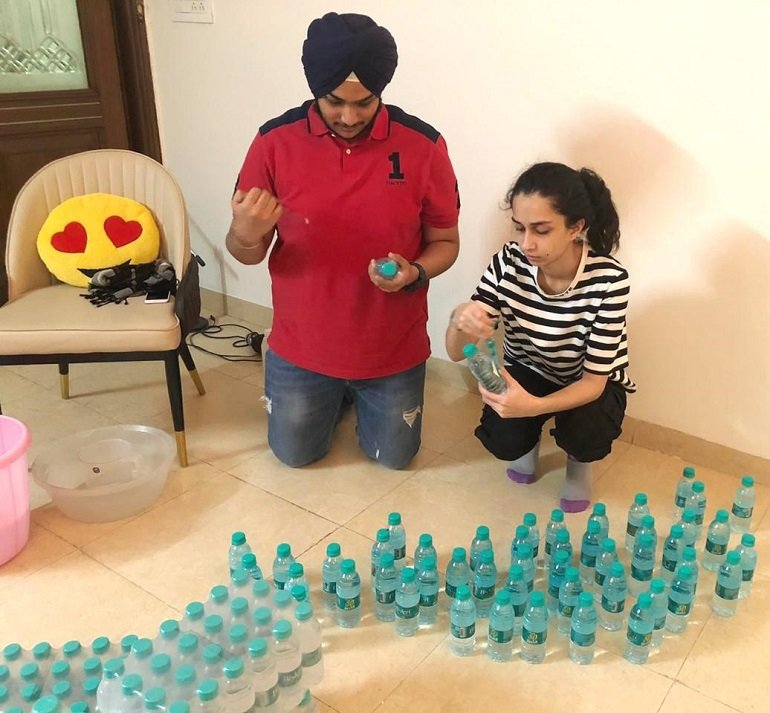 Seeing her enthusiasm, a few children from her neighbourhood have also expressed their desire to join her in this initiative. Now Gina is in the process of forming a chain, whereby other students, confined to their homes because of the curfew, can also utilise their spare time gainfully in this effort.
Stay safe, stay healthy! This too shall pass, and we will win this! May His Blessings always be with us!....is her parting message to all.
LifeInChandigarh.com by APR Media House is an enjoyable digital reading startup, which keeps you abreast of the latest meaningful happenings of interest to large sections of folks in Chandigarh tricity, and expats from the region. It has been promoted by a public spirited senior journalist and media consultant with a view to encourage good quality and healthy journalism, a dire need of the times.
To keep in touch, drop an email or call :
kochhar.apr@gmail.com
9815617676