Well known environmentalists, social activists, NGOs, a host of members from the higher judiciary and government officials deliberated on the fundamental issues of air pollution, water conservation and municipal solid waste management in three technical sessions, besides the inaugural and valedictory sessions of the conference held at Panjab University campus on Sunday.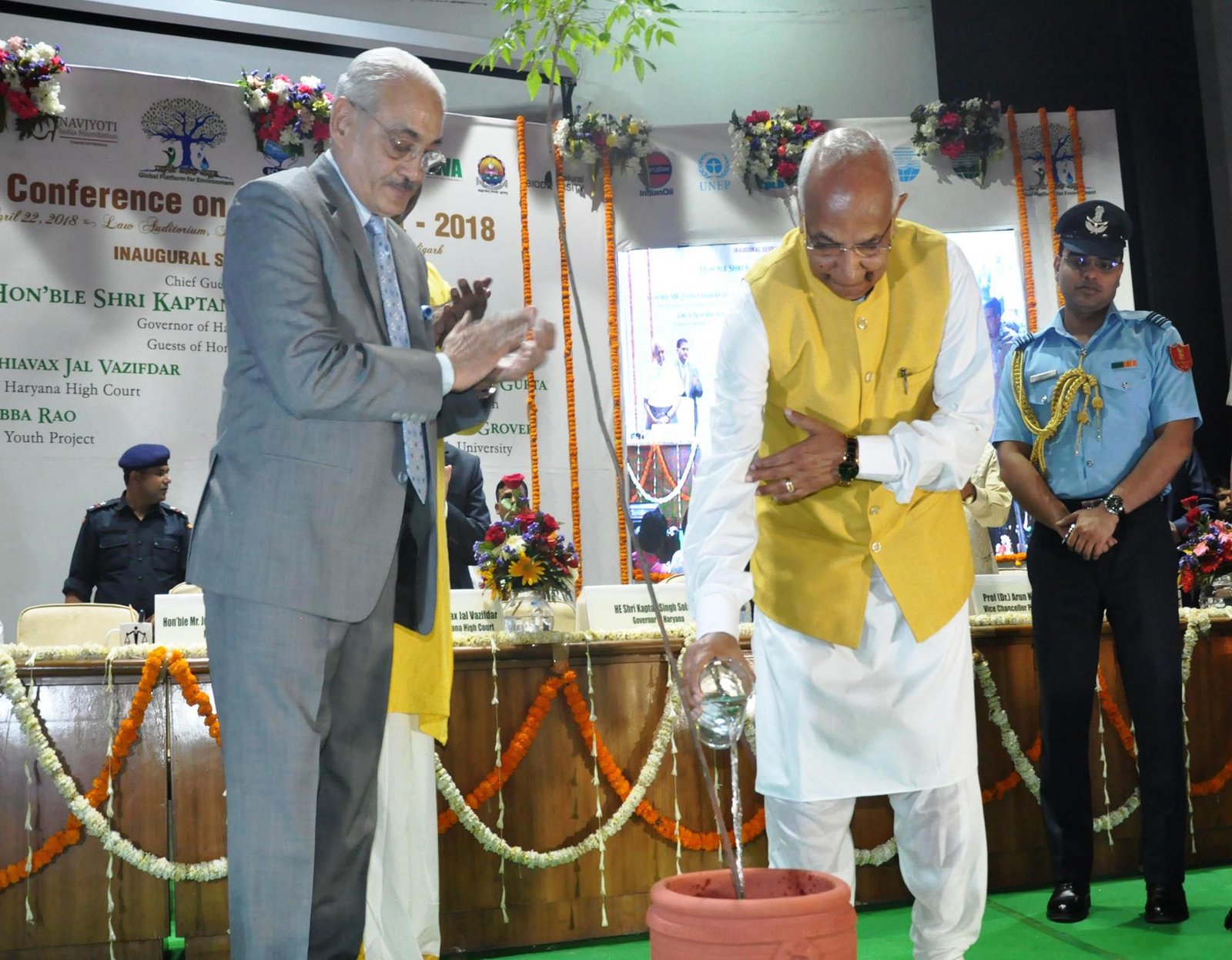 Photo By : Life In Chandigarh
Though the conference threw up a slew of thoughts on tackling the burning environmental issues of the times, the gaps seen in the organisation of the "showcase" conference clearly demonstrated that GPE needed to substantially ramp up its act to be able to achieve its mandate of starting a grassroots mass green movement initially in the northern states of Punjab, Haryana, Himachal Pradesh, Jammu & Kashmir and UT Chandigarh. Justice Swatanter Kumar, National Convenor of the GPE, an alliance of 19 stage holders, including NGOs, state pollution control boards, state governments and private and public sector undertakings, had to profusely apologise to the dignitaries on the dais and the gathering for the slipups during the course of the conference.
Apart from Haryana Governor Prof. Kaptan Singh Solanki, who as chief guest planted a symbolic tree sapling in an earthen pot to mark World Earth Day, among the prominent environmentalists and social activists who participated in the conference were Dr. S.V. Subba Rao, a renowned Gandhian and Founder of National Youth Project, Stockholm Water Prize winner 'Waterman' from Alwar in Rajasthan Rajendra Singh, NGT Acting Chairman Justice Jawad Rahim, Namma Bengaluru Foundation CEO Sridhar Pabbisetty, Central Pollution Control Board chairman SPS Parihar and NIPER Mohali Director Dr. Krishna Rao. Dr. T.P. Singh, Deputy Regional Director, represented International Union for Conservation of Nature, Bangkok.
The higher judiciary, which has been proactively taking up public issues of environmental concern in the wake of the central and state governments abdicating their responsibilities, was present in overwhelming strength. There were three chief justices of high courts – Madhya Pradesh High Court Chief Justice Hemant Gupta, Punjab & Haryana High Court Chief Justice Shiavax Jal Vazifdar and Himachal Pradesh High Court Acting Chief Justice Sanjay Karol – besides several justices of Punjab and Haryana High Court.
In his welcome address, Justice Swatanter Kumar said the alliance partners will soon fan out into the backyards of the targeted states with their awareness campaigns aimed at touching the lives of people down to the village level. To drum up more support for the movement similar conferences have been planned to be held at Shimla, Gurgaon, Amritsar, Srinagar and Haridwar. They had also targeted to plant 10,000 trees during the course of the year, he added.
In an enlightening and motivational talk, nonagenarian Gandhian Dr. S.V. Subba Rao said our Earth is the only planet known to be endowed with human life and a bountiful flora and fauna and we need to preserve it as our very lives depend on it. We must realise that just like an environmental ecosystem exists in the outward world, one exists within ourselves as well. To be at peace with ourselves and with Nature we need to first nurture our inner self, which is our soul.
Waterman Rajendra Singh called for identifying and demarcating the extinct or dried up water bodies and taking scientific measures to rejuvenate them as had successfully been done by his NGO 'Tarun Bharat Sangh' in reviving several rivers in Rajasthan, Maharashtra and Karnataka over the past 35 years.
Justice Hemant Gupta ran two videos for the benefit of the audience to emphasise that a severe water crisis was staring the country in the eye. Painting the horrifying scenario of water taps going dry in Cape Town, South Africa and people preparing for a life with rationed water, he said we in Indian cities could be looking at a similar scenario in the not too distant future. Pointing towards a glaring contradiction in Indian society, he said on the one hand we worship the elements of Nature and on the other don't hesitate in abusing them with contempt.
Justice Shiavax Jal Vazifdar called for devising innovative ways to strike a judicious balance between need for development and protecting our environment. He gave the example of a visionary Swiss industrialist, who turned heavily denuded land in Mombasa, Kenya, due to overexploitation of limestone quarries by his cement making company, into highly productive farmlands which rehabilitated the local population.
Governor Solanki called for awakening of our "aastha" (belief) in the age old cultural values the country stood for to reconnect with Nature and Mother Earth. We need to treat the Earth just as we treat our mother, to whom we owe our very existence, he said.