Following a string of recent accidents, some resulting in deaths and serious injuries to road users, on the massively pot-holed road, and severe criticism in the Media, the Punjab Vigilance Bureau appears to have finally decided to move swiftly to get to the depth of the muddle.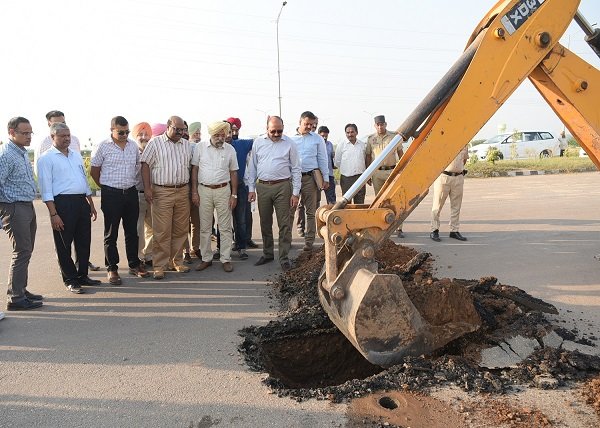 PHOTOS BY: LIFE IN CHANDIGARH
An initial inspection of a stretch of the road on Tuesday by teams from the Bureau, accompanied by road construction engineers, has endorsed the obvious - prescribed standards and quality of materials were not followed in the construction of the road.

An official press release quoting a spokesperson of State Vigilance Bureau said "on the basis of complaints regarding non-worthiness of this recently constructed road, Vigilance Bureau Chief Director Mr BK Uppal, ADGP along with senior PWD and GMADA engineers, technical teams of VB and experts of Central Road Research Institute (CRRI) have inspected the road and excavated the road at two points with JCB machine and one with sampling machine.

"During this special inspection, it has been prima facie found that the road was not designed properly as per the actual soil (clay soil) and traffic conditions (heavy load trucks) at the site, and improper/sub-standard material was used which was not according to the prescribed specifications mentioned in the DPR as well as in the contract conditions."
According to Uppal, GMADA had already received a sampling report from CRRI but experts from the national institute had been asked to collect more samples from the locations selected by the technical teams of VB, PWD (B&R) and GMADA and submit a report after thorough analysis for review by the Bureau. Based on the CRRI reports, further action would be initiated against guilty engineers and the contractor, he added.

Among others present at the inspection site were G. Nageswara Rao, Director Vigilance Bureau, Shive Kumar Verma, Inspector General of Police (Economic Offences Wing) and engineers from PWD, GMADA and CRRI.