This observation was put to maverick cricketer-commentator-turned-politician and current local bodies and tourism minister of Punjab, Navjot Singh Sidhu, at a meet-the-press programme at Chandigarh Pres Club on Thursday. 'Sixer Sidhu', a magician of wordplay, had the answer ready "The political malaise confronting the country today can only be fought from within. So good people have to enter politics and have the conviction to stay on against all odds. There have been great people who have run away from politics. We cannot shirk our responsibility towards our country," he said.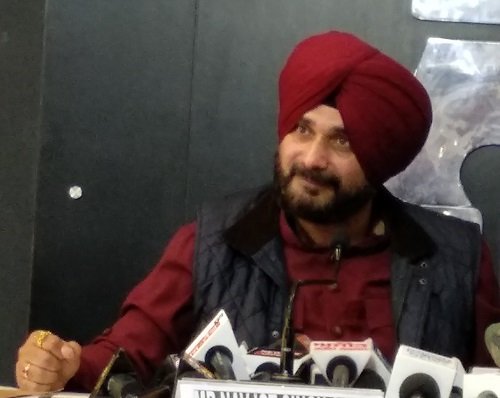 Photo By: Life In Chandigarh

"For me politics is a mission. It's a means of changing the lives of people for the good, it can also change the fortunes of a state. Unfortunately, from the heights of selfless politics from the likes of Mahatma Gandhi, Lal Bahadur Shastri, Shyama Prasad Mukherjee, when a Prime Minister had to take a loan to buy a car which he could not repay during his lifetime and his widow did from her pension, there is now a crisis of character and moral values are at their lowest ebb, with protectors of the people becoming their perpetrators. Ninety percent of the people in politics have adopted it as a profession, as a business.
"We have to win back that trust. We have to bring good people in. My father, Late Bhagwant Singh, who idolised Maulana Abul Kalam Azad, used to tell me 'when in doubt, walk straight, walk the path of truth'. I was only seven years old then, the words stuck in my mind. Today I am zealously following that path. I may have my faults, as all others do, but my 'neeyat' (intentions) are honest. I'll not dither in my tracks," he asserted.
Come, Politics Beckons You !!