As soon as the three completed their address to the sparse gathering, and the floor was opened to questions, a stunned silence left the PGI brass, including PGI Director Prof Jagat Ram and Institute Dean Research Prof Arvind Rajwanshi visibly anxious. However, sensing the discomfort, a few faculty members mustered the courage to step forward and fill in for the lack of interest among the gathering, which had further depleted by now. A senior faculty member in fact made the PGI brass further uncomfortable by pointing out how research could flourish when people associated with sanctioned research projects did not get paid for months for their research work. While Prof Jagat Ram tried to wriggle out of the situation, claiming that every effort is made to support the sanctioned research projects, but problems do crop up due to various reasons, Prof Rajwanshi literally waded into the questioner saying such issues cannot and should not be raised here.
Photos By : Life In Chandigarh
Prof. Sahni was quick to add that in the emerging highly competitive times, "our researchers need to grow up. We cannot look up to the government to fund all our research projects. Researchers have to add such value to their research projects that they become attractive for private sector funding."
He observed, "We are doing a lot of research, we have more than 4,000 patents, but we need to ask ourselves, are we solving the country's perennial problems through our research? This is also what the Prime Minister is keenly following, while egging on the researchers and innovators to help transform India. But quality also needs quantity. The filtering system then ought to bring out the best and reward the architects appropriately to encourage excellence," he added.
There was mention of participation by Chandigarh Region Innovation and Knowledge Cluster (CRIKC) institutions in Saturday's programme, but none of the more than two dozen member institutions of higher education and research in the alliance, set up for promoting and sustaining research in the region, were seen to be represented in the gathering other than the IMTECH Director, who was the guest of honour, and hence on the dais. Former PGI Director BK Sharma and Emeritus Professor Dr. RC Mahajan were the only noticeable personalities seen in the front rows which were otherwise empty.
In his presentation, IMTECH Director Prof Anil Koul said though India was steadily climbing up the ladder of most innovative countries in the last few years, improving from 81st in the world to currently being 57th, cumbersome processes were still holding the country back. "Just as ease of doing business, we need to focus on ease of doing Science, in the country. In IMTECH, we have taken baby steps in this direction," he added.
Providing a reality check for innovation in the modern context, he said "since the level of innovation needed for success has dramatically increased, researchers need to challenge themselves to reach a level of innovation which is differentiated in terms of surpassing market expectations."
Speaking on the topic 'Research in Quality and Patient Safety – The Need of the Hour', Prof Ravikumar said studies had shown that increase in GDP (gross domestic product) numbers need not necessarily lead to better healthcare, and countries like Thailand have shown that judicious healthcare can in fact lead to growth in GDP figures.
Among nine categories of change advocated by him are eliminating waste, improving work flow, optimising inventories, changing the work environment, managing time and designing systems to avoid mistakes.
Focussing on the basic tenets for enforcing quality, he said we need to move away from measurement of quality just for the sake of compliance to measurement for improvement.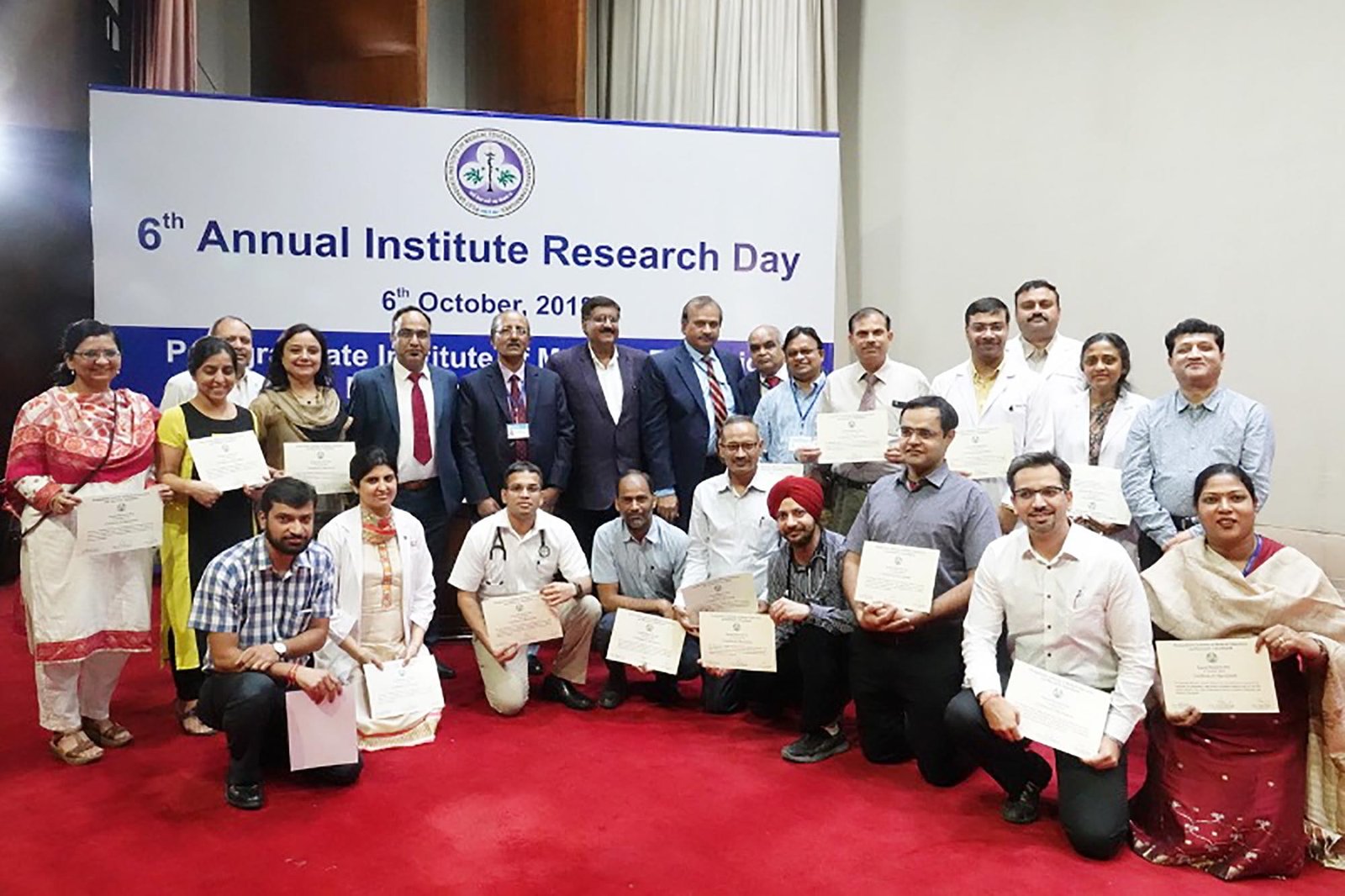 To mark the Annual Institute Research Day, the PGI faculty displayed 140-odd research papers in an exhibition, which was reviewed by the chief guest and guests of honour for the day. Three best published research papers in each of the categories, comprising assistant professor - medicine, surgery, paramedical, additional professor - medicine, surgery, paramedical and professor - medicine, surgery, paramedical, were presented awards.