Authored by Jagdish Singh Khushdil, a legal luminary for over three decades and currently Member, Rera Punjab, the book, My Experiments With Rera, also incorporates relevant provisions of associated acts like Consumer Act, local laws like Punjab Apartment & Property Regulations Act (Papra) and Town & Country Act for ease of comprehensive understanding of issues without having to refer to other books.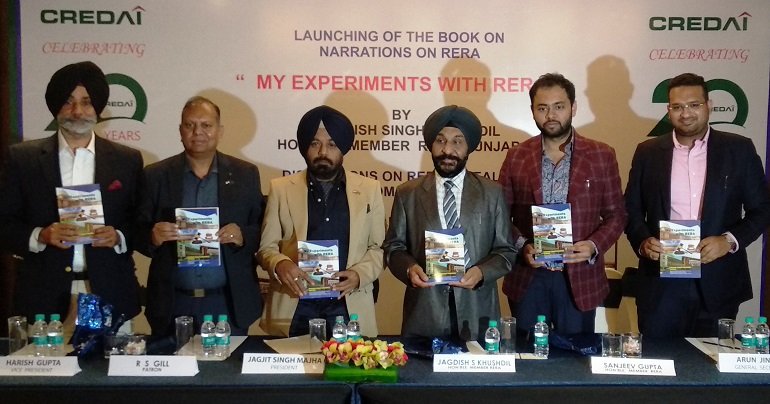 Photo By : Life In Chandigarh
The book was unveiled in Chandigarh recently at an event organised by Punjab chapter of Confederation of Real Estate Developers' Association of India (Credai). Besides the author, among others present were Credai Punjab office bearers Jagjit Singh Majha (President), Harish Gupta (Vice President), Arun Jindal (General Secretary), Umang Jindal (Joint Secretary) and Tarninder Singh, President, New Chandigarh, Credai.
The book is available for sale in paper-back at Shriram Law House, Sec 17 Chandigarh and can also be ordered online on Amazon.
Speaking at the book launch, Khushdil, a former District & Sessions Judge, Adjudicating Officer, Rera and also President, District Consumer Forum, said, "I believe that large sections of people are still grossly unaware of the implications of a new era ushered in by Rera. My attempt in the book has been to simplify details about Rera, and various laws associated with real estate sector, so that these are easy to comprehend even by a layman.
"I am sure that by going through the book, any aggrieved or interested person can find answers to all questions and doubts which come to mind. Since Rera is a central Act, all states have adopted it and created their own authorities with minor variations here and there. So, this book will be of help to people across the country, and not just in Punjab," the Member, Rera Punjab, added.
When the turn came for the Credai Punjab office bearers to get some of their concerns addressed, the obvious first question, coming from President Majha, was 'how does Rera restrain the police from making unjustifiable intervention in matters related to real estate."
In his reply, Khushdil was clear that all issues concerning buyers, sellers and brokers are covered under the jurisdiction of Rera, and that the police have no power to take cognizance of offences in the real estate sector. In fact, Rera also has jurisdiction of civil courts in matters related to real estate. Even a judicial magistrate can take up a real estate matter only on receiving a complaint from Rera, he explained.
Credai Punjab Vice President Gupta raised many other issues like buyers not paying maintenance charges despite getting possession, not getting the agreement to sell registered by paying stamp duty, and defaulting on paying instalments, etc to which Khushdil replied that in all such cases, where a consumer indulges in unfair and illegal practice, promoters can approach Rera for redressal.
Giving an example from his personal experience, Gupta also raised the issue of Consumer courts superseding Rera in matters concerning the real estate sector. But Majha intervened to assert that there have been a lot of positive outcomes in the 3 years of Rera's existence in Punjab. 800 developers as well as 9000 consultants have registered with Rera in Punjab. Things take time to stabilise, he emphasised and informed that in the coming times it is expected that Rera will be the sole authority adjudicating on real estate issues.
Khushdil appealed to all buyers and real estate developers to honestly state the selling price in all agreements to sell. It is in the interest of buyers also since in an eventuality of refund they will be entitled to get back only the understated amount. Promoters can approach Rera in case buyers insist on understating the sale price to save on payable stamp duty, he added
Giving an overview of the real estate sector, Majha said, "The real estate industry provides employment to over 40 million people and work to 269 different industries. What's more, real estate accounts for 8 per cent of the country's GDP which is slated to touch 13 per cent by 2025, as per latest report of the National Productivity Council. Rera is a boon for this industry as it will set the bar for quality and even make the industry completely organized."
Majha informed the media that Credai Punjab has also created its own Grievances Redressal Forum where aggrieved consumers can file complaints against any of its members. The idea is that for minor issues, consumers need not rush to Rera, he claimed.
He said Credai Punjab has requested the state government to provide it land for construction of a Credai Bhawan, where it proposes to start a skill development centre for construction workers as part of its corporate social responsibility (CSR) activities, besides showcasing various projects and holding seminars, etc.
LifeInChandigarh.com by APR Media House is an enjoyable digital reading startup, which keeps you abreast of the latest meaningful happenings of interest to large sections of folks in Chandigarh tricity, and expats from the region. It has been promoted by a public spirited senior journalist and media consultant with a view to encourage good quality and healthy journalism, a dire need of the times.
To keep in touch, drop an email or call :
kochhar.apr@gmail.com
9815617676