In a media interaction at Hyatt Regency, prior to start of a three-day 'Best of ASCO' (American Society of Clinical Oncology), a mega scientific meet on Oncology being attended by 500-odd cancer specialists, surgeons and radiation oncologists from India and abroad, leading specialists said "we are adding 11 lakh new cancer patients in the country every year and projections for the next few years are even more alarming. By the year 2025, this figure of new patients may increase five times to 55 lakh per year."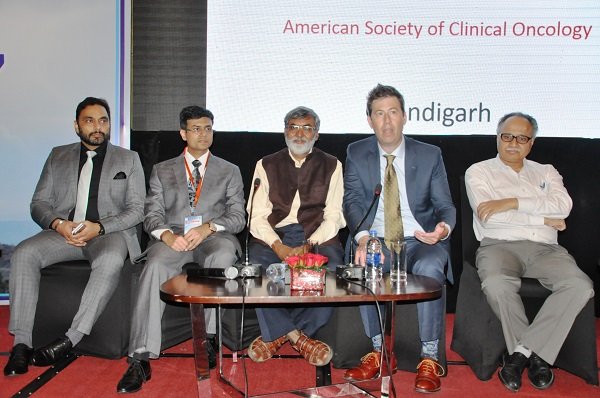 Photo By: Life in Chandigarh
Dr Purvish Parikh, Director (Precision Oncology), Asian Institute of Oncology, Mumbai and Dr Harit Chaturvedi, Chairman (Cancer Care), Max Healthcare, said one of the main factors for two-thirds of the cancer patients being cured in the US as against 40 percent in India, despite the availability of information and drugs, is that patients invariably reach for medical help in the third or fourth stage, by which time chances of survival get drastically reduced and the cost of treatment increases tremendously.

The two noted oncologists said recent advances like targeted therapy and immunotherapy had vastly improved the chances of survival and longevity of live even in stage three and four cancers, but being newer treatments these were still prohibitively expensive. Hence, the need for early diagnosis and cure, they emphasised.

Explaining the concept of immune-oncology therapy, Dr. Jacob Sands, Assistant Professor, Lahey Medical Centre, Boston, said "Cancer cells are very different from normal cells in the body, but they often find ways to disguise themselves as normal cells, because of which the immune system does not always recognise them as dangerous. As the natural immune response to cancer cells is often not strong enough to fight off all the cancer cells, immuno-oncology therapies activate our immune system, making it able to recognise cancer cells and destroy them."

Considering that more women than men are diagnosed with cancer every year, the conference on Day-1 devoted an entire session to gynaecological cancers.
Prominent doctors from Tata Memorial Hospital (TMH), Mumbai, All India Institute of Medical Sciences (AIIMS) and from other well known centres across the country shared scientific data with gynaecologists from the city and around and answered their queries.

Speaking on the importance of this session, Dr Gautam Goyal, Organising Secretary, Best of ASCO, and Dr. Sachin Gupta, Co-Organising Secretary, explained that breast cancer was the most common cancer in urban women and cervical cancer in rural women. In both these cancers, gynaecologists are the first point of contact with the patient, but oncologists have to treat them. Today's session provided a platform to both to understand the problems of each community and improve coordination thereby leading to a better treatment protocol and outcome, they added.

There was an exclusive lecture on HIPEC, a new form of treatment of ovarian cancer. Organ preservation, the latest research in the field of surgery, was also shared. This is a new concept in which the tumor is removed but rest of the organ is preserved for functional aspect. In women organ preservation can be used in breast, larynx, eye, kidney and ovarian cancers.

"In breast conservation surgery (BCT), the part of breast containing the tumor is removed. The rest of breast is able to function normally. When whole of the breast has to be removed, it has major implications on the psychology of women patients, and BCT helps them maintain their dignity, womanhood and self-esteem. Also, as the results are equal, so breast conservation surgeries should be done, whenever feasible", said Dr. Ritesh Pruthy of Tata Memorial Hospital, Mumbai, who has mastered the art of organ preservation.
Experts explained that early detection and prevention is the need of the hour as it can improve cure rate to 70-80 percent. If there are early lumps in breast in a female, or any unusual bleeding during or in between menstrual periods, and if these persist for more than two to three weeks, they should be examined by the doctor, the experts added.
Giving a background to the three-day conference, Max Hospital Mohali Senior Vice-President Sandeep Dogra said the 'Best of ASCO' is being held for the first time in the region. Its objective is to share and review the most important practice-changing data presented at ASCO 2017, the largest gathering of oncologists from across the world, held recently at Chicago, Illinois, US. Experts in specific fields of cancer will present abstracts and discuss foremost research and strategies in oncology that will directly impact patient care. The conference will also showcase research work done by Indian oncologists presented at ASCO 2017, he added.