Though his individual achievements as a microbiologist place him at a high pedestal, it is Prof Sanjay Chhibber's devotion to teaching which has won him the award. The unassuming and caring senior most professor of the reputed Microbiology Department of Panjab University Chandigarh, who has dedicated four decades of his life to teaching, resides in the hearts of his students, colleagues and all others who come in his influence, and it showed in the spontaneous response.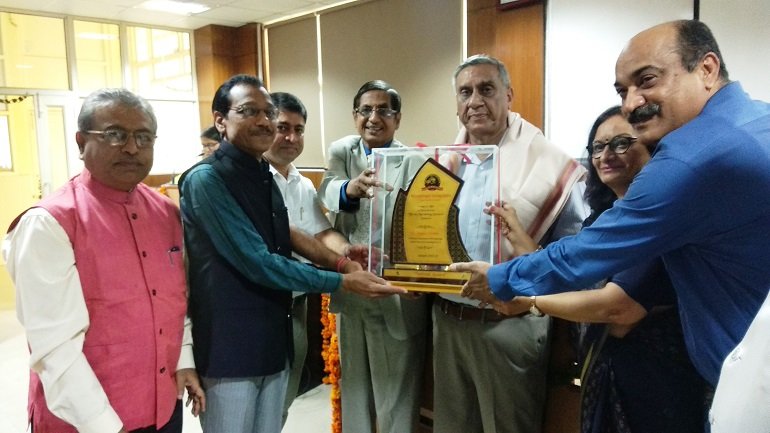 Photo By : Life In Chandigarh
The award was conferred upon him during a symposium on "Innovative Approaches In Microbial Biotechnology" organised by the department on Friday.
Unable to hold herself back while sitting in the audience, his PhD course mate of yesteryears Dr Madhu Kaul, who retired as Principal of Govt Home Science College Chandigarh, in an impromptu profusion of emotions spoke highly about Prof Chhibber's unflinching love for teaching. He let go several opportunities of holding high administrative postings in the field of education during his illustrious career just because he wanted to remain closely connected with his students, she shared.
The current Chairperson of the department Prof Kusum Harjai also fondly remembered being Prof Chhibber's first student in the department and how she held him in high esteem and respect.
Reading out Prof Chhibber's citation, Dr AM Deshmukh, President, Microbiologist Society India, said he is a renowned scientist who has made immense contribution in the field of medical microbiology. His work involves understanding of host-parasite interactions in terms of bacterial virulence. Currently, his laboratory is engaged in finding alternative strategies to curb rising antimicrobial resistance in bacteria in case bacteria fails to respond to available antibiotics.
His work on bacteriophage therapy, where he uses phage as antibacterial agent with or without antibiotics, has engaged the attention of the scientific community the world over. He has published this work in national and international journals and has patents in this area, Deshmukh added.
He emphasised that such illustrious scientists, who are equally passionate about sharing their knowledge, and encouraging and guiding young scientific brains to find sustainable solutions to existing and future worldly problems, are a rare commodity.
Accepting the award in all humility, Prof Chhibber, true to his reputation dedicated the award to the training, guidance and inspiration provided to him by his teachers and senior colleagues because of which he could challenge his own limits. He gave equal credit to the research scholars working as a team with him, "just like family."
In the symposium, Prof. RS Awasthi from Shivaji Mahavidyalaya, Renapur, Maharashtra delivered a lecture on the theme "Innovative Approaches In Microbial Science", while Prof AM Deshmukh from Dr Babasaheb Ambedkar Marathwada University, Osmanabad, Maharashtra made a presentation on "Biotechnological Solutions To e-Waste".
LifeInChandigarh.com by APR Media House is an enjoyable digital reading startup, which keeps you abreast of the latest meaningful happenings of interest to large sections of folks in Chandigarh tricity, and expats from the region. It has been promoted by a public spirited senior journalist and media consultant with a view to encourage good quality and healthy journalism, a dire need of the times.
To keep in touch, drop an email or call :
kochhar.apr@gmail.com
9815617676