Two ace actors of the Punjabi film industry have now turned producers. What's more, they will collaborate to bring the best of writing, direction and distribution talents of the industry. Actors Ammy Virk and Binnu Dhillon have announced a three-film collaboration under their banners The Villager Studios and Naughty Men Productions, respectively.
Photo By: Vikram Joy
The announcement was made in Chandigarh on Monday. Both the actors, currently riding high on the success of their film 'Bambukat', also informed that they would be teaming up with award-winning director Pankaj Batra and writer Jass Grewal. The first of the three films will see Ammy and Binnu in the lead roles. Another film to be produced by the duo will have Binnu Dhillon in the lead role and is written by Jass Grewal. The movie will be directed by Ksshitij Chaudhary who has previously made 'Mr and Mrs 420'. The shooting of this film will start in April.
Photo By: Vikram Joy
The actors informed that the third film will see director Smeep Kang of 'Carry on Jatta' fame pair up with writer Naresh Kathuria. This film will also cast the two actors and will go on the floor in July this year.
Speaking about his foray as a producer, Ammy Virk, the man at the helm of The Villager Studios, remarked, "It is always exciting to venture into a new arena. We have a team of the best with us. I am looking forward to the projects."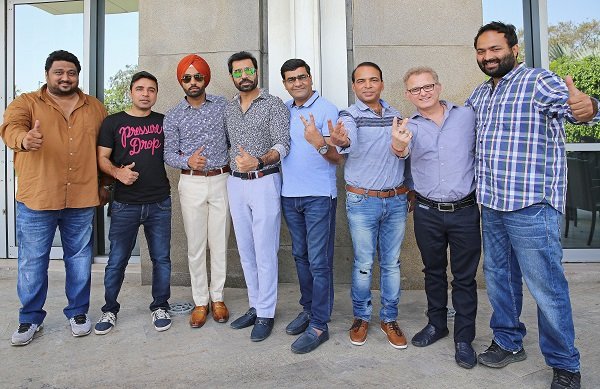 Photo By: Vikram Joy
Binnu Dhillon, who launched Naughty Men Productions and announced the three-film deal, said, "I had been waiting to enter into production for some time now. I am really excited about this association. With these wonderful directors and writers, the movies are going to be nothing short of super hits."
Owner of Omjee Group, Munish Sahni, was also present at the event. "Omjee Group will distribute all the three films worldwide. We are delighted to have joined hands with Binnu Dhillon and Ammy Virk and these talented writers and directors," said Sahni.
Ammy Virk and Binnu Dhillon's alliance as producers will surely increase the entertainment quotient and will be a treat for the audience.