Punjabi comedian and two time Member of Parliament from Sangrur, Bhagwant Mann, after becoming chief minister, riding on a wave of popular support, despite coming good on a string of promises, including on corruption front, plugging revenue leakages, providing government jobs and free electricity up to 600 units in bi-monthly billing cycle, anti-gangster and anti-drug drives, getting vacated illegally possessed forest and panchayat lands, and more, is still finding himself increasingly embattled on several fronts.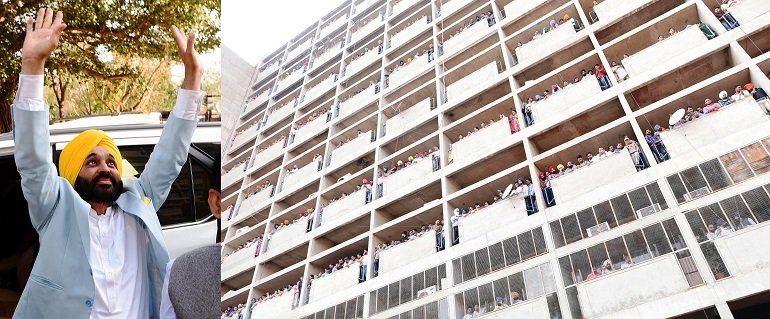 File Photo
The party losing the bye-election to the Lok Sabha seat from Sangrur, especially when it had been vacated by Bhagwant Mann himself in the middle of his second consecutive term and within a couple of months of his assuming office, was largely attributed to a perceived spiral in daily crime graph, and the audacious and sensational gangster killing of popular Punjabi singer Sidhu Moose Wala.
The sacking and arrest of Health Minister Vijay Singla in just over two months of his appointment on charges of seeking commission in award of a contract, basis voice recordings, was a serious setback to the party's avowed anti-corruption plank.
The circumstances leading up to the early exit of state police chief V.K. Bhawra, Chief Secretary Anirudh Tewari and Advocate General Anmol Rattan Sidhu also left many people perplexed.
The high expectations raised by the party with some of the high-cost election promises made, and the way these were aggressively presented before the people by the top leadership, is also weighing down the fledgling Bhagwant Mann government. People are increasingly becoming impatient and the party leaders, including the chief minister, ministers and MLAs, are finding themselves pushed on the defensive. Their repeated assertions of sincerely working towards the fulfilment of the party's promises, and appeals to the people to be patient have few takers.
Another aspect of the Bhagwant Mann government's functioning, which appears to betray its sense of insecurity, is quickly panicking and buckling under the demands of various pressure groups without getting the issues properly examined at the government level.
It has been seen in the hasty decision announced by the chief minister to scrap the Mega Integrated Textile Region & Textile Park near Mattewara Forest in Ludhiana district along the Sutlej river. This followed the chief minister's meeting with a delegation of Public Action Committee (PAC), an NGO spear-heading the agitation against the project, which was approved during the tenure of Congress chief minister Capt Amarinder Singh.
On other occasions also the government has meekly surrendered before the demands of farmers and agitating unemployed/temporary staff after initially seeking to take a tough stand against their aggressive agitations or announced plans for agitation.
Moreover, the manner in which some of the party MLAs, local leaders and even ministers have been conducting surprise inspections and raids, with the media in tow, and bluntly humiliating officials in public is not being appreciated by a wide cross section of the society. Such actions, which people believe could have been done in a more civilised manner, have given credence to observations that the inexperienced elected first timers may not be able to judiciously handle their newly acquired powers. Videos of these frequent raids have been routinely going vital on social media.
The latest video of the current Health Minister Chetan Singh Jouramajra, publicly humiliating Baba Farid University of Health Sciences Vice Chancellor and distinguished orthopaedic surgeon Dr Raj Bahadur over torn mattresses at the Guru Gobind Singh Medical College & Hospital, Faridkot, has created a furore across the medical fraternity. There is a public outcry against the minister's conduct on social media. Only the diehard party supporters have come out in support.
Having personally known Dr Raj Bahadur, an embarassed chief minister is in damage control and has reportedly personally apologised to the VC and requested him to withdraw his resignation from the post.
Bhagwant Mann is also having to contend with another growing public perception - that he is acting as a puppet of the party's National Convenor and Delhi Chief Minister Arvind Kejriwal. The appointment of one of the latter's closest aides Raghav Chadha, recently elected to the Rajya Sabha from Punjab, as Chairman of Punjab Government's Advisory Panel is also widely being viewed as a way of remote controlling the functioning of the Punjab government from Delhi.
This despite the fact that the people of Punjab whole-heartedly embraced AAP largely because of the image of Arvind Kejriwal they had conjured up in their minds and hearts. They perceived him as a bold and transformational leader who would help steer them out of the seemingly never ending vicious cycle of dirty politics, decaying government machinery, corruption, gangsters and drugs. But what the people of Punjab are known to detest the most is to be dictated, which should explain their change of heart towards Kejriwal.
The Opposition is playing its own usual part. Sensing this atmosphere of uncertainty and insecurity within the Bhagwant Mann government, it is losing no opportunity to corner the chief minister and thus regain a foothold in the battleground which it had all but lost.
AAP needs to quickly get into a midfield huddle and rethink and re-strategise if it wants to come back strongly into the game.
LifeInChandigarh.com by APR Media House is an enjoyable digital reading startup, which keeps you abreast of the latest meaningful happenings of interest to large sections of folks in Chandigarh tricity, and expats from the region. It has been promoted by a public spirited senior journalist and media consultant with a view to encourage good quality and healthy journalism, a dire need of the times.
To keep in touch, drop an email or call :
kochhar.apr@gmail.com
9815617676